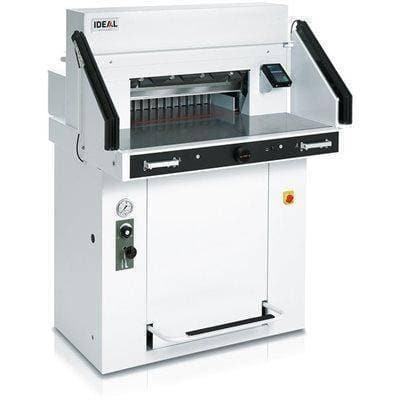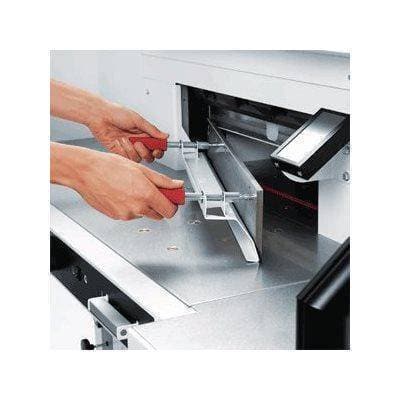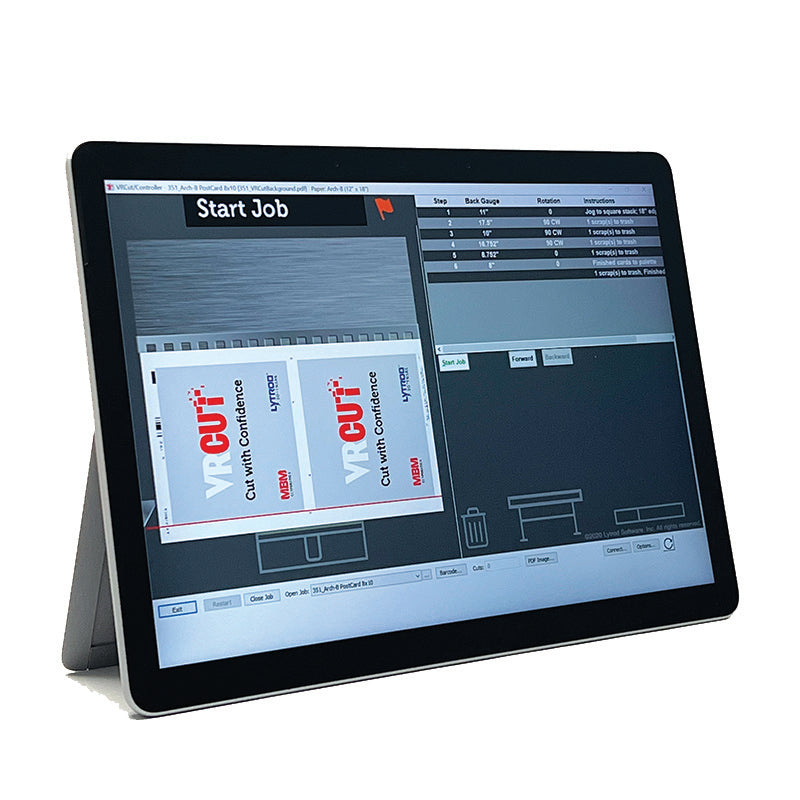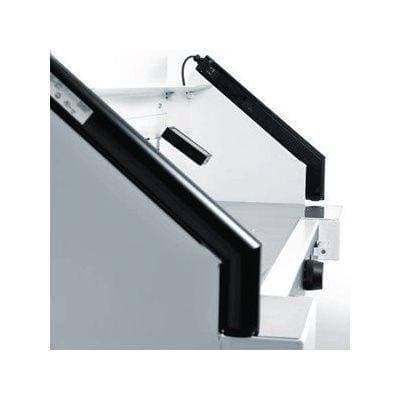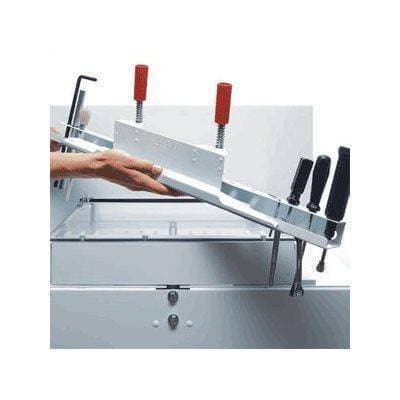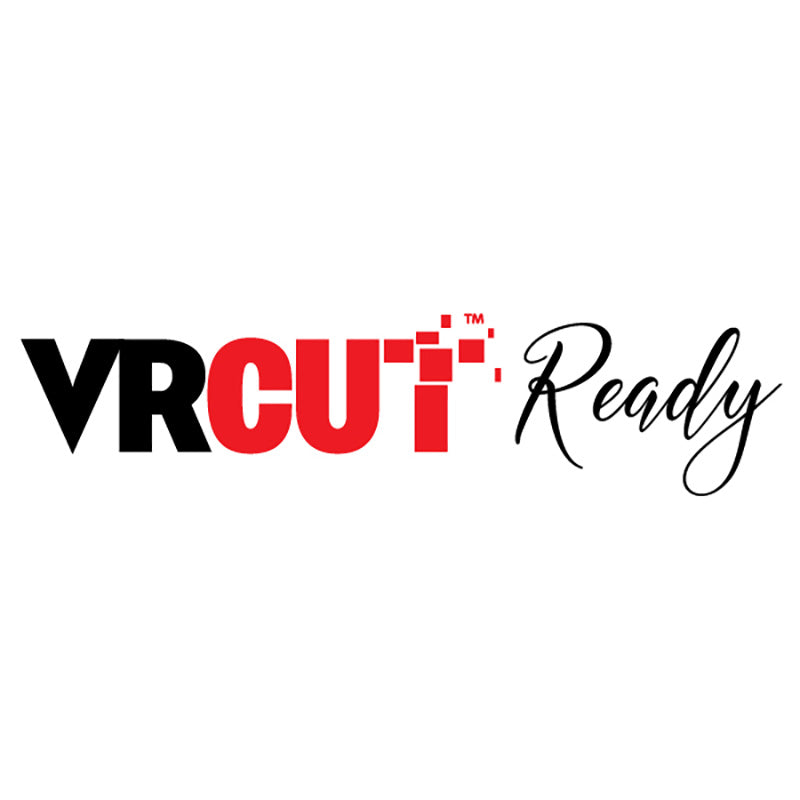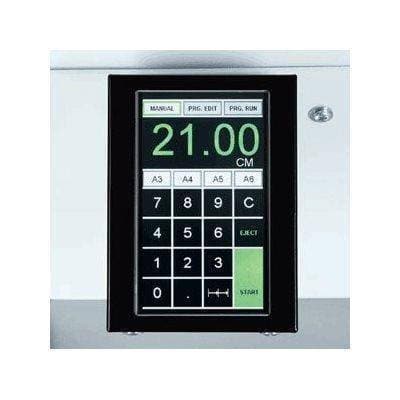 ---







MBM Triumph 5560 Automatic 21" Paper Cutter (VRCut Ready)
SKU: MBM5560-0493
Cut Height: 3"
Cut Width: 21"
Type: Auto-Programmable
FREE FREIGHT SHIPPING within the contiguous U.S.
This product requires Liftgate Service. If you don't have a loading dock or a forklift available to move the delivery off of the truck, please add Liftgate Service to your cart.
Description of the Triumph 5560 Cutter
For professional and high volume use, the Triumph 5560 Hydraulic Paper Cutter by Ideal provides advanced technology and impressive cutting capability. The Triumph 5560 cuts up to 21.65" in length and 3.74" in height (3.62" with a false clamp plate). Perfect for use in paper houses, the hydraulic clamp and hydraulic cut yield efficient and effective cutting. Both the clamp and blade are controlled by the "Easy Cut" two-step activating bars. Separate trigger points activate the blade and clamp independently. These activating bars ensure true two-hand operation for heightened user safety.
The standard keypad control panel has been upgraded to a modernized touchpad control. The 5560's multilingual touchpad is convenient for anyone to use. The high capacity memory holds up to 99 programs with up to 99 steps each, as well as automatic memory for repeat cuts. This control module also includes useful pre-programmed DIN sizes. While this electronic control module is capable of positioning the power backgauge, users can opt to use the electronic hand wheel for manual positioning. This hand wheel offers variable speed control, allowing the user to reposition this backgauge either gradually or quickly.
This high capacity guillotine cutter features the IR light barrier for increased safety. Located on the front table, the IR light beam guards are electronically controlled. If an object (hands, clothing, etc.) penetrates the safety curtain during the cutting process, operation is immediately interrupted. A disc brake ensures instant stopping of the blade, and an automatic return to the safe position is activated.
Changing the HSS solid steel cutting blade doesn't have to be a risky procedure. As a part of the Safety Cutting System (SCS), changing the blade is actually pretty easy with the blade changing device. By locating and holding the unbolted blade, the device covers the cutting edge for guaranteed safe and quick blade replacement. As a bonus, the blade can be changed without the burden of removing any machine covers. This also is true for changing or turning the cutting sticks. A practical and convenient hook-in tool holder located on the back table stores all necessary tools for blade change and service jobs. The solid all-metal construction means that this cutter will last for years without fail. The Triumph 5560 can be paired with an optional airtable.
VRCut software is bundled with the MBM Triumph 5560 Paper Cutter. The VRCut PC software consists of two independent modules that work together - the VRCut Impose module and VRCut Controller module. The VRCut Impose module is a standalone PC imposition software that transforms your artwork into PDFs laid out specifically for optimized cutting on the VRCut enabled Triumph cutter. The software places a template barcode and innovative visual markers that enable an automated cutting process. Consolidate your workflows by taking advantage of the software's data merge feature. The VRCut PC Controller module connects directly to your Triumph cutter for automatic back gauge movement and provides a step-by-step visual interface. The operator simply scans the document barcode to load the corresponding template and artwork to start the job. The software gives the operator visual indication of paper orientation, paper rotation between cuts, when to discard scraps, and how to process cut sheets. This first of its kind software simplifies the task of cutting, which allows operators with all levels of experience to cut with confidence!
Please select your preferred download file from below.
| | |
| --- | --- |
| Manufacturer Name | MBM |
| Max Cutting Width | 21 5/8'' |
| Cutting Height | 3 5/8'' |
| Cutting Mode | Hydraulic |
| Cutting Length Behind Blade | 22 7/16'' |
| Cutting Length in Front of Blade | 18'' |
| Clamp Type | Hydraulic |
| Programmable | Yes |
| Horsepower | 2 HP |
| Optical Cutting Line | Yes |
| Blade Construction | Solingen steel |
| Back Gauge Adjustment | Automatic |
| Safety Mechanism | Safety light beams; safety shield |
| Readout | Digital |
| Model # | 5560 |
| Weight | 813 lbs. |
| Height | 54'' |
| Width | 42'' |
| Depth | 55'' |
| Voltage | 115 Volts; other voltages available |
| Shipping Weight | 970.0000 |
| Shipping Width | 59 |
| Shipping Length | 47 |
| Shipping Height | 62 |
| Search Terms | mbmtriumph, mbm5560, triumph5560, triumph5560, mbmpapercutter, papercutter, mbmcutter, 5560cutter |
QUESTIONS & ANSWERS
Have a Question?
Be the first to ask a question about this.
Ask a Question