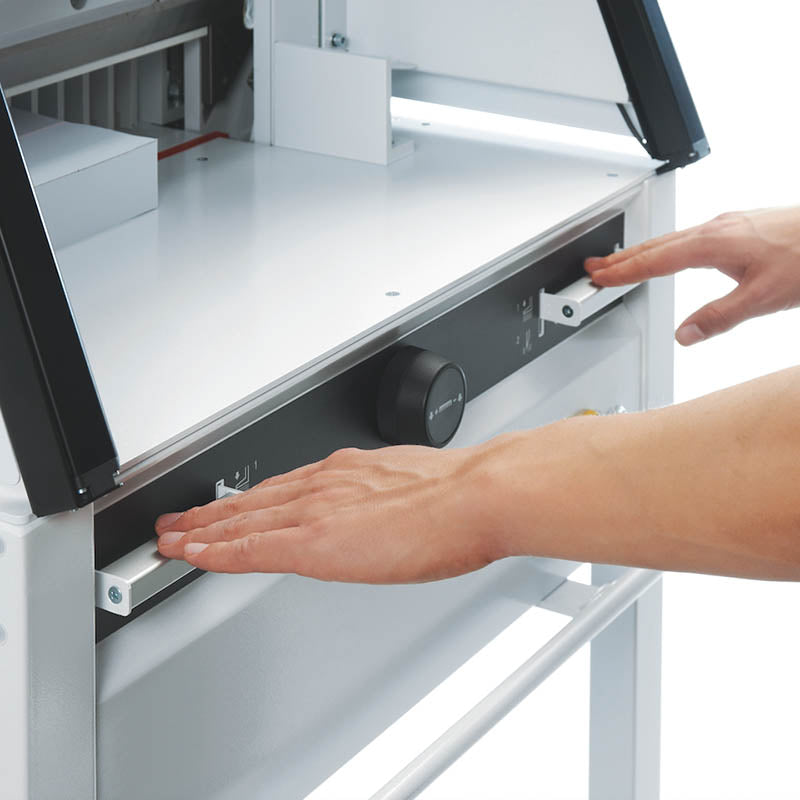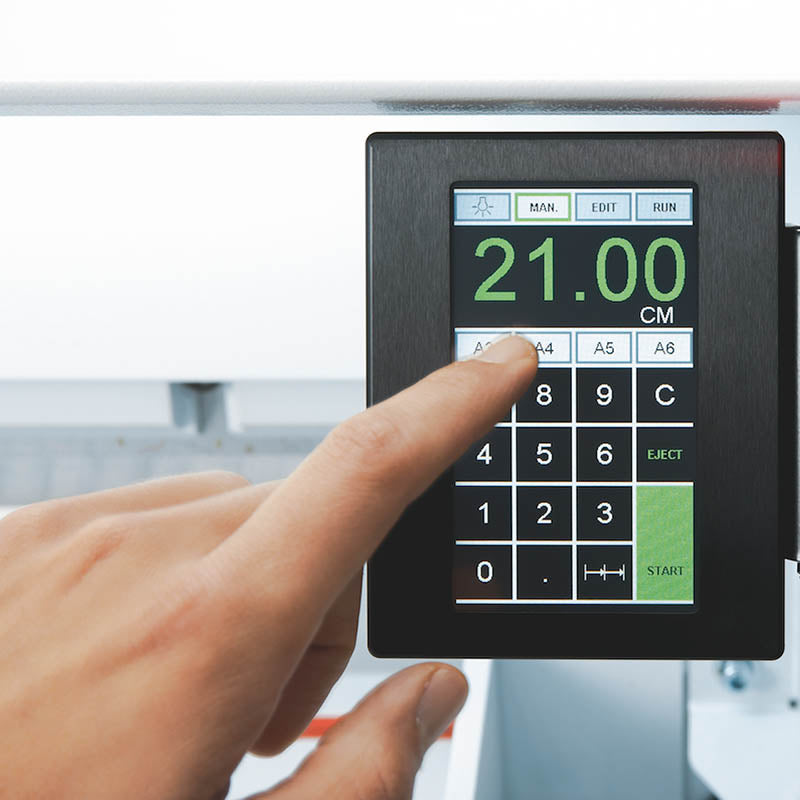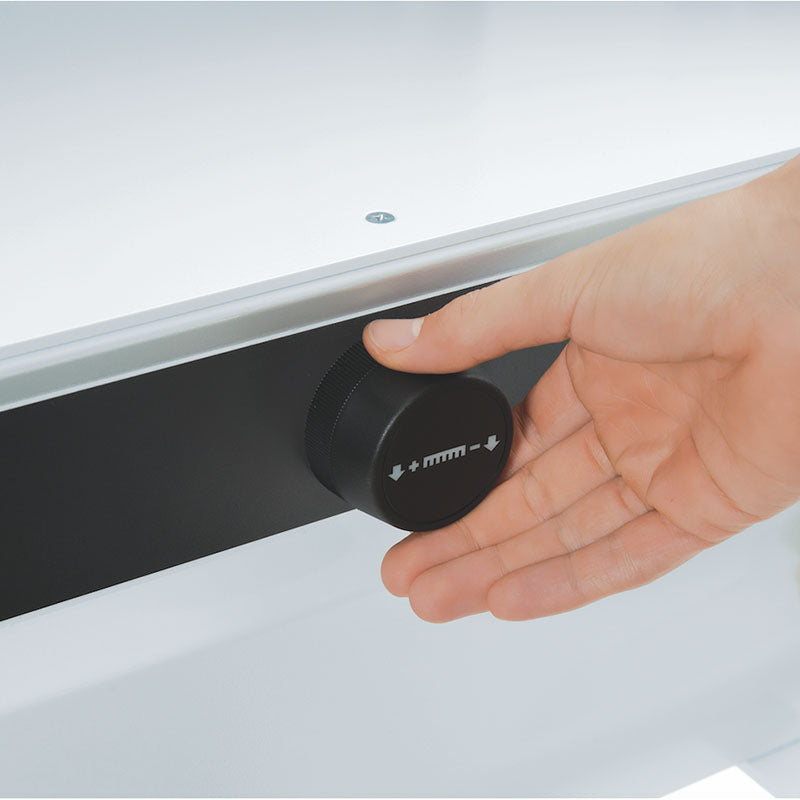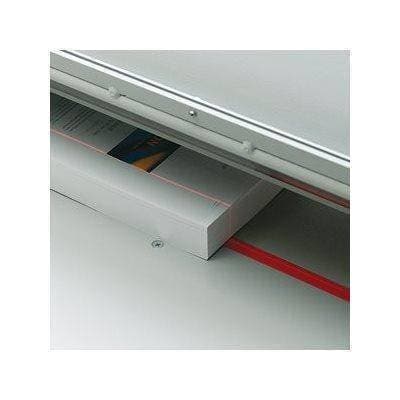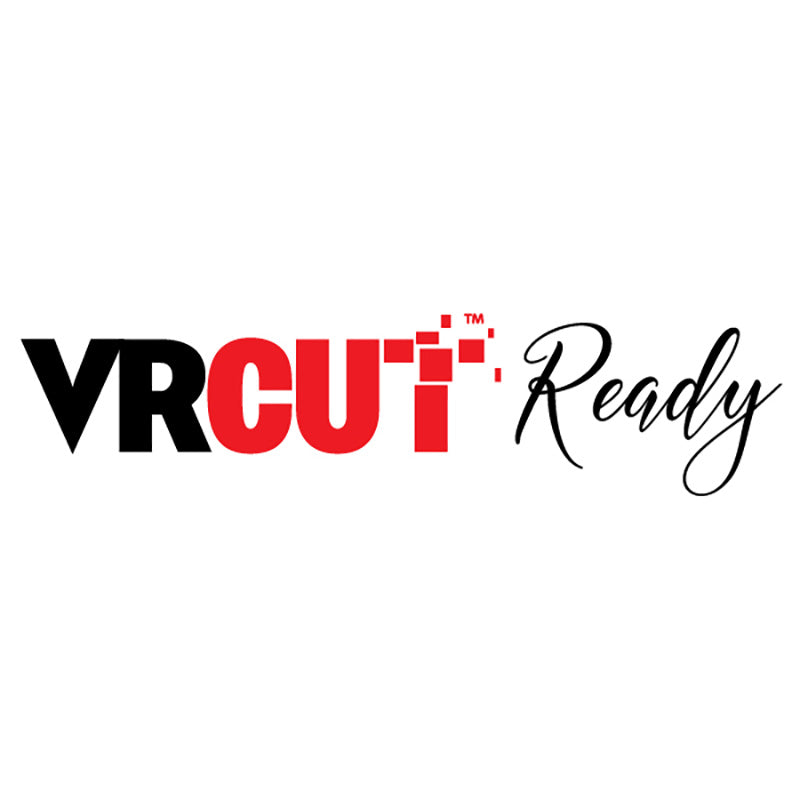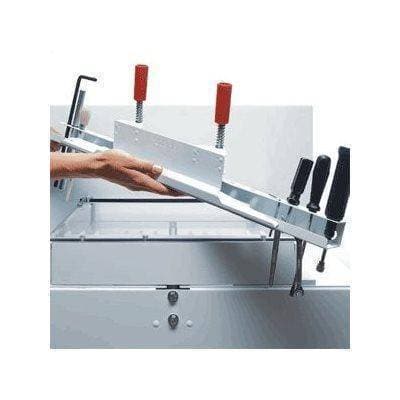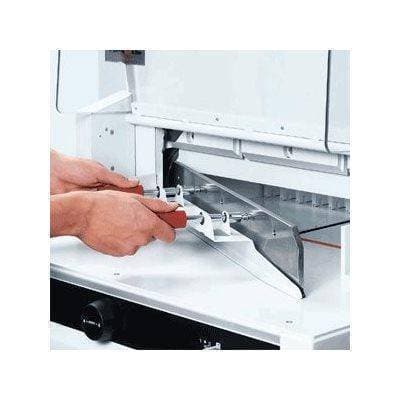 ---








MBM Triumph 5260 Automatic 20.38" Paper Cutter (VRCut Ready)
SKU: MBM5260-0489
Cut Height: 3"
Cut Width: 20.375"
Type: Auto-Programmable
FREE FREIGHT SHIPPING within the contiguous U.S.
This product requires Liftgate Service. If you don't have a loading dock or a forklift available to move the delivery off of the truck, please add Liftgate Service to your cart.
Video of the Triumph Cutter Line
Description of the Ideal Triumph 5260 Paper Cutter
Built in Germany with care and expertise, the Triumph 5260 paper cutter is a high-tech digital paper cutter designed to cut through stacks of paper up to 3" tall, including large format sheets up to 20.5" long. Simply place a stack neatly on the cutting table and the LED optical cutting line will display the cutting line on the paper stacks (adjust manually or via memory setting). Users can also see (and manually adjust) the displayed cutting measurements.
A multi-lingual electronic control module positions paper accurately and displays digital measurement that is accurate to 1/10mm. The 5260 has a 37" working height, electric blade, and clamp drive. Equipped with a touchpad and high capacity memory for all of your cutting jobs, the 5260 is an ideal and flexible machine. On the touchpad control panel, save up to 99 jobs with up to 99 steps while offering pre-programmed standard paper sizes and automatic memory for repeat cuts. The 5260 can prevent any unauthorized use with its safety lock and key. The electronic hand wheel has variable speed control for accurate manual blade positioning. The automatic SET and EJECT functions provide reference measurements and pushes out cut paper. The 5260 is both UL and C UL approved.
Not only is it easy to use, but it is also self-diagnostic and incredibly safe. The 5260 cutter detects and displays errors on the digital display so users can easily resolve any problems. Triumph makes safety a priority, thereby equipping their machines with a variety of features to A solid steel blade carrier encases the sharp blade, but users do not have to come into contact the cutting blade since all blade and stick adjustments happen outside of the machine. Users remove and replace the blade from the side, without having to remove the cover and reach into the cutter. A blade changing device covers the sharp cutting edge so that users can protect their hands.
Cutting sticks can be rotated or removed from outside as well, without removing any of the casings. It has most of the same high quality features as its sister model, the 5255, but instead of a plexiglass guard, the 5260 is armed with a safety curtain. In the event that an object other than a stack of paper passes the safety curtains, the cutting action will cease and will not start up again until the area is cleared. While using the 5260, fingers or hands are not at risk thanks to the SCS safety package, which includes EASY CUT electronic blade activation bars, a safety curtain, rear table safety cover, a safety lock (and key), and immediate blade stop with disc brake. The patented EASY-CUT blade activating bars are two-step operation bars that work the blade and clamp independently via separate trigger points. This way, the clamp goes down first before the blade for a cleaner cut and guarantees maximum safety.
Once cutting is complete, the blade and clamp automatically return to their starting positions for the next cut. On top of the safety features, the 5260 is equipped with extra features for added convenience. The adjustable back gauge is guided by spindles and plastic gliders. It comes standard with a storage shelf and a tool holder (for items like the blade changing device) that hangs off the back table, as well as a paper blocking tool and stacking angle. The Triumph 5260 is a high standard, German made, all metal machine with solid steel blades designed to increase efficiency for any office or production environment.
VRCut software is bundled with the MBM Triumph 5260 Cutter. The VRCut PC software consists of two independent modules that work together - the VRCut Impose module and VRCut Controller module. The VRCut Impose module is a standalone PC imposition software that transforms your artwork into PDFs laid out specifically for optimized cutting on the VRCut enabled Triumph cutter. The software places a template barcode and innovative visual markers that enable an automated cutting process. Consolidate your workflows by taking advantage of the software's data merge feature. The VRCut PC Controller module connects directly to your Triumph cutter for automatic back gauge movement and provides a step-by-step visual interface. The operator simply scans the document barcode to load the corresponding template and artwork to start the job. The software gives the operator visual indication of paper orientation, paper rotation between cuts, when to discard scraps, and how to process cut sheets. This first of its kind software simplifies the task of cutting, which allows operators with all levels of experience to cut with confidence!
Please select your preferred download file from below.
| | |
| --- | --- |
| Manufacturer Name | MBM |
| Max Cutting Width | 20 3/8" |
| Cutting Height | 3" |
| Cutting Mode | Automatic/Electric |
| Clamp Type | Automatic |
| Programmable | Yes |
| Horsepower | 2 HP |
| Optical Cutting Line | Yes |
| Blade Construction | Solingen steel |
| Back Gauge Adjustment | Manual |
| Safety Mechanism | Safety shields; disc brake |
| Readout | Digital |
| Weight | 555 |
| Height | 51" |
| Width | 33 7/8" |
| Depth | 44" |
| Voltage | 115 Volts; other voltages available |
| Shipping Weight | 647 lbs. |
| Shipping Width | 33.875 |
| Shipping Length | 44 |
| Shipping Height | 51 |
QUESTIONS & ANSWERS
Have a Question?
Be the first to ask a question about this.
Ask a Question