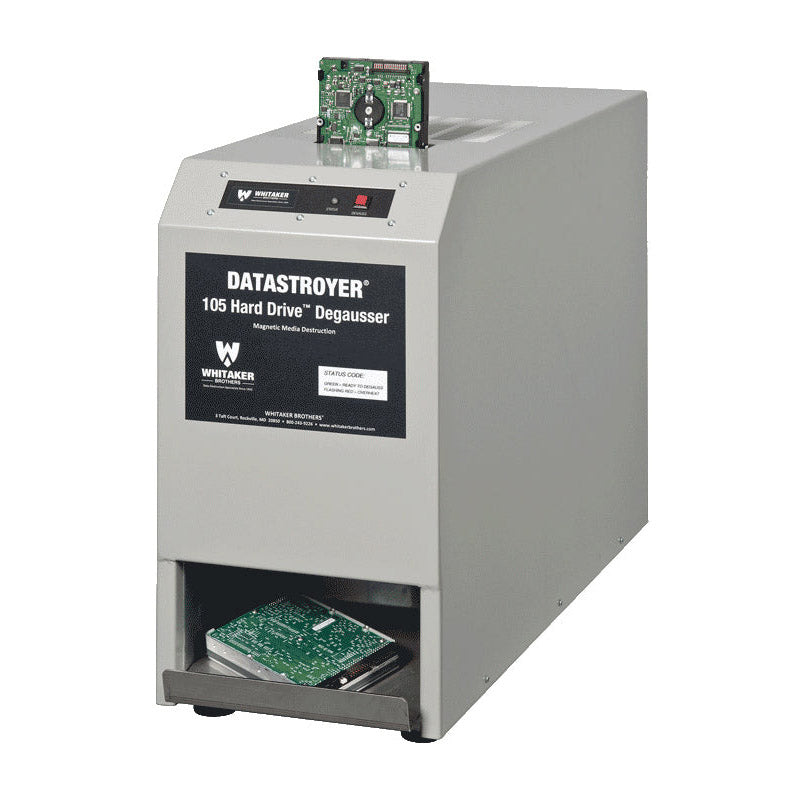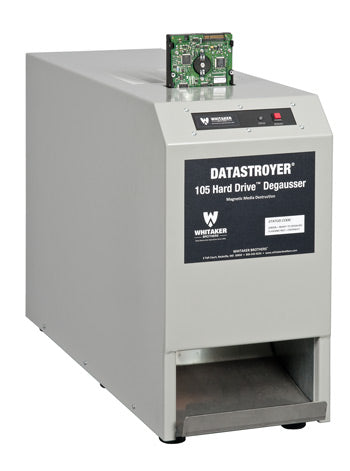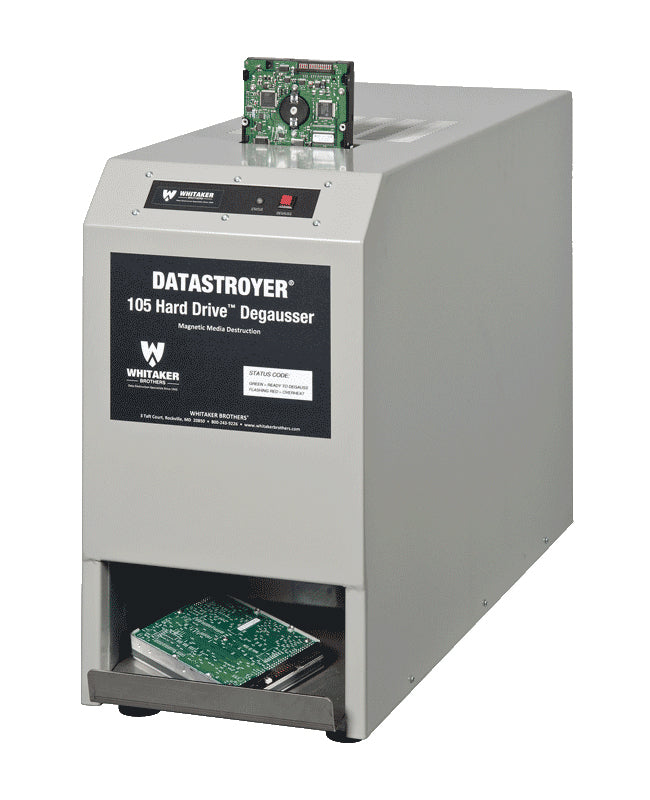 ---



Datastroyer 105 Hard Drive® Degausser
SKU: WHIDEG105HD
NSN: 7490-01-697-3143
FREE FREIGHT SHIPPING within the contiguous U.S.
On GSA Contract (GS-35F-309DA). Please call us at (800) 243-9226 for more info.
This product requires Liftgate Service. If you don't have a loading dock or a forklift available to move the delivery off of the truck, please add Liftgate Service to your cart.
Video of the Datastroyer 105 Hard Drive® Degausser
Description of the Datastroyer 105 Hard Drive Degausser
The only available NSA approved hard drive degaussser on hard drives 4 terabytes in size or larger, the Datastroyer 105 ensures the permanent loss of hard drive data with the use of EMP (Electromagnetic Pulse) technology. With automatic on/off operation, the Datastroyer 105 un-aligns magnetic fields within media material, making prior data retrieval impossible. Datastoyer 105 can wipe your hard drives clean in less than one minute. The 105 offers powerful degaussing features for hard drives up to 5,000 Oe and tapes up to 3000 Oe. The highest security in its class, the Datastroyer 105 produces a bi-directional field which provides a 20,000 Gauss positive field and a 20,000 Gauss negative field. Due to its powerful erasing capabilities, Datastroyer 105 will continue to meet NSA media sanitation requirements in the future. The Datastroyer 105 weighs 128lbs, making it perfect for tabletop or floor operation and does not require the use of adaptors for each specific hard drive, making it a fast, efficient, and simple method for complete data erasure.
| | |
| --- | --- |
| Manufacturer Name | Datastroyer by Whitaker Brothers |
| Erasure Capabilities | Disk, tape |
| Erasure Cycle Time | Less than 1 minute |
| Magnetic Flux Density | 20,000 Gauss positive field and a 20,000 Gauss negative field |
| Duty Cycle | Continuous |
| Model # | 105 |
| Weight | 128 lbs. |
| Height | 19" |
| Depth | 26" |
| Width | 10" |
| Voltage | 120 V; other voltages available |
| Warranty | |
| Shipping Weight | 128 lbs. |
Q: How much to lease a Datastroyer® 105 Hard Drive® Degausser?
A: We have rentals and leases available for the Datastroyer 105 Hard Drive Degausser. Please call us at 1800-243-9226 to discuss the differences and what would be a better solution for you.
Q: We purchased a Datastroyer 105 last year and my local Information Assurance Office is asking if it's NSA approved. How can we prove that it is NSA approved?
A: The NSA personally tests all of Whitaker Brothers' high security data destruction equipment against the most extreme security requirements in the world. Provided the product passes it is then placed on something called the NSA EPL (Evaluated Products List) and we have permission to market it as a high security NSA approved product. The NSA EPL is the proof that this product is approved for classified/secret/TS level data. Your NSA auditor will have ready access to that.
QUESTIONS & ANSWERS
Have a Question?
Be the first to ask a question about this.
Ask a Question