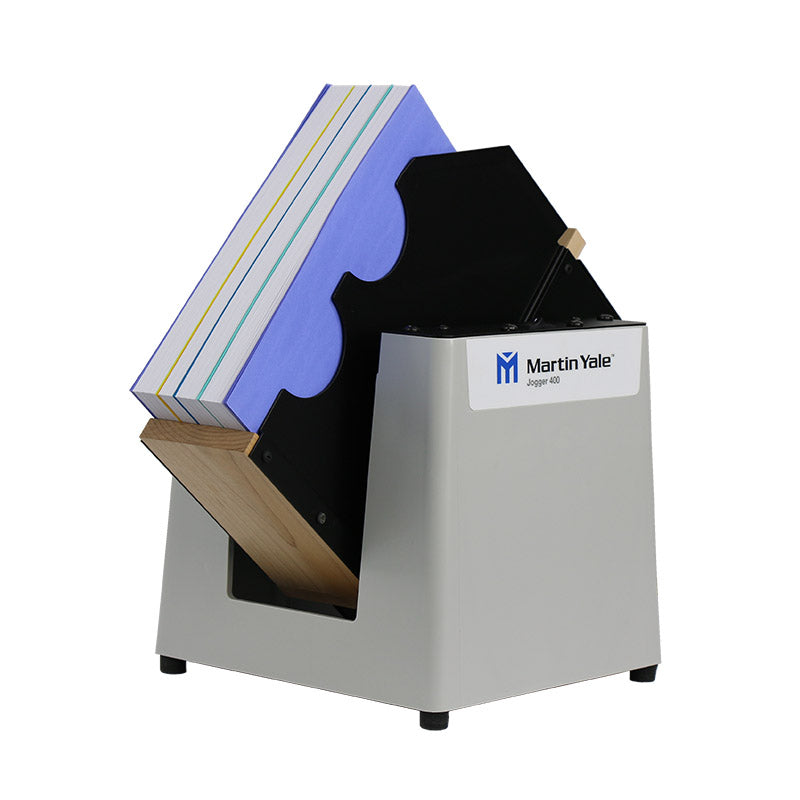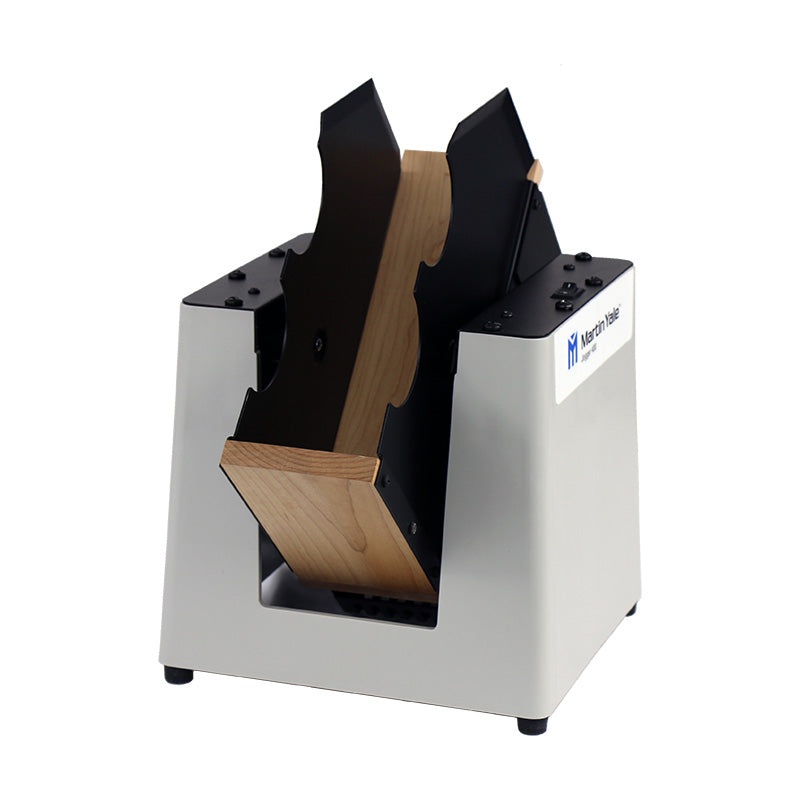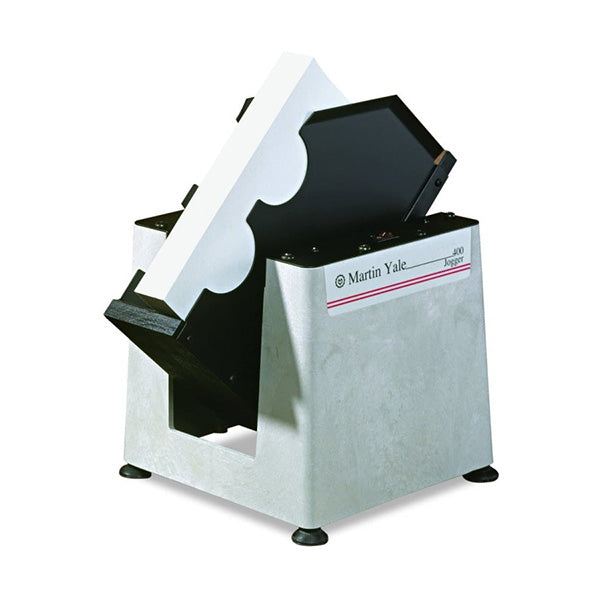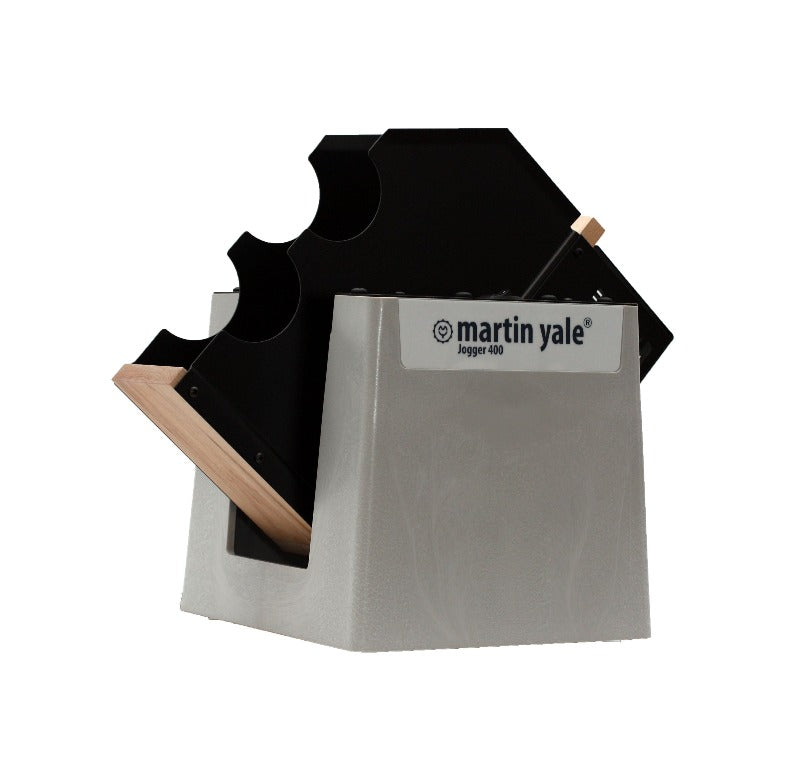 ---




Martin Yale 400 Paper Jogger
SKU: MYL400
Sheet Capacity: 1 ream
Max Paper Size: 8.5" x 11"
Video of the Martin Yale 400 Paper Jogger
Description of the Martin Yale 400
The Martin Yale 400 Paper Jogger acts as a perfect companion for binding machines, folding machines, and paper cutters. For any of these projects, you need paper to be perfectly straight and not sticking together. Rather than manually arranging documents yourself, the 400 jogger will effectively complete this task for you, and in less time. Stripping your documents of static electricity, the Martin Yale 400 eliminates any chance of your papers sticking together.
The Martin Yale 400 also guarantees a perfectly aligned and uniform stack of paper for your projects. Simply stack your paper into the enclosed bin, flip a switch, and the jogging process begins. Exceptionally flexible, the 400 jogger accepts a full ream of 8 1/2" x 11" paper or one half ream of 8 1/2" x 14."
The 400 jogger squares up paper thanks to the isolation-mounted eccentric weight movement and self-aligning, oil-infused bearings. Compact in size, this tabletop jogger takes up hardly any space and weighs a mere 28 lbs. Be sure to operate the Martin Yale 400 on a sturdy and firm table or desk, though, as the vibrations will cause the machine to shake. Convenient rubber feet help the 400 jogger remain immobile during the jogging process. The Martin Yale 400 Paper Jogger is low in cost and makes a great addition to print shops, offices, or copy centers.
Please select your preferred download file from the list below.
Product Identification
| | |
| --- | --- |
| Manufacturer Name | Martin Yale |
| Model | 400 |
| Product Type | Paper Jogger |
| MPN | 400 |
| SKU | MYL400 |
Technical Specifications
Sheet Capacity
1 ream of 500 sheets at 8.5" x 11"
1/2 ream of 250 sheets at 8.5" x 14"
Duty Cycle
Continuous
Electrical
Warranty
Dimensions and Weight
| | |
| --- | --- |
| Product Dimensions | 17.7" x 15.4" x 26" |
| Product Weight | 22 lbs. |
Q: Does the Martin Yale 400 paper jogger that you have listed come with a service plan or warranty?
A: While we will service any product we sell, it doesn't make financial sense to put a service plan on a low-priced machine. The cost of dispatching a technician is over half the price of a brand new unit. However you do get the manufacturer's one year warranty to protect you from early problems!
Q: My primary reason for wanting to buy this product is to get the paper perfectly stacked. The originals come out of our copier feeder all askew. The anti-static and toner drying features are nice, but not my primary concern.
A: That is exactly what a paper jogger is designed to do. As long as your stock isn't unusually heavy or unusually large the Martin Yale 400 will take a messy stack and make it as crisp as a ream of paper right out of the package.
Q: What is the purpose of a paper jogger?
A paper jogger is used to align and organize stacks of paper or other materials. It vibrates the stack of paper to create a level, straight edge for easy handling and processing, while also reducing static electricity.
QUESTIONS & ANSWERS
Have a Question?
Be the first to ask a question about this.
Ask a Question