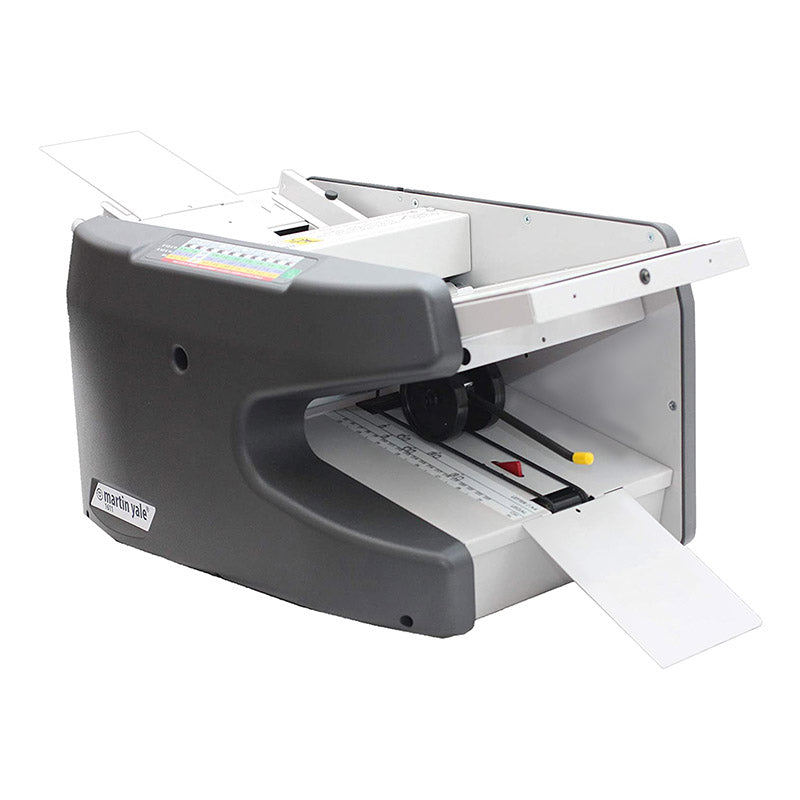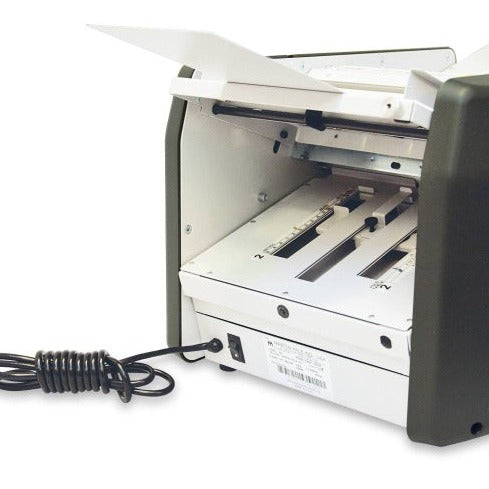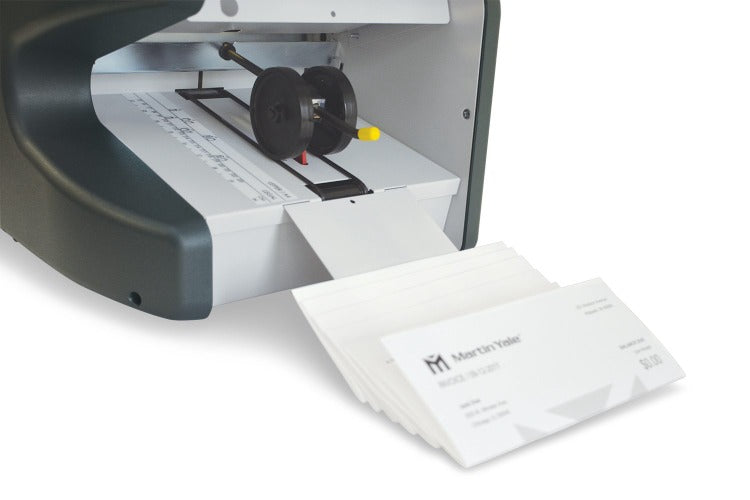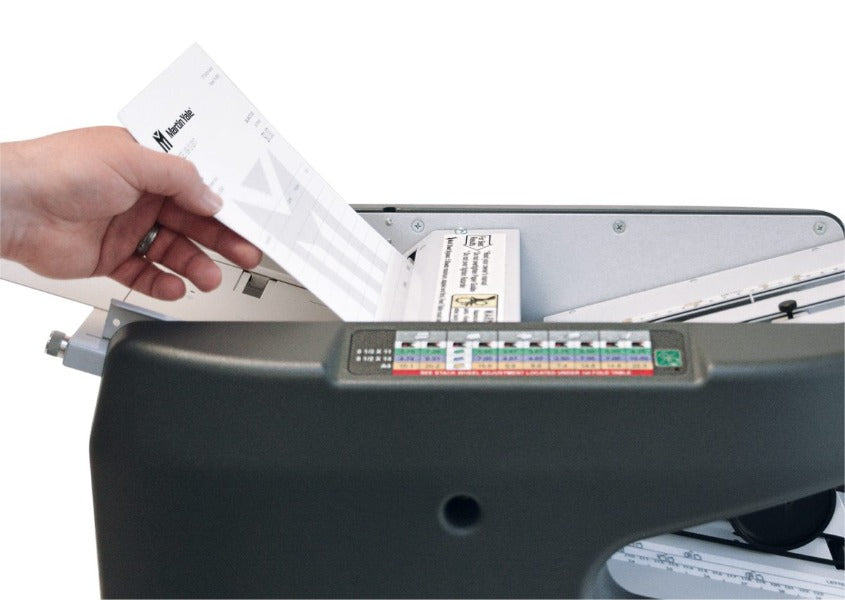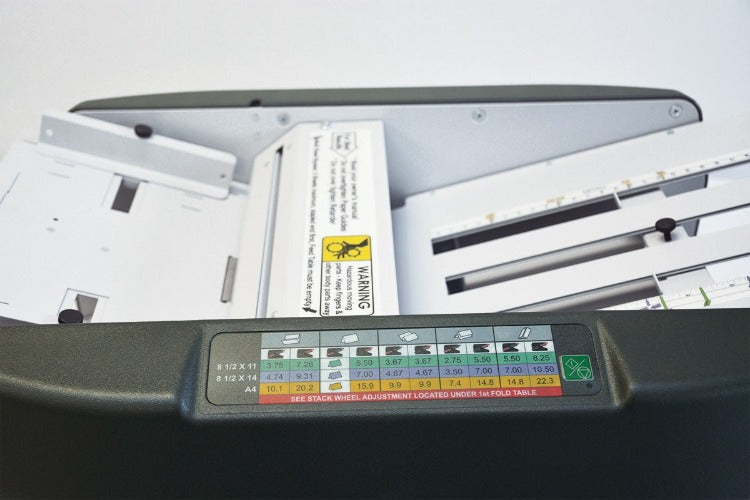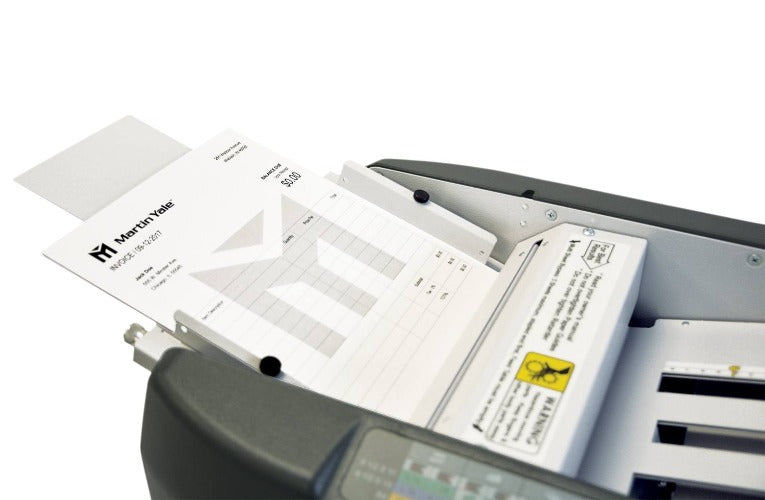 ---







Martin Yale 1611 AutoFolder Paper Folder
SKU: MYL1611
Max Paper Weight: 105 g/m²
Max Paper Size: 8.5" x 14"
Adjustment: Manual
Feed Type: Friction
Fold Types: Letter, Half, Z-fold, Double Parallel, Gate, Engineer, Church
Please select your preferred download file from below.
For additional resources, please see:
Warranty: For this paper folding machine, Martin Yale's general warranty is 180-days parts and labor. Some restrictions and conditions may apply.
We strongly advise you properly maintain your paper folding machine - please see our Martin Yale 1611 maintenance kit for more information.
Key Specs
Fold Types
Letter, Half, Z-Fold, Double Parallel, Gate, Engineering and Church
See our Paper Folding Machine Fold Type Guide to learn more about fold types.
Feed Tray Capacity
Up to 150 sheets
Paper Weight
(Up to sheets)
16 lb bond to 28 lb bond;
60 gsm to 105 gsm
See our Paper Weight Conversion Chart for more info about paper weight conversions.
Standard Paper Sizes
4.75" x 5" to 8.5" x 14";
A4, A5
Feed Type
Friction-fed
Fold Adjustment
Manual fold adjustment
Fold Speed
Up to 9,000 per hour
General
Manufacturer Name
Martin Yale
Model #
1611
UPC
011991016116
Ideal Use
Mailrooms, associations and offices
Product Weight
35 lbs.
Product Dimensions
21" W x 15.5" D x 13.2" H;
53 cm x 39 cm x 34 cm
Warranty

Martin Yale's general warranty is 180-days parts and labor. Some restrictions and conditions may apply.

Shipping Weight
54 lbs.
Shipping Dimensions
26" L x 20" W x 18" H
Other
| | |
| --- | --- |
| Counter | No |
| Batcher | No |
| Electrical / Voltage | 115 Volts / 60 Hz |
Please see the frequently asked questions below. If you can't find the answer to your question, feel free to give us a call at (800) 243-9226.
I unpacked my Martin Yale 1611 and tried to run a folding job. No matter what setting I use, it appears that the first fold is 2.75 inches, and the second fold is on the same end at 1.5 inches. I have tried several folds.
If you're adjusting the fold plates, and it's having zero impact on the fold, then the fold plates have probably been installed backwards. Please call Martin Yale's service department, or our own service department at (800) 243-9226, if you continue having issues.
Does the 1611 come with a manufacturer's warranty?
The Martin Yale 1611 comes equipped with a one year limited parts warranty that protects you against defects in manufacturing.
Can the Martin Yale 1611 fold (using half fold 8 1/2 x 11) at the same time 6 sheets of paper at 20 lbs.?
The absolute maximum number of sheets it can half-fold as a set is five. Six would be too much. If you are attempting to fold multiple sheets of paper simultaneously, you are likely putting them into an envelope, which is a process much better handled by a folder-inserter.
Is the 1611 in stock?
To keep prices down we ship directly from the manufacturer's stock instead of shipping it to our warehouse, and then shipping it to our customers. This unit is nearly always in stock. However, if you want to make certain, just give us a call at (800) 243-9226 for the latest status.
How many sheets can be loaded into the 1611 at a time?
It's not a measure of a number of sheets, because that can vary by paper weight. However using standard printer/copier paper you should be able to fit about half a ream inside the feeder. Anymore and there's just too much pressure on the feed wheel.
Do the published dimensions include the full space needed for the machine, or just the base? I have a table top that is 30" wide. Will the machine fit on the table if I have space around the table for the feed tray overhang?
You'll want a little more than the advertised footprint. The paper needs space to evacuate on the side, and you'll also want that extra space when adjusting the fold plates. We would not consider this a big machine, but you do need some space to use it. If space isn't available, then we would suggest looking at the Martin Yale 1711 Paper Folder. It's similar to the 1611 except the fold plates adjust themselves automatically. All you would need to worry about is having room for the paper to evacuate out the side.
We have a paper jam, and the instruction manual is not helping. Any suggestions?
The fold plates can all be removed very easily. Just lift up, and pull out. When they've been removed, the paper path becomes visible and any jams can be cleared just by tugging on the exposed pieces. If things get really bad, unplug the machine and advance the rollers with your hand, that should loosen things up.
QUESTIONS & ANSWERS
Have a Question?
Be the first to ask a question about this.
Ask a Question