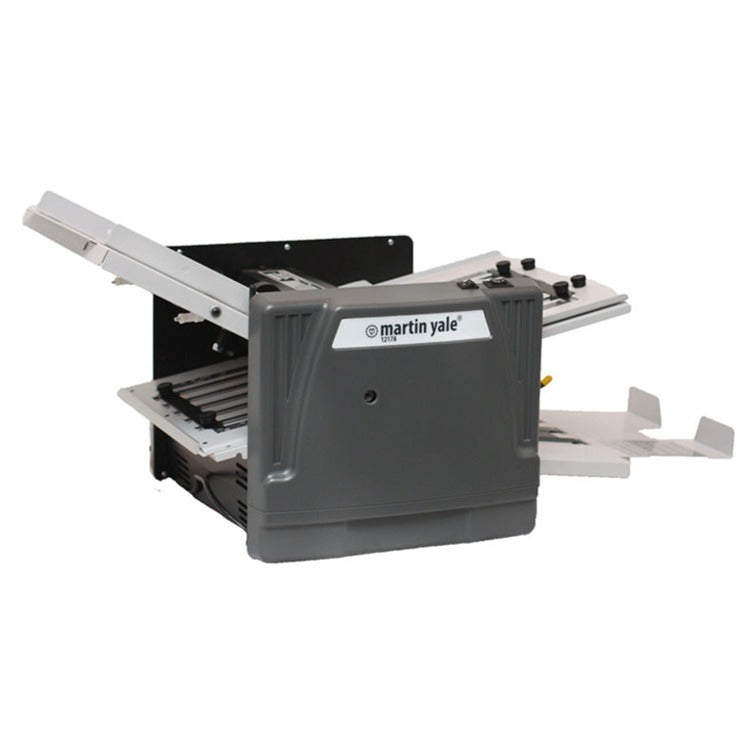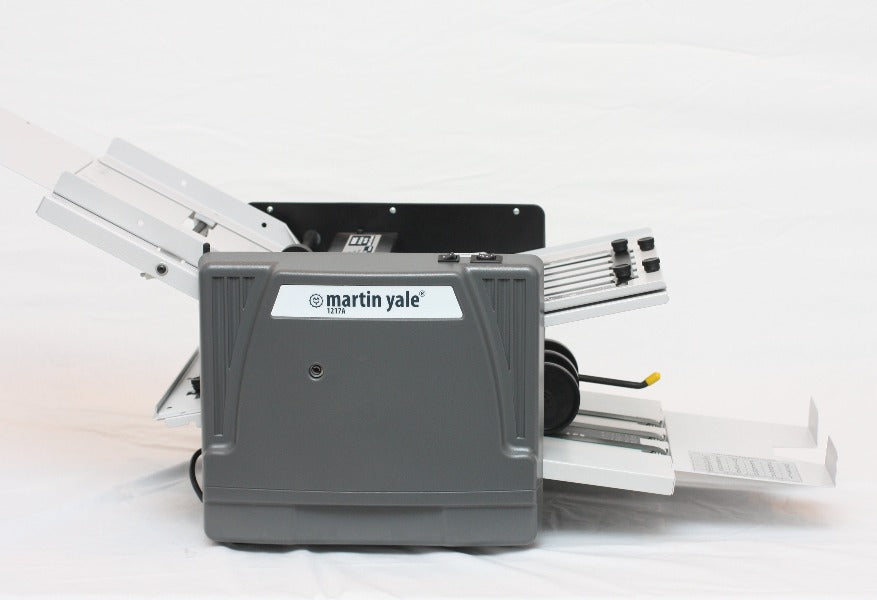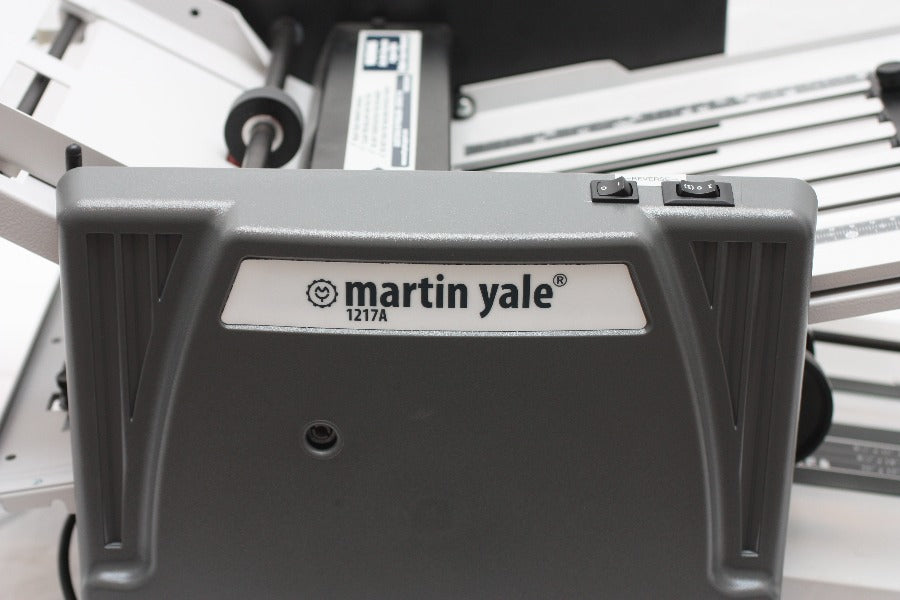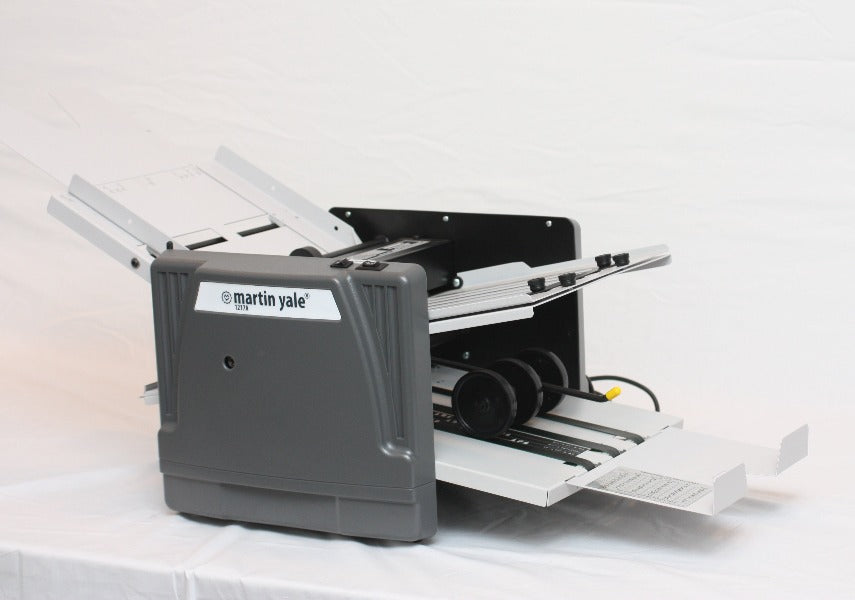 ---





Martin Yale 1217A AutoFolder Folding Machine
SKU: MYL1217A
Max Paper Weight: 200 g/m²
Max Paper Size: 11.37" x 18"
Adjustment: Manual
Feed Type: Friction
Fold Types: Letter, Half, Z-fold, Double Parallel, Gate, Engineer, Church
FREE GROUND SHIPPING within the contiguous U.S.
Videos of the 1217A Manual Paper Folder
Description of the 1217A Manual Paper Folder
The Martin Yale 1217A Medium Duty Auto Folder is one of the most popular folding machines for churches, schools, and medium to large mailrooms on the market. This machine is built for reliability, convenience, and overall longevity. Constructed with high impact steel side frames this paper folder was designed with sturdiness and dependability in mind. Made in the USA, Martin Yale also guarantees the durability and lifespan of any of their machine's part for one full year and will replace or repair any parts broken under normal use.
The 1217A folder is 21.25" tall, 17" wide, 13" deep, and 64 pounds. While this model is larger than other popular paper folders, the 1217A compensates with a wide array of other convenient features not available on other models. For example, the 1217A folds up to 10,300 sheets per hour, much faster than the 1501X AutoFolder. It also has a 250 sheet feed tray capacity and takes paper sizes from 4"x4" to 12"x18", which includes the standard letter size and legal sized paper.
This model has four standard folds: letter, half, z-fold, and double parallel, but it also has easily adjustable fold plates for custom folds. In fact, it has an adjustable fold range of 2" and 11.5" for the first fold and 1.5" and 5.75" on the second fold. In addition, this paper folder is capable of folding multiple papers (generally stapled) simultaneously and is fully adjustable for a second folding pass with the manual bypass.
The 1217A Auto Folder also comes with a 3 conveyor belt system which feeds the papers into the machine and dispenses them in neatly fanned stacks, preventing nesting and allowing for convenient and easy handling. The large rubber rollers also provide consistent paper feeding and produces a tight, finished fold.
Another convenient feature of the 1217A Paper Folder is the reversible motor. This feature was pioneered by Martin Yale and the 1217A is still one of the few folding machines with this feature. The reversible motor allows the user to prevent and fix paper jams, extending the life of the machine and saving the user time and frustration.
Overall, the Martin Yale 1217A Paper Folder is one of the best deals on the market. It has all the basic features as well as some additional convenient specifications, all for a very reasonable price. The durability and user friendliness of the 1217A paper folding machine is what makes this model one of the most popular folding machines for organizations such as businesses, nonprofits, schools, and churches.
Proper maintenance is the key to extending the life of your paper folding machine. We strongly advise that you protect your investment by adding the 1217A paper folder maintenance kit to your cart.
Please select your preferred download file from the list below.
For additional resources, please see:
Warranty: For this paper folding machine, Martin Yale's general warranty is 180-days parts and labor. Some restrictions and conditions may apply.
Manufacturer Name
Martin Yale
Model #
1217A
Feed Type
Friction-fed
Fold Adjustment Setting
Manual fold adjustment
Feed Tray Capacity
Up to 250
Fold Speed
10,300 sheets/hour
Fold Types
Half Fold, Letter Fold (Tri), Z Fold, Double Parallel Fold, Right Angle Fold, Baronial Fold
Pre-programmed Standard Folds
6
Accepted Paper Sizes
3 1/2" x 4" to 11 3/4" x 18"
Accepted Paper Weights
18 lbs. index to 135 lbs. index (60 gsm to 240 gsm)
16 lb bond to 90 lb cover (60 gsm to 240 gsm)
Product Weight
59 lbs.
Product Dimensions
(WxDxH)
21" x 15.5" x 13.2"
Voltage
115 Volts; other voltages available
Warranty



UPC
011991012170
Shipping Weight
64 lbs.
Shipping Dimensions
23" x 28" x 20"
Please see the frequently asked question(s) below. If you can't find the answer to your question, feel free to give us a call at (800) 243-9226.
Is the Martin Yale 1217A offered as a new, refurbished or remanufactured machine?
This is a brand new machine, direct from the manufacturer.
What size fuse is needed for this unit? Mine keeps blowing each time I start it...

That's not normal behavior for a 1217A. If you contact our parts department at 301-354-3000 then they'll be able to assist with quoting fuses, but there's a broader problem occuring here that could be related to the machine, or it could be related to your power source.