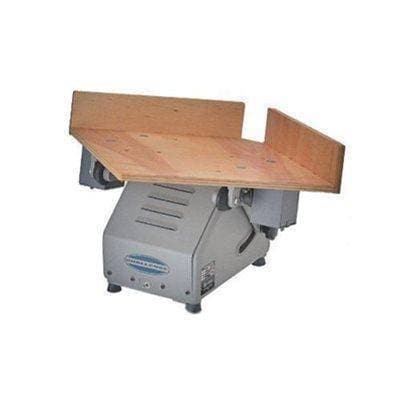 ---

Challenge 2436A Jogger
This product requires Liftgate Service. If you don't have a loading dock or a forklift available to move the delivery off of the truck, please add Liftgate Service to your cart.
Description of the Challenge 2436A Paper Jogger
Most modern businesses want to get the most out of every investment in machinery and materials. For binders, printers, copy centers, and other paper handling industries, the need for a jogger is often vital, but not all joggers are alike. Some can handle only one job at once, some can handle only a range of sizes, and some cannot perform over the long term if asked to deal with too many different materials. The Challenge Combination Joggers help to provide a "more bang for the buck" solution by delivering a range of options. Their 2436A Jogger is the mid-range model in the series and can handle stocks as large as 24" x 36" in total size.
The table on the 2436A Jogger is not limited to this massive size alone, however, and the optional accessory dividers can be installed and allow the unit to handle several stacks of smaller sheets and stock at once. The height limit is 4", which indicates just how robust the jogging action of the machine might be, but everything is actually very adjustable and customizable. There is a manual adjuster on the 2436A Jogger known as the "dial a jog" that allows the operator to determine the speed of the machine. There is also a fully adjustable table setting that allows the work to be tilted from a flat position to a 45 degree angle. This gives complete control to the operator and allows the work to be done as quickly and efficiently as possible. The 2436A Jogger promises convenience as well. It can be mounted to an optional stand that is fitted with casters for portability and mobility. Because it weighs in at more than 140 pounds, it is not easily relocated without this mobile base. Its footprint is compact too, and the unit takes up just over 24" square floor space.
The entire line of Combination Joggers is considered to be work horses, and this one is no exception. It has a large table that can be divided to allow dual functions, it is fully adjustable to the needs of the operator, and it can handle some very substantial loads thanks to its 1/3 HP motor. It can be made mobile when used with a stand and the hands free foot pedal, but it is also just as effective used on a work space with the onboard toggle switch.
| | |
| --- | --- |
| Manufacturer Name | Challenge |
| Number of Bins | 1 |
| Height | 14-1/2" |
| Weight | 145 |
| Width | 25" |
| Depth | 37" |
| Voltage | 115 |
| Warranty | |
| Shipping Weight | 145.0000 |
| Search Terms | challengejogger, challenge2436ajogger, challenge2436a, 2436ajogger, 2436 a, challenge2436, paperjogger, challengepaperjogger |
QUESTIONS & ANSWERS
Have a Question?
Be the first to ask a question about this.
Ask a Question