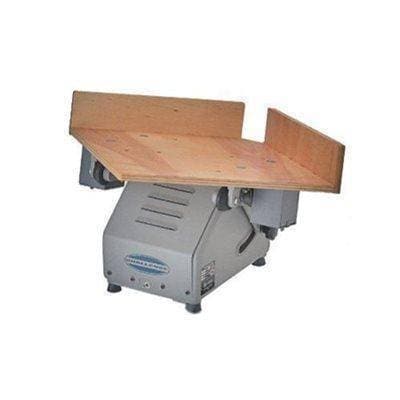 ---

Challenge 2840A Jogger
This product requires Liftgate Service. If you don't have a loading dock or a forklift available to move the delivery off of the truck, please add Liftgate Service to your cart.
Description of the Challenge 2840A Paper Jogger
Whether you are a firm that makes pads, prints books, binds various volumes, operates as a copy center, or handles volumes of paper in other ways, it is quite likely that you do a lot of jogging. Not the kind with running shoes and shorts, but the kind that is essential to getting stacks of paper and stock into perfect alignment for further processing. Unfortunately, there are many joggers that cannot perform a range of duties, but the Challenge Combination Joggers are capable of many different functions. The 2840A Jogger is the largest in the series and will become a true work horse in your shop.The 2840A Jogger uses a 1/3 HP motor to robustly align sheets on the massive table. Capable of handling pages and stock measuring from 28x40, this jogger table also tilts from the flat to the 45 degree depending upon the needs of the operator. Not only does the 4" tray tilt according to the results desired, but the unit also has a fully adjustable jogging speed too. Known as the "dial a jog", this gives complete control to the operator and allows them to control the work.
Because most businesses that use joggers need a diversity of materials stacked neatly and tightly, the oversized tray is handy, but there are some options and features that can make this unit even better. There is an accessory divider option that can split up the tray to allow the operator to job multiple kinds of stock at once. The flexible controls ensure that each batch or job can get optimized results, without multiple uses of the machine.
The 2840A Jogger is efficient in many ways, and one of the most important is the manageable size of this powerful machine. It stands at just under 15" in height and takes up a very small space on the work table or floor. The 29" square width makes this a unit that is easy to position in almost any part of the workshop, but there is also the option for the wheeled stand. Because the 2840A Jogger is around 160 pounds in weight, it is not portable. This stand, however, would allow the operator to wheel it where needed and use the hands free foot pedal to trigger the jogging action. This makes it a very flexible and optimized machine for any business that must tackle many jogging operations on a daily basis.
| | |
| --- | --- |
| Manufacturer Name | Challenge |
| Number of Bins | 1 |
| Height | 14-1/2" |
| Weight | 160 |
| Width | 29" |
| Depth | 41" |
| Voltage | 115 |
| Warranty | |
| Shipping Weight | 160.0000 |
| Search Terms | challengejogger, challenge2840ajogger, challenge2840a, 2840ajogger, 2840 a, challenge2840, paperjogger, challengepaperjogger |
QUESTIONS & ANSWERS
Have a Question?
Be the first to ask a question about this.
Ask a Question