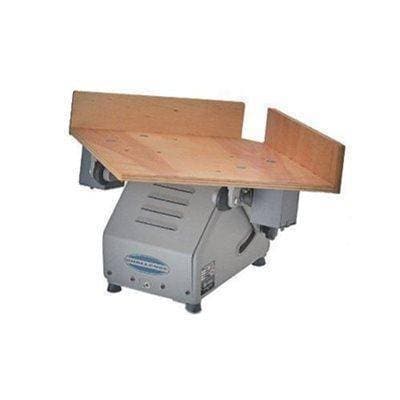 ---

Challenge 2026A Jogger
This product requires Liftgate Service. If you don't have a loading dock or a forklift available to move the delivery off of the truck, please add Liftgate Service to your cart.
Description of the Challenge 2026A Paper Jogger
When a copy center, printer, office, or other professional setting needs perfectly aligned stacks of paper, it is a task assigned to a jogger. Unfortunately, many joggers are designed to serve very limited functions or handle only a few paper sizes. This is why combination joggers are so popular, and the 2026A Jogger is a veritable work horse for those who require neat stacks of stock. The 2026A Jogger is labeled a "table top" model because of its relatively small foot print (20" x 26" x 14"). Despite its compact size, the 2026A weighs an impressive and sturdy 130 pounds. To make it more convenient, it is available with an optional stand that has mounted casters for much easier relocation throughout a shop.
The table or tray on the 2026A Jogger accommodates sheets up to 20" x 26", and stacks as high as 4". This makes for an impressive range of stock or paper, and yet there are also dividers available that can allow the unit to do double duty on various stacks of smaller pages and stocks at one time. The Challenge 2026A can tilt from the 45 degree to a nearly flat level to get the best possible results. It is fully adjustable as well, and uses its patented "dial a jog" knob, which grants the user with control over the results in real time. The unit can be turned on via the onboard switch or by an optional foot pedal for those who will benefit from hands-free functionality.
Made from heavy duty materials and designed to perform over the long term with only minimal maintenance, this machine uses a 1/3HP electric motor. Thus, it consumes only limited quantities of electricity as it works, and yet it can handle substantial loads due to its rugged design. If your copy center, binding shop, printing establishment, or any other business that needs aligned stacks of stock is in need of a reliable jogging solution, the combination work of the 2026A Jogger is a good answer. The machine can be made entirely portable and mobile, takes up only a limited amount of table or floor space, and can handle multiple jogging jobs at once. It can tackle up to 4" lifts and can be adjusted to the most effective settings on the table and the jogger speed, and this makes it one of the most durable resources in the industry. The Challenge 2026A is a known work horse and will prove itself over and over.
| | |
| --- | --- |
| Manufacturer Name | Challenge |
| Number of Bins | 1 |
| Height | 14-1/2" |
| Weight | 130 |
| Width | 26" |
| Depth | 20" |
| Voltage | 115 |
| Warranty | |
| Shipping Weight | 130.0000 |
| Search Terms | challengejogger, challenge2026ajogger, challenge2026a, 2026ajogger, 2026 a, challenge2026, paperjogger, challengepaperjogger |
QUESTIONS & ANSWERS
Have a Question?
Be the first to ask a question about this.
Ask a Question