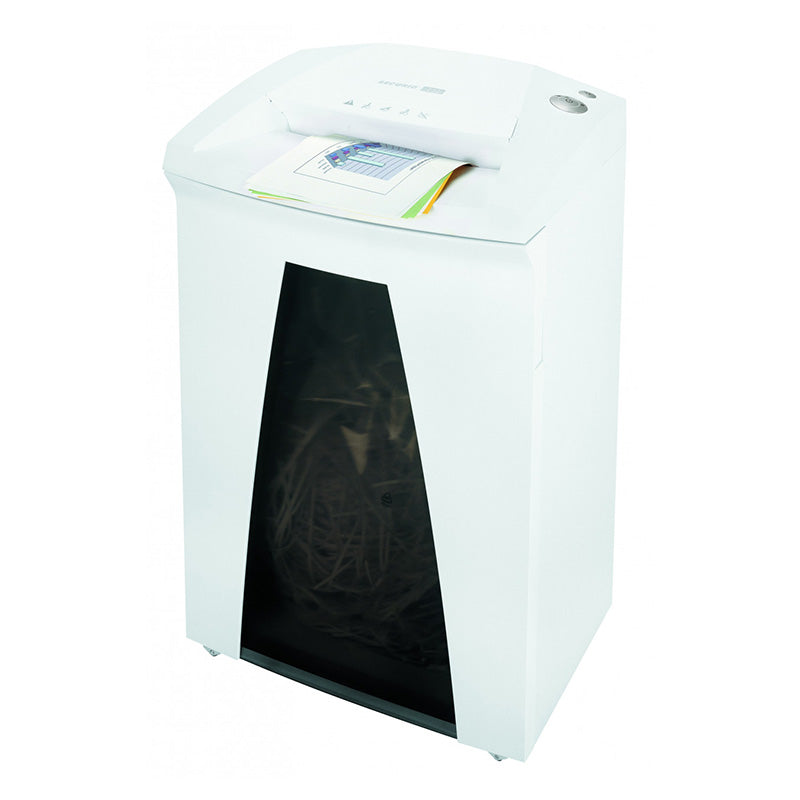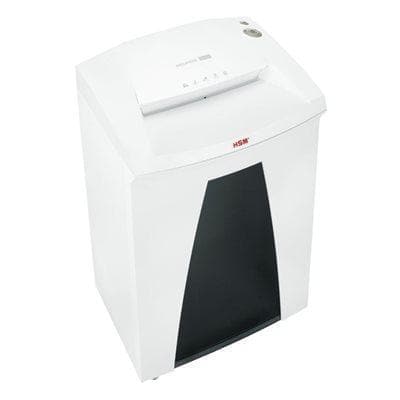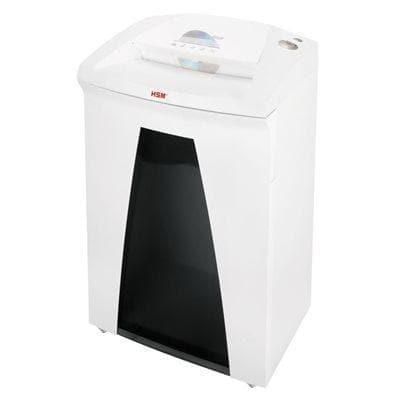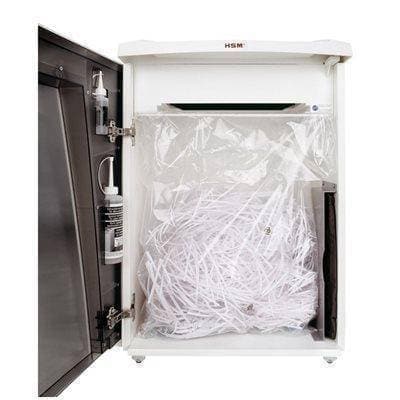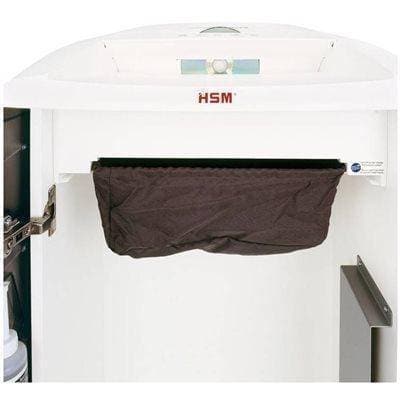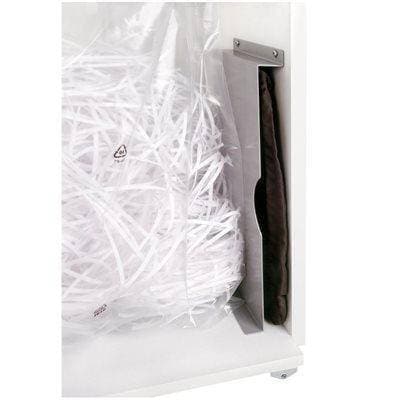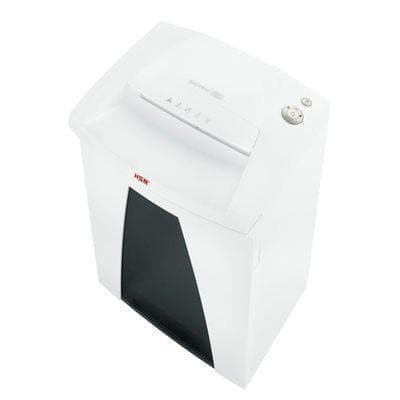 ---






HSM Securio B32 1/8" Strip Cut Shredder
SKU: HSMB32S-1820
Security: Level 2/P-2
Sheet Capacity: 22-24 sheets
Throat: 12.2"
FREE FREIGHT SHIPPING within the contiguous U.S.
Description of HSM Securio B32 1/8" Strip Cut Shredder
Solid is one way to define the HSM Securio B32 strip cut shredder. The specially-hardened cutting rollers are made of 100% solid steel and are designed to handle materials such as staples, paper clips, credit cards, and CDs/DVDs. The folding safety element provides a high level of user protection by covering the feed opening to prevent unintentional intake.
High sheet capacities are expected from any strip cut shredder. Accepting between 22-24 sheets per pass, the HSM Securio B32 Level 2/P2 certainly delivers. Producing a strip size of 1/8" , the Securio B32 creates 56 strips per each page destroyed. The powerful motor guarantees a high cutting capacity and reliable results even under a constant load. Feed your documents into the 12.2" throat opening. Suddenly, the shredder stops. A light appears on the multifunctional operation button. You have just experienced a paper jam. No need to worry though; this HSM knows what to do. JamStop Anti-Jam technology activates and switches the unit into reverse mode. The shredder will continue to run in reverse until the jam is rectified and smooth operation is restored. Thanks to the multifunctional operation button, users are also notified when the shred bag is full or when the cabinet door is open.
Need to transport this shredder to different departments? Weighing in at 56 lbs., the HSM Securio B32 may seem difficult to budge. On the contrary, this strip cut shredder is available with mobility casters, sturdy enough to handle relocation. Offices looking to save energy are in luck. The Energy Management Control System lessens power consumption by up to 90% when this unit is in stand-by mode. The Securio B32 enters stand-by mode after a period of idleness. To reactivate the shredder, simply begin feeding paper. Obnoxious shredding sounds piercing through a calm office space: this is not what one would picture as an ideal work environment. Luckily, the closed gear mechanism combined with Whisper Shred technology ensures low-noise operation by decreasing shredding sounds to a near whisper. The HSM Securio B32 offers a 21.7 gallon capacity and easy to remove shred bag.
Manufacturer Name
HSM
Throat Size/Feed Opening
12.2 in.
Shred Speed (feet/min.) Speed
8
Shred Size
1 ⁄8 in
Bin Capacity (gallons)
21.7
Security Level
Level 2/P-2
Cutting Type
Strip Cut
Sheet Capacity
Up to 22-24 sheets*
Shreds Credit Cards?
Yes
Shreds Paper?
Yes
Shreds Paper Clips?
Yes
Shreds Staples?
Yes
Value Added Features
Energy Smart, Jam Prevention Technology, Quiet Operations, Safety Feature
Model #
B32s1/8
Weight (lbs)
56
Height (inches)
31.2
Width (inches)
19.6
Depth (inches)
15.7
Voltage
120 V
Warranty



Shipping Weight (lbs)
61 lbs.
Shipping Length(inches)
24
Shipping Width (inches)
20
Shipping Height (inches)
35
QUESTIONS & ANSWERS
Have a Question?
Be the first to ask a question about this.
Ask a Question
HSM Securio (Models AF150, AF300, AF500, B22, B24, B26, B32, B34, B35, P36i, P40i, P44i) – Office / Large Office / Department Shredders
Parts and labor to repair any failure caused by defect is limited to three (3) years from date of invoice. Strip and Cross Cut Cutting Rollers are warranted to be free of manufacturer defects for the life of the shredder from the date of invoice.
Level 5 and High Security Level 6 Shredders
Parts & labor to repair any failure caused by defect is limited to three (3) years from date of invoice. Cutting Rollers on all high security units that have an oiler installed are warranted to be free of manufacturer defects for five (5) years from date of invoice. Failure to lubricate these machines properly will void the warranty. Cutting Rollers on High Security Shredders purchased without an oiler are warranted for one (1) year.
HSM Standard Warranty
HSM warrants that any new products sold will be free from defects in material and workmanship when used under specified and normal operating conditions. This warranty is void if repairs are necessitated by accidents, misuse, abuse, water damage or fire. Please read the Manufacturer's Operating Instructions, included with the product, prior to operation, to help ensure all precautions are taken to avoid canceling the manufacturer's warranty. Modifications, alterations and repairs must be performed by an authorized technician. Lubrication for cross-cut shredders is required every fifteen to thirty minutes of operation, to maintain top working condition and this warranty.
In all cases, the final authority in determining cutting system defects lies with the manufacturer. All cutting systems must be returned to the manufacturer.
Other Warranty Information
HSM Warranty Service Phone number: (800) 613-2110. Freight or transportation damage is not classified as a warranty repair in any case.