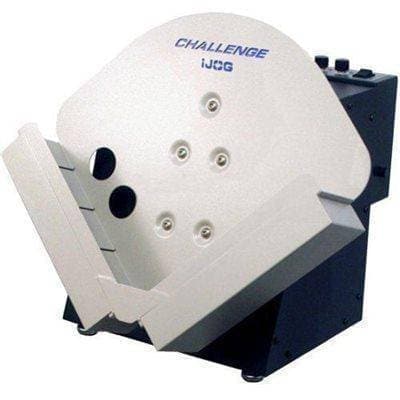 ---

Challenge iJog Air Version
This product requires Liftgate Service. If you don't have a loading dock or a forklift available to move the delivery off of the truck, please add Liftgate Service to your cart.
Description of the Challenge iJog Paper Jogger
Paper jogging is a process required by many different industries and in many settings. From offices that print large volumes of checks or envelopes to binding companies that make pads or bind volumes, the need to perfectly align paper is significant. There are jogging units that can handle the work of aligning paper in a piecemeal way because the weight of the paper often dictates how many sheets can be aligned at once. However, the iJog Air Assist Jogger substantially boosts the amount of paper that can be handled, making it an optimal solution. This front loading unit can be set on a tabletop or optional stand, the foot pedal control then triggers the machine to activate. The operator chooses the level of performance by making necessary adjustments to everything from speed to amount of air flow. The iJog offers two jogging speeds that will handle paper stocks up to 13" x 19". Air flow is adjustable from 0 to 112 CFM, and the mode by which air is delivered to the sheets is also variable according to the setting. There is the constantly on, the fully disabled, and the timed modes that will accomplish block alignment without any additional lift.
The iJog Air Assist Jogger use electro-mechanical jogging action and is capable of long term service due to the heavy duty construction of the entire unit. Standing less than two feet in height, the iJog weighs 75 pounds. As a bonus, the optional stand ensures that this unit becomes a portable part of any business' operations. When you need a heavy duty jogger that can handle high static digital printing requirements as well as heavy stocks for various other processes, the iJog Air Assist Jogger is a savvy choice. The ability to use air to shorten the time necessary for properly aligning stacks, the 4" height limit, and the ruggedness of the machine all translate to effective and reliable results. Whether your firm tackles padding, binding, printing, or any other process in which perfectly stacked sheets are required, this unit will get the world done with ease. There are a few options and upgrades for those who need a bit more durability and portability, including the single phase motor upgrade to 230 volts, the wheeled and optional stand, and a non-air version for those not doing heavier duty jogging operations.
| | |
| --- | --- |
| Manufacturer Name | Challenge |
| Number of Bins | 1 |
| Height | 20" |
| Weight | 75 lbs |
| Width | 23" |
| Depth | 23" |
| Voltage | 120 |
| Warranty | |
| Shipping Weight | 75.0000 |
| Search Terms | challengeijog, challengeijogair, ijogair, challengeijogpaperjogger, challengeijogairpaperjogger, ijogpaperjogger, ijogairpaperjogger, challengepaperjogger, i jog |
QUESTIONS & ANSWERS
Have a Question?
Be the first to ask a question about this.
Ask a Question