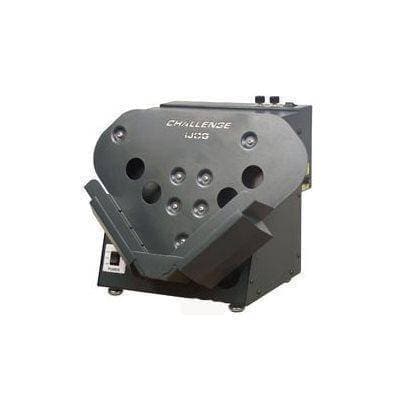 ---

Challenge iJog Non-Air Version
This product requires Liftgate Service. If you don't have a loading dock or a forklift available to move the delivery off of the truck, please add Liftgate Service to your cart.
Description of the Challenge iJog Paper Jogger
Paper jogging is required in many different industries, from printing and cutting to binding and padding, there is always a need for sheets that are aligned with precision. This is one of those "easier said than done" tasks, however, because not all paper and stock are alike and not all joggers can easily handle the work. Fortunately, there is the Challenge iJOG without air jogger that is designed as a heavy duty solution to almost any jogging need. The iJOG is built on a rugged and heavy duty design. It uses electro mechanical jogging action that is robust enough to tackle up to four inches of heavy card stock or glossy pages with ease. It is designed to accommodate up to 13" x 19" pages and stacks up to 4" in thicknesses. The robust nature of the movement eliminates the need for the operator to provide any lifting movements, and instead it is just a matter of positioning the pages and using the foot trigger to set the machine in motion. There are two jogging speeds or modes, and the non-air models use sturdy single phase motors with 5 amps to get the work done quickly and efficiently.
The iJOG without air jogger is a perfect all-around solution for all paper jogging needs, whether at the professional or traditional business level. The small size of the machine is deceiving, and its 24" square footprint and 20" height can make many believe that it cannot provide the kind of heavy duty jogging necessary. However, the sturdy construction makes this machine extremely reliable across a range of demands. Additionally, the heavy weight of the machine proves that it is built to last and to perform under even stressful loads. At 75 pounds, it is not exactly portable but the iJOG can be equipped with a few handy upgrades and options. It can be mounted to an optional stand with casters for mobility. The iJOG can receive a more powerful motor that is a single phase 8.5 amp unit. This would be a good choice for those who know that their common loads will be heavier than standard stocks. Whether your office, copy center, plant, bindery, or other business demands precisely aligned stacks of paper in a range of many sizes, this machine is capable of giving you the results you need. It will work well in a small setting or large plant, and is durable and reliable.
| | |
| --- | --- |
| Manufacturer Name | Challenge |
| Number of Bins | 1 |
| Height | 20" |
| Weight | 75 lbs |
| Width | 23" |
| Depth | 23" |
| Voltage | 120 |
| Warranty | |
| Shipping Weight | 75.0000 |
| Search Terms | challengeijog, challengeijogpaperjogger, ijogjogger, paperjogger, challengejogger, ijogger, challengepaperjogger |
QUESTIONS & ANSWERS
Have a Question?
Be the first to ask a question about this.
Ask a Question