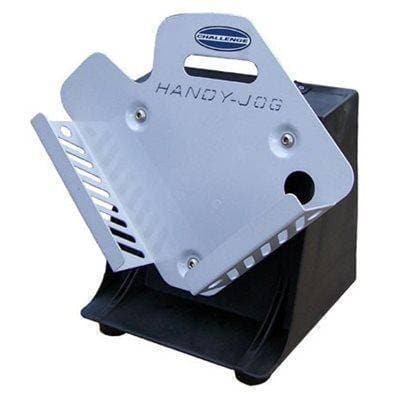 ---
Challenge Handy-Jog Paper Jogger with Standard 8.5" x 11" Tray
Description of the Handy-Jog Paper Jogger with a Standard 8-1/2" / A4 Tray
Technology can only go so far and one of the most interesting modern technologies that still face very basic challenges is printing. We've all met with serious frustration when trying to print large quantities of paper only to repeatedly deal with mis-feeds and jams. It doesn't matter what weight or printing system is at work, when paper is not aligned it will often cause problem. This simple issue is eliminated easily with the use of the Handy-Jog paper jogger w/ standard 8-1/2" / A4 Tray. This is one of the more affordable machines, with such a manageable size that it can fit on even the smallest counter or work station without any problems or risks. It operates quietly and relies on a single phase motor to provide powerful jogging strong enough to tackle 3" of standard sized paper. The standard tray can accommodate any weight of paper, and the Handy-Jog paper jogger can be upgraded with larger trays if needed. This unit operates with a maintenance free system and can be equipped with a hands-free foot switch if needed.
With the Handy-Jog paper jogger, there is no need to continually struggle with misaligned stacks of paper. Whether you are printing, cutting, or bringing the sheets together for binding, they must be completely aligned. This is rarely something that can be done "by hand," and when it is bulk quantities it does not make sense to struggle with large loads. The Handy-Jog paper jogger is a perfect solution for those in need of a lot of power in their jogging procedures, who can benefit from a machine with a small footprint, and who need their jogger to run quietly due to location or spatial limitations. This unit is also extremely easy on the budget and will operate without any maintenance demands or requirements. It will handle stock of standard size and of any weight and is great for those who must have efficient service without any hassles. When you are a printer or handle large quantities of paper for any sort of function, you need a jogger. With the Handy-Jog Paper Jogger with a Standard 8-1/2" / A4 Tray, you do not have to break the bank to get a reliable performer and the best results.
| | |
| --- | --- |
| Manufacturer Name | Challenge |
| Number of Bins | 1 |
| Height | 14-29/32" |
| Weight | 15 |
| Width | 16-1/2" |
| Depth | 9-1/4" |
| Voltage | 120 |
| Warranty | |
| Shipping Weight | 15.0000 |
| Search Terms | challengehandyjogpaperjogger, challengehandyjog, challengepaperjogger, handyjog, handyjogger, paperjogger, challengejogger |
QUESTIONS & ANSWERS
Have a Question?
Be the first to ask a question about this.
Ask a Question