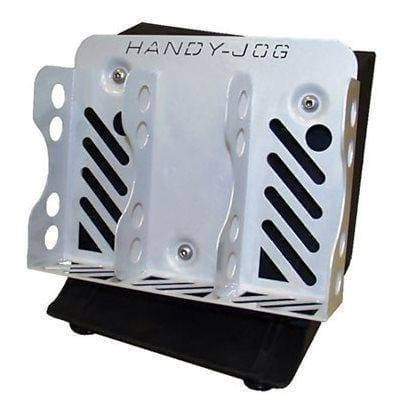 ---

Challenge Handy-Jog Paper Jogger with Check Tray
Description of the Handy-Jog Paper Jogger w/ Check Tray
Whether printing, sorting, or preparing checks for handling by some sort of machinery, it is common to "jog" documents to ensure they are appropriately aligned and ready for processing. The Handy-Jog paper jogger w/ check tray is ideally suited to the unique paper size of most checks (9x12) and can tackle up to 3" stacks of stock of any weight. Not only is the Handy-Jog paper jogger w/ check tray capable of tackling this sort of specialized work, but the unit is also one of the most affordable available. Its cost efficiency does not come with a loss of quality, however, and it is a maintenance free device that can be used in a number of settings. The Handy-Jog paper jogger w/ check tray has a very manageable "footprint" that makes it suitable to any office setting. It is so functional and convenient that it can easily operate in an office setting thanks to its quiet performance. Those who need hands free service can also use an optional foot switch feature as well. The effective single phase motor uses 120 volts and this too makes it safe and effective for many different settings. If there is a need for alternative functions, such as standard or oversized paper jogging, this machine can be equipped with trays of varying sizes. The Handy-Jog paper jogger mounts from the front and will not handle other paper sizes properly.
If you are someone who finds themselves frequently handling stacks of blank or printed checks, the Handy-Jog paper jogger will become a major office tool. It ensures that your stacks of paper checks are properly aligned for printing, folding, or processing in any other way. The unit is very portable and very quiet, making it the perfect solution for even the busiest or most crowded office spaces. It is a remarkably affordable machine and comes with such low maintenance requirements as to be feasibly labeled as maintenance free. Because it is such a flexible office tool, it can be used for multiple purposes when the various paper trays are acquired for this unit. This ensures that you get the most out of the device, and is a good way to maximize its service and performance. Jogging is an essential task and you want a solid performer; this unit gives accurate alignment and does so in an optimal way.
| | |
| --- | --- |
| Manufacturer Name | Challenge |
| Number of Bins | 1 |
| Height | 14-29/32" |
| Weight | 15 |
| Width | 16-1/2" |
| Depth | 9-1/4" |
| Voltage | 120 |
| Warranty | |
| Shipping Weight | 15.0000 |
| Search Terms | challengehandyjogpaperjogger, challengehandyjog, challengepaperjogger, handyjog, handyjogger, paperjogger, challengejogger, checktray |
QUESTIONS & ANSWERS
Have a Question?
Be the first to ask a question about this.
Ask a Question