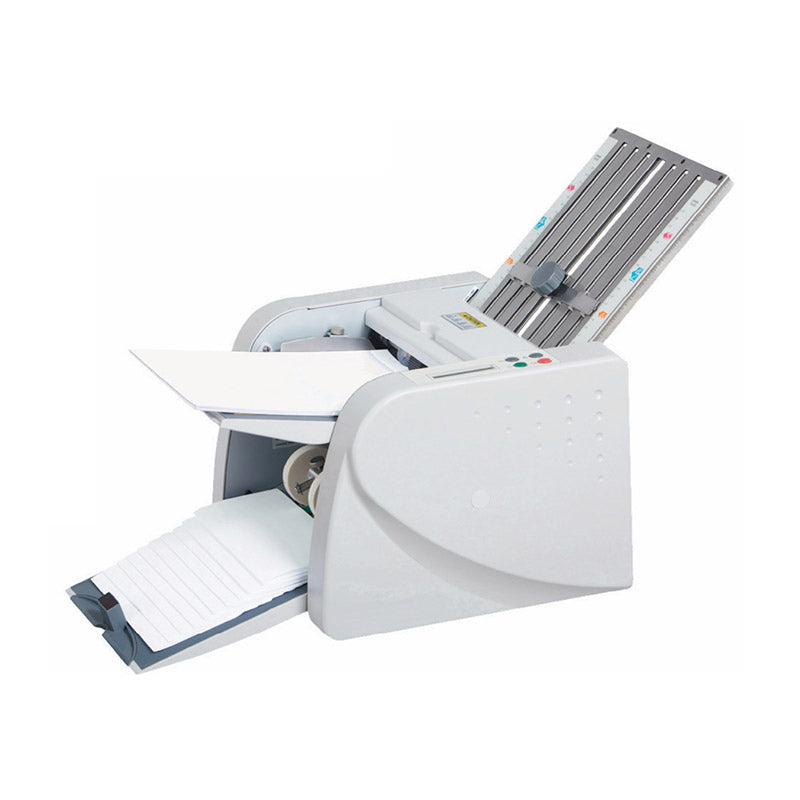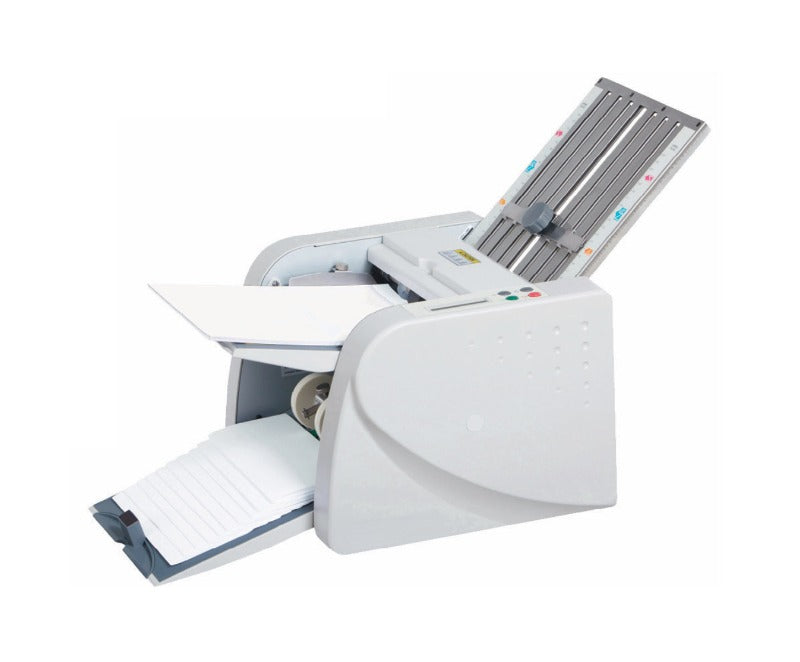 ---


WBBM 98M Manual Paper Folder (Open Box)
SKU: WHI98M-D
Max Paper Weight: 116.63 g/m²
Max Paper Size: 8.5" x 14"
Adjustment: Manual
Feed Type: Friction
Fold Types: Letter, Half, Z-fold, Double Parallel
Video of the WBBM 98M Paper Folder
Features of the WBBM 98M Paper Folder
The 98M is a manual paper folder from Whitaker Brothers. One of the least expensive options in its category, the 98M is ideal for churches, schools and other small companies with low volume loads of paper. This compact, reliable folder is one of the best folders you can get in its price range. It comes with color coded fold plate marks so even an untrained employee can master this machine quickly and easily.
The user-friendly settings offer a programmable counter, that include batch and total functions. Instead of having to manually configure your settings for each project, these programmable options eliminate this burden and save you time. This folder handles paper sizes as small as 4" x 5" and as large as 8 ½" x 14" and paper weights between 16 and 80 lbs offset. With a powered, removable exit conveyor and exit tray, not only will it produce your folded materials in a tidy folded stack, this makes is a compact choice that will fit well in any home or office. The folder also comes with an automatic stop feature that will automatically stop after the last piece of paper in your batch is finished, ultimately preventing overheating
The 98M folder from Whitaker Brothers is the new version of the tried and true 93M, with a few added improvements. Just like the old version of this machine, the 98M can make a half fold, tri fold, z fold, and a double parallel fold at a capacity up to 150 sheets and a rate of 7,200 sheets per hour. However with the 98M, you no longer need to reverse the fold plate while administering a double fold job like the tri fold, z fold, or double parallel fold. Another added feature of the 98M is the new ability to run the machine in test mode. Test mode lets you run a few samples of your paper to test your folds and make minor adjustments to the fold plates as necessary.
Along with its new functions and features, the 98M also features a higher quality build than its predecessor. The newest folder from Whitaker Brothers has reengineered the lock plates to separate the rollers to prevent them from deformation due to long time pressing against each other. This lets customers run the new machine without any strange noises coming from the rollers touching. The last change from the 93M to 98M is the fold plates are now packaged individually. This gives the machine better packaging protection, ensuring it safely arrives to the user every time.
A true customer favorite, the 93M retires and passes the torch to the 98M. With all of the favorite functions and features of the old folder as well as new and improved additions, it's easy to see why the 98M is a top selling folder.
Please select your preferred download file from the list below.
For additional resources, please see:
We strongly advise that you properly maintain your paper folding machine - please see our 98M Folder Maintenance Kit for more information.
| | |
| --- | --- |
| Manufacturer Name | Whitaker Brothers |
| Model # | 98M |
| Feed Type | Friction-fed |
| Fold Adjustment Setting | Semi-automatic fold adjustment |
| Fold Types | Half, Letter, Z, Double Parallel |
| Feed Tray Capacity | Up to 150 |
| Speed | 7,200 sheets per hour |
| Dimensions | 14" L x 25" W x 16.75" H |
QUESTIONS & ANSWERS
Have a Question?
Be the first to ask a question about this.
Ask a Question