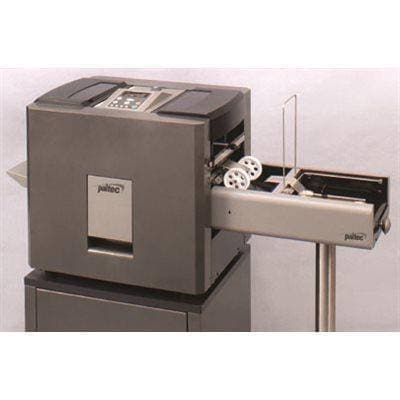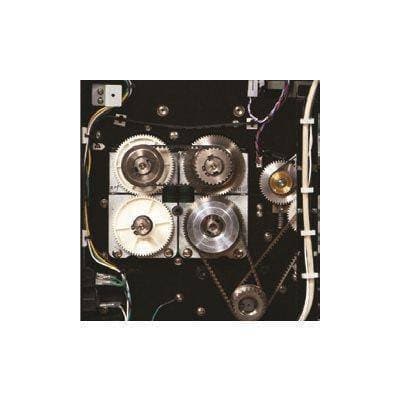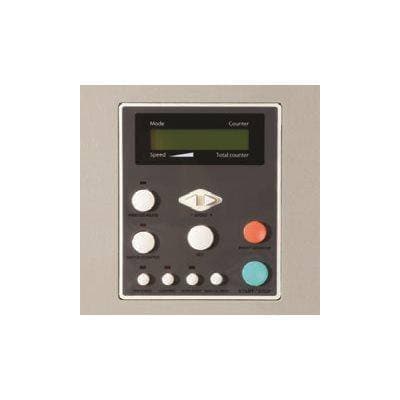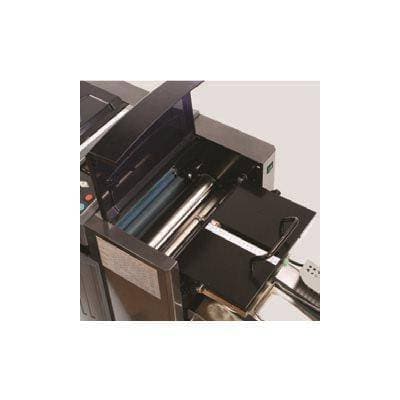 ---




Paitec MX13000 Pressure Sealer
FREE FREIGHT SHIPPING within the contiguous U.S.
This product requires Liftgate Service. If you don't have a loading dock or a forklift available to move the delivery off of the truck, please add Liftgate Service to your cart.
Video of the Paitec MX13000 Pressure Sealer
Description of the Paitec MX13000 Pressure Sealer
The MX 13000 is Paitec's most advanced heavy duty pressure sealer that can still fit on a desktop. It folds and seals an incredible 13,000 pieces per hour and enhanced parts enable a monthly duty cycle of 400,000 sealed items. So just imagine the thousands of envelopes you're not spending money on. The large infeed tray holds 1,400 sheets and auto-lifts stacks into the feeder for fast and smooth throughput. If the thickness sensor detects a double feed, the reverse friction roller (RFR) will stop and reverse to prevent paper jams or damage to the sealer. There is even a manual sealing slot for pre-folded or damaged items so nothing goes unsealed. The exit tray holds up to 350 finished forms, but users can choose the optional vertical stacker which holds up to 700 forms. The easy-to-use control panel makes it easy to adjust speed, run inline with a printer, keep track of processed forms (single and batch), and choose fold settings (Z, EZ, C, EC, V, and Double Parallel). Once you have chosen settings and filled the feeder tray, all that's left is to push start. The adjustable speed makes it easy to control workflow and noise level. So not only is it efficient and self-sufficient, the MX 13000 is a green, economical option for mailer items. No need to buy thousands of envelopes that take up more time to stuff and end up discarded.
The four roller sealing unit means higher pressure sealing to accommodate the fast speeds. Users will not have to sacrifice the quality of sealing for a faster sealing process. Users can easily adjust the speed level, count processed forms, and choose fold settings from the incredibly easy to use control panel. All users need to do is fill the infeed tray and unload from the exit tray. So whether it's a check, bill, invoice, grade report, medical results, notices, or any other pressure seal form, the MX 13000 folds and seals in no time at all. An optional cabinet is also available for easy placement and mobility.
| | |
| --- | --- |
| Manufacturer Name | Paitec |
| Feed Type | Friction-fed |
| Fold Adjustment Setting | Automatic fold adjustment |
| Feed Tray Capacity | Up to 1,400 |
| Speed | 13,000 forms/hour |
| Programmable Presets | 18 |
| Counter | Yes |
| Batcher | Yes |
| Fold Types | Double Parallel Fold, C Fold, V Fold, Z Fold, EZ Fold, EC Fold |
| Variable Speed | Yes |
| Accepted Paper Sizes | A4, Letter, Legallons |
| Accepted Paper Weights | 20 to 30 lbs. |
| Duty Cycle | 400,000 |
| Model # | MX13000 |
| Manufacturer Part Number | MIX13000 |
| Weight | 227 lbs. |
| Height | 24" |
| Width | 24" |
| Depth | 16" |
| Voltage | 120 Volts; other voltages available |
| Warranty | |
| Shipping Weight | 227 lbs. |
QUESTIONS & ANSWERS
Have a Question?
Be the first to ask a question about this.
Ask a Question