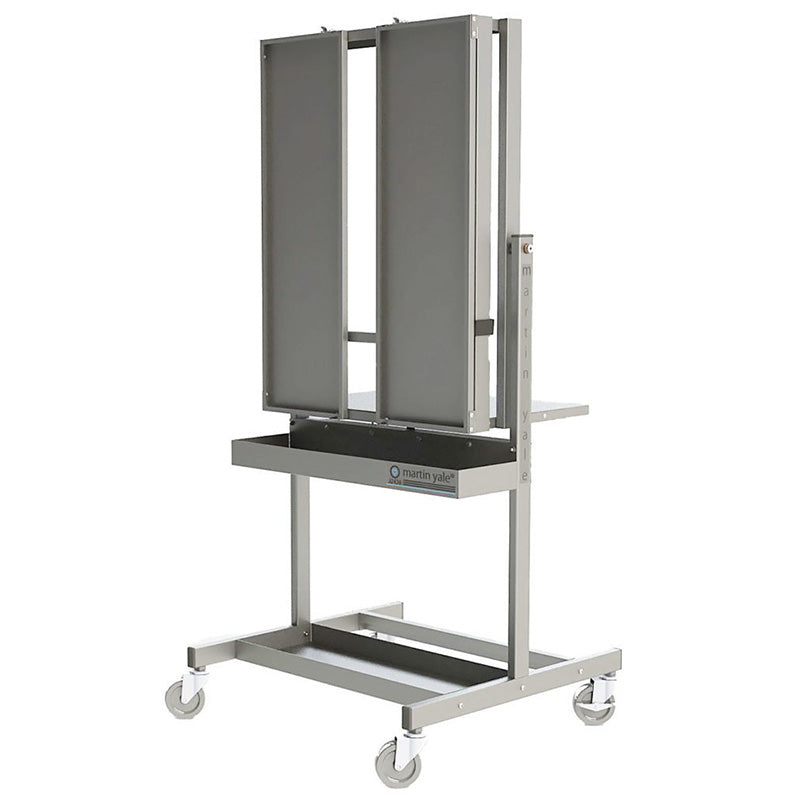 ---

Martin Yale J2436 Titan Padding Press
This product requires Liftgate Service. If you don't have a loading dock or a forklift available to move the delivery off of the truck, please add Liftgate Service to your cart.
Description of the Martin Yale J2436 Padding Press
Durable and functional, the Martin Yale J2436 Padding Press is a single-person operated machine. Standing at convenient 5 ½ feet, the J2436 can handle heavy-duty padding jobs with ease. It is able to hold up to 30" (around 500 sheet reams of 20 lb paper) stacks thanks to its durable build. The drip tray and supply shelf can hold up to 25 lbs each of supplies, including tools, quart size cans, glues, and brushes. The steel twin doors (for twin stacks) provide a sturdy, level surface to straighten reams. As a padding press, the J2436 possesses the typical capability, holding paper stacks tightly in place for easy application of adhesive. It eliminates the need for separate paper jogging that most smaller machines require, and can handle heavy-duty jobs.
Martin Yale focuses on ergonomic design for functionality and the highest quality of user safety. The J2436 has locking casters and a centered pivot point that greatly minimize the chances of tipping and sliding during loading/unloading. But unlocking the casters allow users to move the padding press to just about anywhere, easily fitting through doors. Easy-to-use, Positive Locking Door Draw thumb latches keep the twin doors from opening while loading and tilting. No pinch or crush points and a spring loaded tilt hatch (with a shallow tilt angle) make for neater paper stacks. Just tilt the J2436 and neatly stack paper against the doors, clamp the stack in place, place it back in an upright position, and then open the doors to start applying adhesive.
Proudly made in the U.S., the J2436 is built with heavy duty, solid-steel construction. Adhere any stack of paper into a book, pad, or other up to 30" tall. It's practical (designed for single person operation), safe, and provides a lasting performance.
Please select your download from below.
| | |
| --- | --- |
| Manufacturer Name | Martin Yale |
| Weight | 98 lbs |
| Depth | 30 inches |
| Width | 30 inches |
| Height | 66 inches |
| Warranty | |
| UPC | 011991024364 |
| Shipping Weight | 110.0 lbs. |
| Shipping Length | 22 inches |
| Shipping Width | 27 inches |
| Shipping Height | 4 inches |
QUESTIONS & ANSWERS
Have a Question?
Be the first to ask a question about this.
Ask a Question