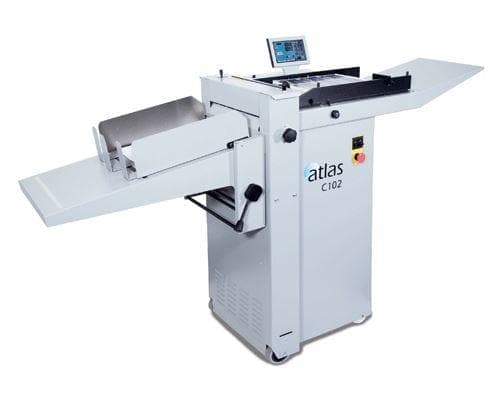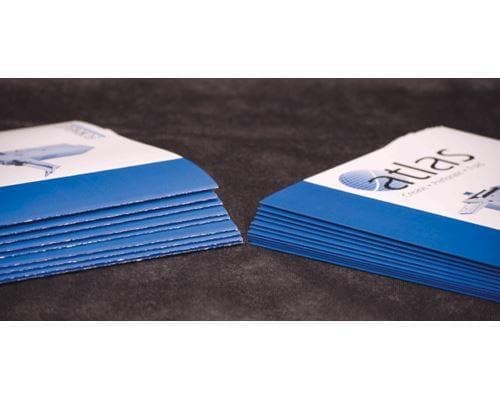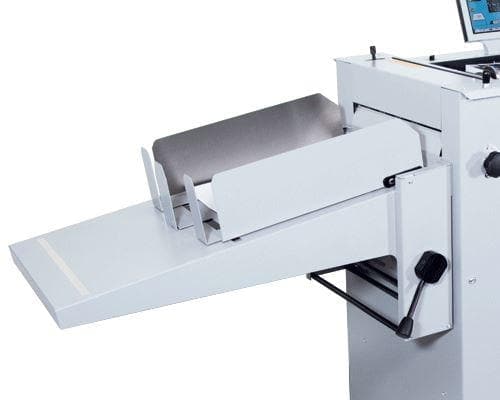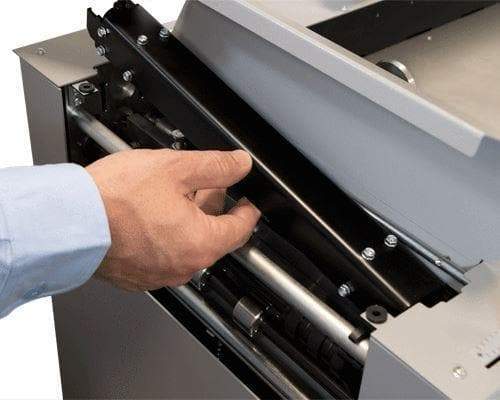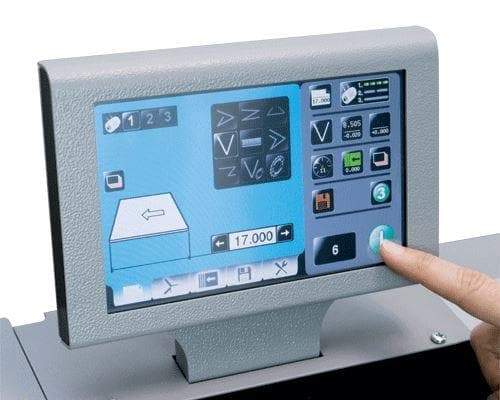 ---


Formax Atlas C102 Automatic Creaser / Perforator (Discontinued)
Sale price

Limited availability.
This product requires Liftgate Service. If you don't have a loading dock or a forklift available to move the delivery off of the truck, please add Liftgate Service to your cart.
The NEW Formax Atlas C102 High-Speed Automatic Creaser/Perforator replaces the Atlas C100, with upgraded features: Quick-release blade system, Height-adjustable outfeed stacker, Extended infeed deck, and Optional cross/partial perf kit. This creasing machine is a fully-automatic, user-friendly solution to solve the problem of cracking in toner-based digital prints. Utilizing a unique creasing matrix, it compresses paper fibers instead of cutting them, virtually eliminating cracks on a creased or folded edge. The quick-release blade system allows for easy changing from creasing to cross perforating, without using any tools. It features variable creasing depth, which can be adjusted using a simple sliding lever, to accommodate various paper weights. An extended infeed deck now accommodates sheets up to 35" L x 13" W. The outfeed stacker can be adjusted to match the paper stack height and keeps processed sheets neatly organized for quick and easy removal.
The Atlas C102 is equipped with graphics-based 7" touchscreen control panel that allows operators to set-up easily and save jobs in just minutes or use one of the six pre-programmed settings. The C102 automatically calculates the crease positions based on paper size and sets them accordingly. The powerful bottom-suction air-feed system allows for continuous loading of sheets, which increases productivity while maintaining accuracy, even with heavier stocks.
This fully-automatic air-feed creaser offers variable speed control to accommodate a wide variety of sheet sizes and thicknesses. It has the ability to produce up to 16 creases per sheet, and it can process up to 8,500 sheets (8.5" x 11") or up to 11,000 sheets (6.5" x 8.5") per hour. Perforating capabilities are also standard, with a wide range of perf wheels to suit many different applications.
To maximize the productivity of Atlas C102, numerous accessories are available such as optional cross and part perforation kit, narrow sheet guide, narrow creasing matrix, and a variety of perforating wheels in fine and coarse teeth configurations.
The Atlas C102 has a rugged metal construction and a compact footprint that makes it ideal for small print shops and production facilities with limited space that want to expand their digital print finishing capabilities.
Speed:
Up to 8,500 sheets per hour (8.5" x 11")
Up to 11,000 sheets per hour (6.5" x 8.5")
Sheet Size:
Max: 35" x 13"
Min: 8.3" x 5.5"
Paper Thickness:
Max: 0.015" (approx. 400gsm)
Min: 0.004" (approx. 80gsm)
Creases per Sheet: Up to 16
Minimum Repeat Crease Distance: 0.03" (depending on paper weight)
Minimum Crease Distance from Leading Edge: 0.09"
Minimum Crease Distance from Trailing Edge: 1.37"
Programmable Jobs: 50
Dimensions: 75.4" L x 20.5" W x 48" H
Weight: 267 lb
Power: 220V, 50/60hz, 15A, NEMA 6-15P
QUESTIONS & ANSWERS
Have a Question?
Be the first to ask a question about this.
Ask a Question