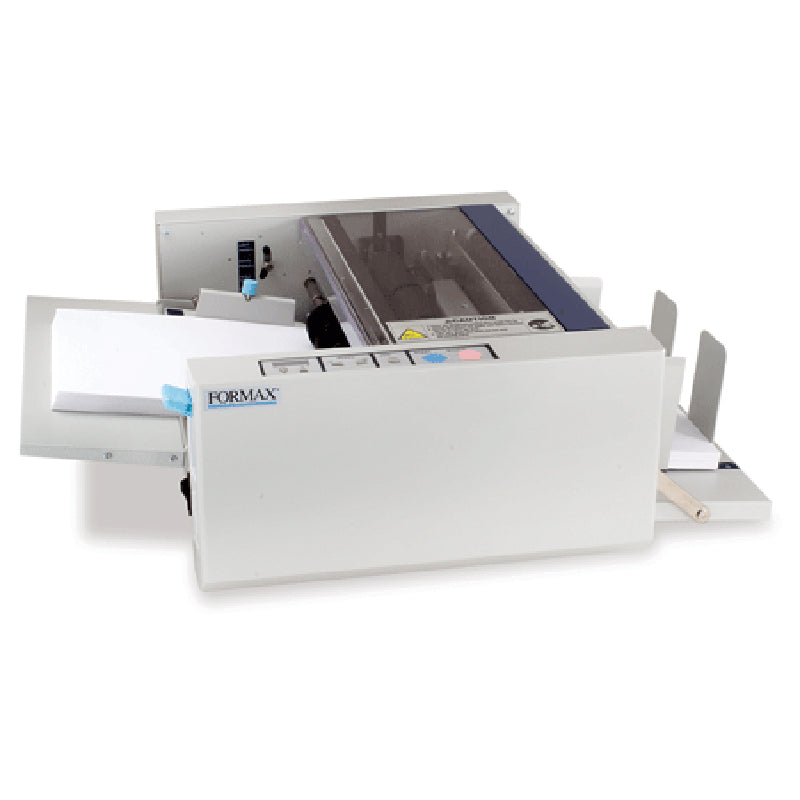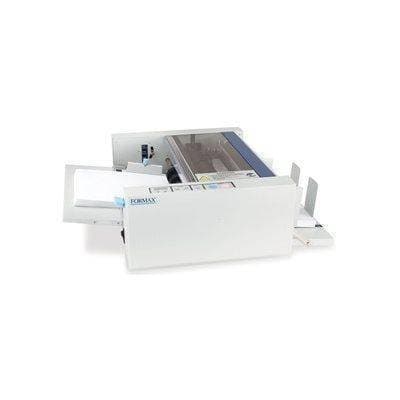 ---


Formax FD 4170 Cut Sheet Burster
This product requires Liftgate Service. If you don't have a loading dock or a forklift available to move the delivery off of the truck, please add Liftgate Service to your cart.
Description of the Formax FD 4170 Cut Sheet Burster
In the modern world, it seems odd to say that some office and business procedures have to be tackled by hand, but that is often the case with forms "bursting". This is the process by which multiple or continuous forms all printed at one time will have to be manually separated and sorted. As an example, a batch of monthly invoices is printed on multiple forms that are joined together by pre-perforated seams. When the print work is done, someone has to separate all of the forms and stack them up for further handling. Fortunately, the Formax FD 4170 Cut Sheet Burster is a device that can tackle this work and eliminate the time spent in manually separating documents. Essentially, the Formax FD 4170 Cut Sheet Burster is a very simple device that is completely adjustable and capable of handling an impressively large amount of work in a short space of time. It will use one or two passes to separate multiple forms that are printed on the same sheet. The unit can accept sheets as small as 5x4, but can also tackle pages of 17x11 as well.
Speed for the Formax FD 4170 Cut Sheet Burster will vary and is completely adjustable. There are five levels that range from 42 sheets per minute up to 140. The unit can hold up 400 pages at one time and at weights up to 110# index stock. The Formax FD 4170 Cut Sheet Burster is extremely easy to use and can even be programmed for frequent or common bursting jobs. The user simply inserts the sheets into the infeed tray, or sends them directly from their printer into the feeding area. The machine will then burst the pages at their perforations and stack the individual sheets sequentially at the speed required. There is even an air jog feature that helps to prevent any sticking during multiple passes as well.
This unit has a handy LCD counter to ensure that the appropriate number of sheets have been handled and burst. The adjustable side guides make it easy to maintain the efficiency of the machine, and this unit is ideally suited for high volume bursting at a professional level. Whether you need forms and invoices or massive quantities of payroll checks burst automatically, this unit is a solid performer. It is up to date and reliable, relatively portable, and extremely easy to use.
| | |
| --- | --- |
| Manufacturer Name | Formax |
| Speed | 40-140 sheets/minute |
| Feed Tray Capacity | Up to 400 sheets |
| Max Form Size | 11'' x 17'' |
| Min Form Size | 4'' x 5'' |
| Model # | FD 4170 |
| Paper Weight | 13# bond - 110# index (58 - 175 gsm) |
| Min./Max. Burst Length | 2.5" - 9.9" |
| Weight | 56 lbs. |
| Height | 9'' |
| Width | 32'' |
| Depth | 16'' |
| Voltage | 120 Volts; other voltages available |
| Warranty | |
| Shipping Weight | 79.0000 |
| Shipping Length | 24 |
| Shipping Width | 30 |
| Shipping Height | 17 |
| Search Terms | formaxfd4170, formax4170, fd4170, formaxfd, formaxburster, sheetburster, fd4170burster, 4170burster |
QUESTIONS & ANSWERS
Have a Question?
Be the first to ask a question about this.
Ask a Question