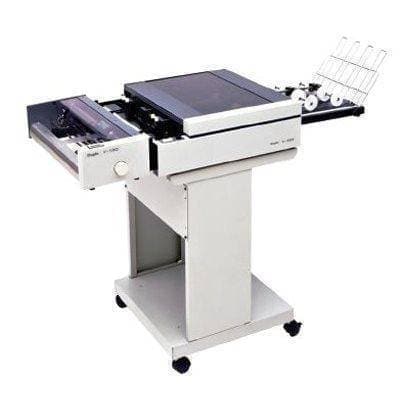 ---

Duplo V-350 Forms Burster (Discontinued)
Sale price

Limited availability.
Description of the Duplo V-350 Burster
There are many businesses that process masses of forms at one time, including those that process continuous checks, invoices, tickets, coupons, labels, and even gift certificates. This can make it challenging to handle the work efficiently because of the trimming, separating, and processing required. The V-350 Forms Burster is considered to be an ideal solution to this issue. It can handle up to five part carbonless forms or three part interleaved forms at a rate of up to 160 feet each minute. This Duplo burster can trim, separate, and stack these forms at this pace and will partner easily with additional processing equipment such as signing or imprinting gear. The V-350 Forms Burster will trim up to one inch from each form and can handle documents of 17.5" in width by three to twelve inches in length. The weight of the paper can be as hefty as 125 pound or as light as 10 pounds. And the unit even features an interlock safety system to prevent streams of documents to be destroyed or harmed during any moments of jamming or disruption.
The V-350 Forms Burster is remarkably useful in a number of settings, and it is seen as a cost efficient processing solution. It is also reasonable in size and energy requirements too, with a foot print of around 37" x 22". This burster can be mounted on a handy and mobile floor stand for storage or relocation as needed. Weighing in at only 97 pounds, it is a well designed unit for most office or workshop settings. It can be partnered with a signer or imprinter when signatures or other printed materials need to appear on the forms or materials sent through the V-350 Forms Burster. This also handles the same bulkier forms and documents, but not the trimming. Thus, this machine is a complete solution when separation, trimming, and stacking are the essential steps required. If you frequently utilize three or five part carbonless or interleaved forms, you can rely on this machine to safely and effectively process them. The interlock safety features ensure that no harm comes to the documents or to those using the machine. The trimming gear is easy to maintain and the machine is a reliable performer in many different settings.
| | |
| --- | --- |
| Manufacturer Name | Duplo |
| Speed | 40-160 feet/minute |
| Max Form Size | 3'' to 12'' long |
| Min Form Size | Up to 17 1/2'' wide |
| Optional Center Slitter | Yes |
| Model # | V-350 |
| Weight | 87 lbs. |
| Height | 8'' |
| Width | 37'' |
| Depth | 22'' |
| Voltage | 120 VAC; other voltages available |
| Warranty | |
| Shipping Weight | 87.0000 |
| Search Terms | duplov350, duplov-350, duplov350burster, duplov-350burster, formsburster, v350 |
QUESTIONS & ANSWERS
Have a Question?
Be the first to ask a question about this.
Ask a Question