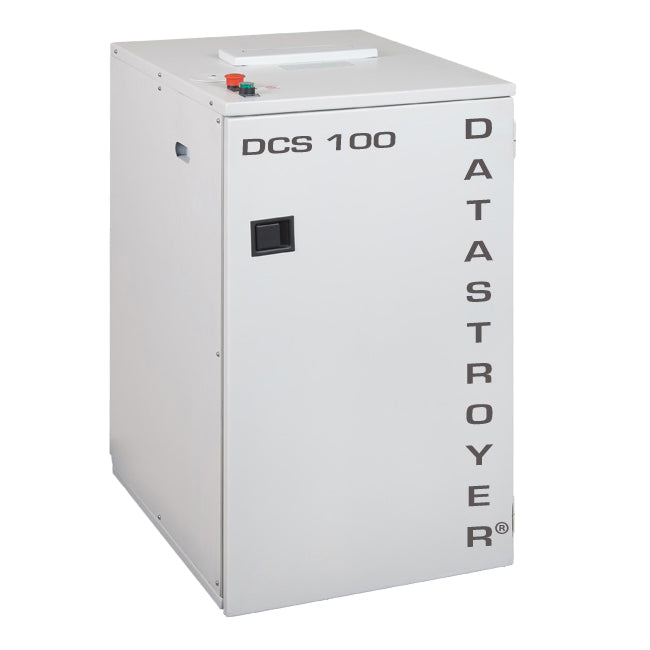 ---

Datastroyer DCS 100 Disintegrator
SKU: WHIDCS100
NSN: 7490-01-697-1932
On GSA Contract (GS-35F-309DA). Please call us at (800) 243-9226 for more info.
This product requires Liftgate Service. If you don't have a loading dock or a forklift available to move the delivery off of the truck, please add Liftgate Service to your cart.
Description of the Datastroyer DCS 100 Disintegrator
If you are looking for a small sized disintegrator to fit in your office, look no further than the Datastroyer DCS 100 disintegrator. The DCS 100 is NSA evaluated to meet or exceed NSA/CSS Specification 02-02 for paper and Keytape, as well as Specification 04-02 for Optical Media. With the 3/32" screen, this granulator will destroy your materials to high security standards. Other screen sizes are available depending on your security needs. The DCS 100 disintegrator is equipped with an internal vacuum system for collection of the particles that pass through the screens. This heavy-duty office disintegrator has a throughput of up to 80 lbs. per hour, and will destroy up to 3,500 CDs and DVDs per hour. Although small is structure, the Datastroyer DCS100 features 3 rotor knives that spin rapidly while fixed 2 bed knives assist in tearing your materials into pieces. Thanks to the 9 ¼" x 1 ½" media slot, the DCS 100 is meant more for mixed media destruction rather than paper. This disintegrator accommodates credit cards, memory sticks, ID cards, cassettes, floppy disks, microfilm, etc.
Thanks to the safety interlock access panels, the DCS 100 will instantly shut off should the cabinet door open during operation. This level 6 disintegrator has an enclosed operating system which provides a quiet environment with an 80-85 dBA rating (a little louder than a vacuum). An optional feed rate meter allows users to monitor the operational capacity of the unit to ensure it does not get overfed. Compared to the industrial disintegrators, the DCS 100 is lightweight, weighing just 550 lbs. Nevertheless, this disintegrator is easy to transport and relocate thanks to heavy duty swivel casters. With dimensions of 23 3/4" W x 29 3/8" D x 40 3/4" H, the DCS 100 guarantees convenience, ease-of-use, and security in one compact package.
| | |
| --- | --- |
| Manufacturer Name | Datastroyer by Whitaker Brothers |
| Feed Opening/Throat Size | 9.25" x 1.5" Media Feed Slot |
| Number of Knives | 5 |
| Standard Evacuation System | Internal Vacuum System |
| NSA Approved | Yes |
| NSA Throughput | 80 lbs/hour |
| Available Screen Sizes/Particle Size | 3/32", and larger |
| Security Level | Up to level 6 |
| Max Throughput | 80 lbs/hour or 3,500 CDs or DVDs/hour |
| Horsepower | 2 HP/ 4HP Peak |
| Manufacturer Part Number | WHI DCS 100 |
| Model # | DCS 100 |
| Weight | 550 lbs. |
| Height | 40 3/4" |
| Width | 23 3/4" |
| Depth | 29 3/8" D |
| Voltage | 220V/1 Ph/50-60 Hz (20 Amp line req.) |
| Warranty | |
| Shipping Weight | 550.0000 |
| Search Terms | datastroyer100, dcs100, datastroyerdcs100, datastroyer-100, datastroyercrush, harddrivecrush, acd harddrive, |
Q: Does the DCS 100 meet NSA destruction requirements for hard drive platters? It does not specify in the features description.
A: The model DCS100 as with all disintegrator models, is not approved by the NSA for classified magnetic media destruction. All classified hard drives must be sanitized by utilizing a degausser like the Whitaker model
105HD
as listed on the NSA/CSS Degausser EPL. Though not mandatory, NSA does "highly recommend" the second stage of destruction of hard drives after degaussing. Our Datastroyer model
ACD Hard Drive Crusher
is one of those approved devices.
Will this run on 208V?

It will run, but it will also affect the performance of the disintegrator. We recommend you consult with one of our representatives to talk about what kind of media you plan to destroy to see if the reduced voltage will be problematic for you. Feel free to give us a call at (800) 243-9226.