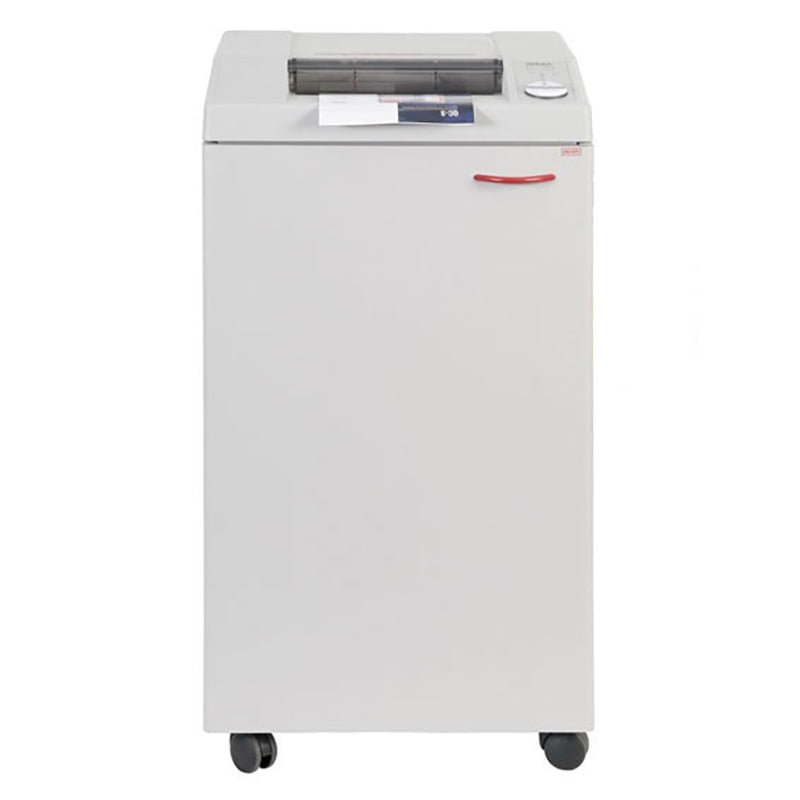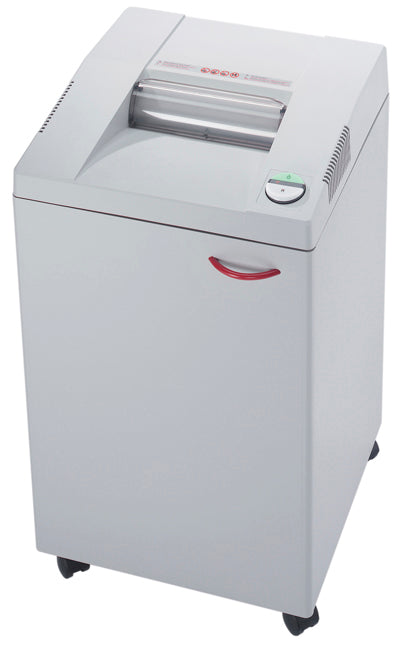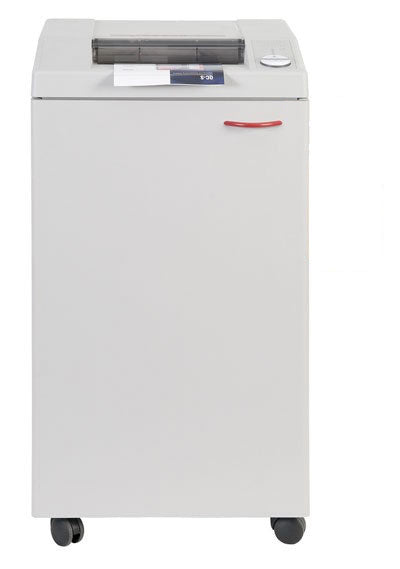 ---



220V-50Hz Datastroyer® 2600/2 SMC High Security Paper Shredder
SKU: MBM2600SMC-0334A
NSN: 7490-01-697-3359
Security: Level 6/P-7
Sheet Capacity: 6 sheets*
Throat: 10.25"
FREE GROUND SHIPPING within the contiguous U.S.
On GSA Contract (GS-35F-309DA). Please call us at (800) 243-9226 for more info.
Description of the 220V/50Hz Datastroyer® 2600/2 SMC High Security Shredder
The 220V/50Hz Datastroyer 2600/2 SMC is listed on the NSA/CSS Evaluated Products List for Paper Shredders and meets the highest possible security level so you can be sure that all of your sensitive documents are shredded properly. The DOD-approved super micro cut model has superior shredding capability, meeting the NSA/CSS Specification 02-01 for level 6/P-7 security. The paper shred size is 0.8 x 5.0 mm making it impossible to put back together. Besides its excellent security, the 220V/50Hz Datastroyer 2600/2 SMC is also one of the safest shredders to use. It contains "SPS" (Safety Protection System) safety features, such as the transparent safety shield over the feed opening and automatic power cut-off when the shred bag gets full or the cabinet is opened, that guarantee the user will remain safe while operating the machine. If you forget to turn off the shredder, the "ESM" Energy Saving mode results in zero energy consumption after 30 minutes of inactivity. The "ECC" (Electronic Capacity Control) indicator helps prevent jams by indicating capacity levels. The large multifunctional "Easy Switch" button shows you the shredder's operational status using built-in optics. Different colors and symbols will clearly display the current status of the 220V/50Hz Datastroyer 2600/2 SMC so the user will always be aware of the shredder's functioning. The shredder's cabinet is mounted on casters that make it easily movable. The quality construction of the 220V/50Hz Datastroyer 2600/2 SMC can be seen in its long-lasting gears that are protected by dust-proof housing and its double protection against overheating. For the security and durability offered, the 220V/50Hz Datastroyer 2600/2 SMC shredder is a great value and perfect for office use. The 220V/50Hz Datastroyer 2600/2 SMC High Security Paper Shredder is an excellent solution in a world where protecting your identity and classified information is vital.
Manufacturer Name
Whitaker Brothers
NSN #
7490-01-697-3359
Oiler
No
Throat Size/Feed Opening
10 1/4 inches
Shred Size
0.8 x 5.0 mm
Security Level
Level 6 / P-7
Cut Type
High Security
Sheet Capacity
Up to 11 sheets*
NSA Evaluated
Yes
Peak HP
2 HP
Horsepower
1 HP
Disclosures
*Capacity varies with grain, size, quality & paper weight and sufficient power supply.
** Please use actual HP as a specification for determining value. Use of Peak HP is for comparison purposes only where other than Actual HP is used.
Continuous Motor
Yes
Model #
2600/2 SMC 220V
Weight
106 lbs
Height
36.5 inches
Width
19.5 inches
Depth
18.5 inches
Voltage
220V/50Hz
Warranty
Shipping Weight
123
Shipping Length
25
Shipping Width
28
Shipping Height
13
Box 2 Shipping Length
22
Box 2 Shipping Width
23
Box 2 Shipping Height
36
Shipping Note
Box 1 (LxWxH): 25"x28"x13"; Box 2 (LxWxH): 21"x23"x36"
Search Terms
destroyit26002, 26002crosscut, destroyitsmc, mbm 2600-2, mbmhighsecurity, datastroyer 2600-2, destroyit2600crosscut, mbm level6, mbm p7, 2600cc, 26002, 2600-2
QUESTIONS & ANSWERS
Have a Question?
Be the first to ask a question about this.
Ask a Question