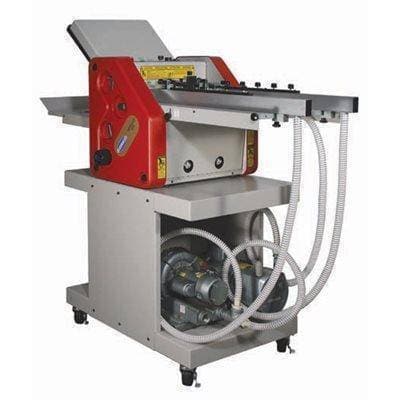 ---

Challenge Medalist 870 Paper Folder (Discontinued)
Sale price

Limited availability.
Description of the Challenge Medalist 870 Paper Folder
Professional print shops, copy centers, and other paper handling groups need high quality folding machines, and this is true even when it is single sheet folding. There are many sound solutions for small to mid-range jobs, but the Challenge Medalist 870 Paper Folder can handle up to 30k folds in a single hour. This is a versatile machine and can deal with all stocks, including coated papers, ranging from small sizes such as 4x6 to maximum sizes like 14x20. It uses steel and rubber rollers to maintain speed and create tight and accurate folds. This combination ensures that even slick coated stocks are handled properly, but the air lift feature also guarantees that each sheet is sent properly into the machine. This is all supported by the vacuum pump that creates suction too. The machine is designed to reduce or eliminate double feeds and jamming, but even when such instances occur, there is a special jam detection feature that automatically stops the unit before too many pages are wasted.
Because it uses air for most of the process, the materials sent through the Challenge Medalist 870 Paper Folder are left mark free and folded with razor like precision. The machine can be setup for custom jobs easily as well, and a flip up swing deflector can be used to allow pages to easily and flawless bypass fold plates in order to get the results desired. The fold plates do not ever need to be removed in order to get the type of folds needed.The Challenge Medalist 870 Paper Folder also features a built in counter to allow the user to keep close track of the number of pages folded. The reliability of this unit is also guaranteed by the use of durable and rugged materials. It is made from aluminum ally and uses heavy duty rollers and shafts. The vacuum system also helps to eliminate undo wear and tear on the unit as well.
Sized for a professional shop, it has a footprint of 61x25 and requires a 120 volt supply to operate the standard motor. The Challenge Medalist 870 Paper Folder is an ideal solution for high quantity paper handling establishments that must perform thousands or even tens of thousands of folding jobs at one time. This unit handles paper stock of any size, is easy to use, and provides some of the best results available.
Strengths
Recognized as having fantastic control, even when folding glossy and coated paper.
Flip-up swing deflectors provide simple setup alterations without requiring you to completely remove foldplates
Extremely high-speed production machine; folds up to 30,000 sheets an hour.
| | |
| --- | --- |
| Manufacturer Name | Challenge |
| Model # | 870 |
| Feed Type | Air-fed |
| Fold Adjustment Setting | Manual fold adjustment |
| Fold Speed | 30,000 sheets/hour |
| Pre-programmed Standard Folds | 6 |
| Accepted Paper Sizes | 4'' x 6'' to 14'' x 20'' |
| Accepted Paper Weights | 9 to 65 lbs. |
| Weight | 275 lbs. |
| Height | 26'' |
| Width | 61 1/2'' |
| Depth | 25'' |
| Voltage | 120 Volts; other voltages available |
| Warranty | |
| Shipping Weight | 275.0000 |
| Search Terms | challengemedalist, challengemedalist870, challengemedalist870folder, medalist870, challengepaperfolder, 870paperfolder, challenge870, medalistpaperfolder |
QUESTIONS & ANSWERS
Have a Question?
Be the first to ask a question about this.
Ask a Question