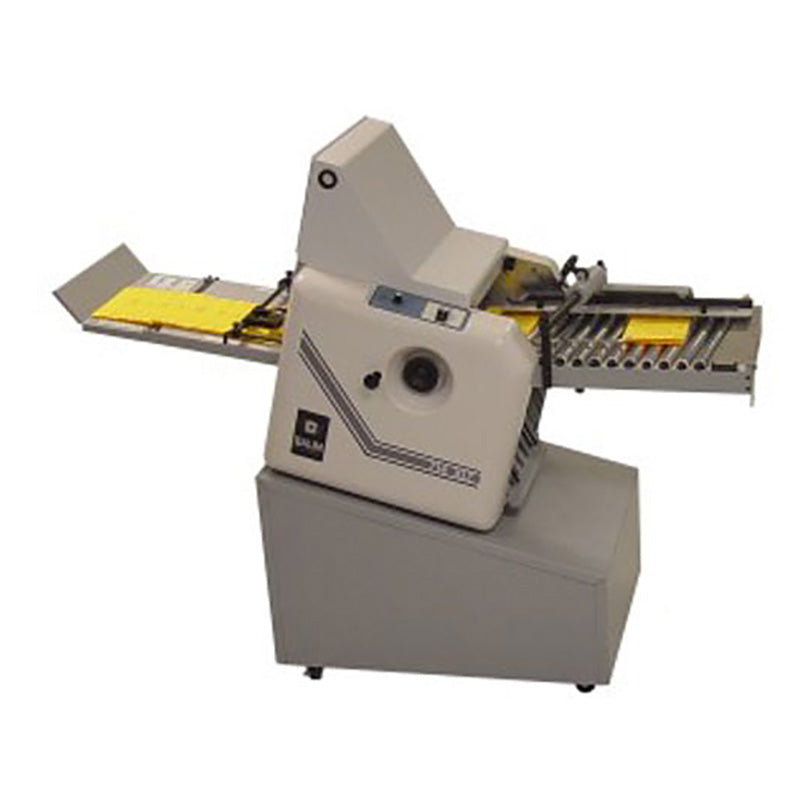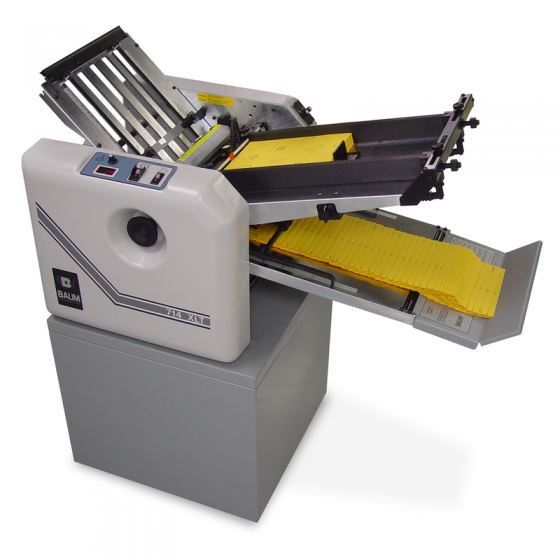 ---


Baum Ultrafold 714XLT Air Feed 8-Page Paper Folder (2nd Station)
SKU: BAUM714E28PG1
Max Paper Weight: 176.83 g/m²
Max Paper Size: 14" x 12.5"
Adjustment: Manual
Feed Type: Air
This product requires Liftgate Service. If you don't have a loading dock or a forklift available to move the delivery off of the truck, please add Liftgate Service to your cart.
Videos of the Baum 714 XLT Paper Folder
Description of the Baum Ultrafold 714 XLT Air Feed 8-Page
The Baum 714 XLT (2nd Station) is the perfect partner for Baum's other 714 models. When it is Configure to 714 models at a right angle or in tandem for continuous folding (right angle or parallel folds). With more effective stack removal, the XLT 8-page offers a higher productivity of the two-fold process while working with another 714 model. And like other 714 models, the 8-page is equipped with the same quality features, including sealed ball bearings (no lubrication needed), static and toner resistant folding rollers, and automatic roller tensioning. And because of its pivoting idler roll design, gap setting requirements are eliminated. This means faster folding with no wait time in between machines.
By adding the 714XLT 8-page right angle folder to the 714XLT Air feed folder you can now fold newsletters and other documents down to a smaller size to meet postal regulations for mailing as a self-mailer or for inserting in an envelope in one pass.
Why do you need a right-angle folder?
Although you can do second pass folding on the 714XLT Air Feed Folder this it is limited to small quantities and very labor intensive. It takes a much longer time than being able to make both the parallel and right angle folds in a single pass with the 714XLT right folder.
The Digital Printer - The digital printer who owns or purchases a 714 Air Feed Folder can add the 714XLT 8-page folder for folding jobs that require the printed piece to have a right angle fold. More and more jobs now require at least one right angle fold.
The Commercial and In-Plant Printers - Commercial and In-plant Printers often have the need to fold newsletters and other smaller jobs such as a company newsletter but they don't want to set up their larger floor model folder for these smaller jobs. By adding the 714 8-page to your 714XLT Air feed folder you now can do right angle folding. This allows you to fold newsletters and similar printed jobs down to a size suitable to meet the postage regulations.
Manufacturing and Warehouse Operations - Companies that have to fold packing slips and/or invoices to fit into envelops or packages find that a table top folder such as the 714XLT can save them time and money compared to folding by hand. The 714XLT 8-page now allows you to fold down these to a smaller size.
Churches, Fraternal and Veteran Organizations - As your member ship increases or you increase the size of the publication you may find it worthwhile to add a right angle to your folder. The 714 8-page is the ideal companion to your existing 714 Air Feed Folder. This could not only save you time but also postage.
Additional Features of the Baum 714XLT Ultrafold (2 Station)
Toner-resistant fold rollers [urethane only]
Polyurethane fold rolls
Gear-driven fold rolls
Automatic fold roller tensioning
Angular roll cross carrier
Gear driven cross carrier rolls
Easy Access slitter shafts
Flow-Thru design
Adjustable scoring assembly
Extended delivery stacker
DC drive
Sealed ball bearings
Sound Covers standard
Special 8-page cart included standard
Transfer table
UL approved
Heavy duty construction
The BAUM Ultrafold 714XLT comes with a 3 year warranty on parts verses other manufactures 1 year or less.
| | |
| --- | --- |
| Manufacturer | Baum |
| Model | 714 8-Page (2nd Station) |
| Max Sheet Size Right Angle | 14" x 12.5" |
| Min Sheet Size | 3" x 5" |
| Max Size Fold (#1 or #2 plate) | 13.5" |
| Min Size Fold | 2.25" |
| Max Paper Weight | 65 lbs. cover |
| Fold Roll Diameter | 1.5" |
| Fold Roll Material | Either Polyurethane or Combination Polyurethane/Steel |
| Right-Angle Fold Roll Speed | 5,000" per min. |
| Product Weight | 310 lbs. |
| Product Dimensions | 27" tall x 49" long x 24.5" wide |
| Power Consumption | 1,500 watts |
| Voltage | 110 VAC, 60 Hz (call us for other power options) |
| Shipping Weight | 340 lbs. |
| Shipping Dimensions | 27" tall x 56" long x 29" wide |
QUESTIONS & ANSWERS
Have a Question?
Be the first to ask a question about this.
Ask a Question