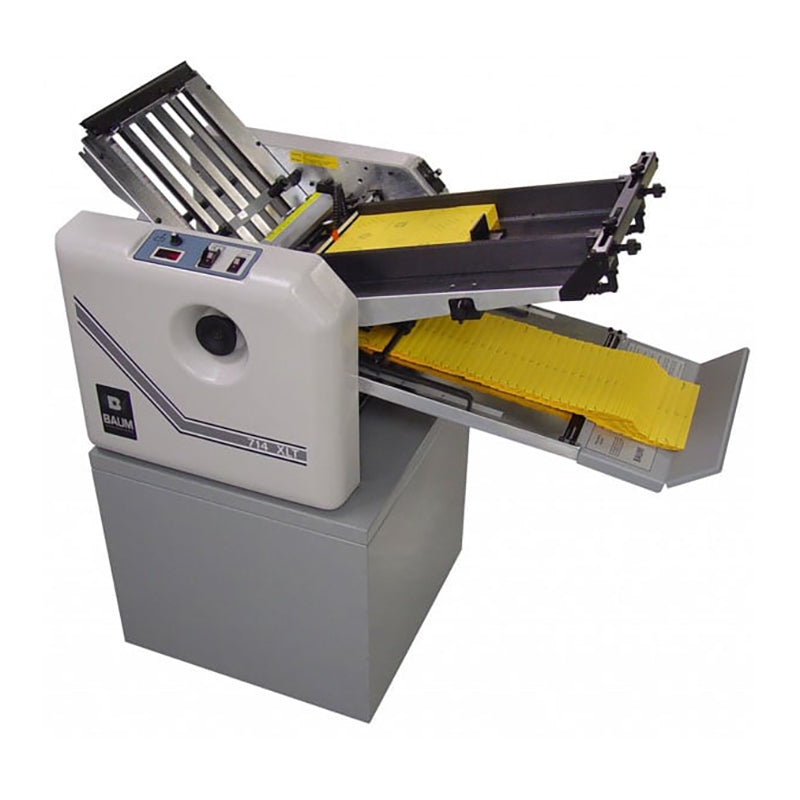 ---

Baum Ultrafold 714XLT Air Feed Paper Folder
SKU: BAUM714XLTE2P1
Max Paper Weight: 176.83 g/m²
Max Paper Size: 14" x 20"
Adjustment: Automatic
Feed Type: Air
This product requires Liftgate Service. If you don't have a loading dock or a forklift available to move the delivery off of the truck, please add Liftgate Service to your cart.
Videos of the Baum 714 XLT Paper Folder
Description of the Baum Ultrafold 714 XLT Air Feed
The Baum 714 XLT Air Feed is a quality rugged folder that uses a continuous feed, non marking, bottom feed system. Although it is an air feed folder, the vacuum and air blow are managed by a quiet pump to keep the noise level as quiet as possible. The 714 XLT is more compact than larger Baum floor models, but has the same great capabilities and reliability.
The XLT Air Feed requires very little maintenance from users with its sealed ball bearings (no lubrication necessary), toner resistant folding rollers that also dissipate static, and automatic roller tensioning. The exclusive air control system allows for second pass folding. The 714 XLT can take sheet sizes from 3"x 5" to 14"x 20" and can process up to 35,000 sheets per hour. Place it anywhere you wish and no need to worry about taking up too much space, due to its convenient size and its same side loading/unloading. Even pair it with the 714 XLT 8-page to process loads continuously, in tandem for multiple folds. The 714 XLT may be small, but it possesses all the capabilities of a larger folder.
The BAUM Ultrafold 714XLTcomes with a 3 year warranty on parts verses other manufactures 1 year or less. In addition, the Baum 714XLT is built in the USA!
Business Applications
A few of the type of business that use the Baum 714XLT include:
The Digital Printer - With the increasing demand for digitally printed material in smaller run quantities there is the need for a heavy duty table top such as the Baum714XLT Air Feed Table Top Folder. The simplicity of operation and rugged design makes the Baum 714XLT a perfect choice for folding the printed piece.
The Commercial and In-Plant Printer - Commercial and In-plant Printers often have the need to fold smaller jobs in a hurry but they don't want to set up their larger floor model folder for these simple jobs. The Baum 714XLT is a perfect companion to their larger floor model folder to handle these type jobs. Due to the simplicity of set up and operation of the 714XLT compared to a floor model folder it is also possible to utilize a less experienced person to fold these jobs and not tie up your folder operator's time on these smaller jobs.
Manufacturing and Warehouse Operations - Companies that have to fold packing slips and/or invoices to fit into envelops or packages also find that a table top folder such as the 714XLT can save them time and money. This versatile folder can also be used to fold internal newsletters, flyers and employee notices.
Churches - Churches have weekly bulletins, flyers, etc. which they reproduce themselves using their copier which then needs to be folded. Having your own folder saves you time and the expense of having someone hand fold them. Years ago we had a lot of volunteers available to do this type work but with our busier lifestyle less people are available to help. It will depend on the volume of folding being done whether or not a Table Top or Desk Top Folder is correct for this application. Your local Baum Dealer can assist you with this determination.
Fraternal and Veteran Organizations - Many of these organizations also produce their own newsletters and flyers. More and more of these are being reproduced in house on a copier and they need a way to fold them. The same things apply to these organizations as it does for churches.
Please select your preferred download file from below.
| | |
| --- | --- |
| Accepted Paper Sizes | 3" x 5" to 14" x 20" |
| Max Paper Weight | 65 lb cover |
| Feeder Pile Height | 2" |
| Fold Roll Diameter | 1.5" |
| Fold Roll Material | Either Polyurethane or Combination Polyurethane/Steel |
| Product Dimensions | 27" H x 49" L x 24.5" W |
| Feed Type | Air-fed, bottom feed |
| Voltage | 110V |
| Shipping Weight | 345 lbs. |
| Warranty | The BAUM Ultrafold 714XLTcomes with a 3 year warranty on parts verses other manufactures 1 year or less. |
QUESTIONS & ANSWERS
Have a Question?
Be the first to ask a question about this.
Ask a Question