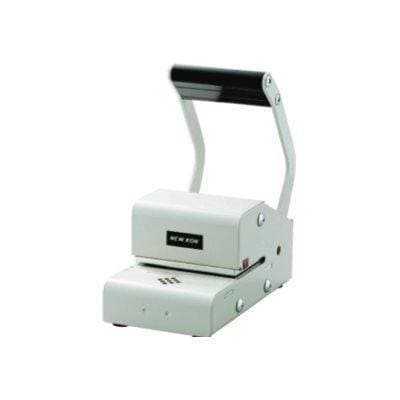 ---

Widmer P-410 Mini Perforator (Discontinued)
Sale price

Limited availability.
Description of the Widmer P-410 Mini Perforator
If you're sick of using a hand-held hole puncher, you should switch to the Widmer P-410 Mini Perforator. This mini perforator will permanently alter any document (but useful for sensitive documents) you need. You can use this perforator to punch holes that will be useful for permanently voiding (or canceling) ID cards and drivers' licenses. You can also use it to validate other types of documents with its hole punching mechanism. However, what truly separates this product from a simple hand-held hole puncher is its custom lettering that allows you to punch up to 5 characters. The P-410 also has a selection other than the custom lettering that includes PAID and VOID. This perforator is truly a portable machine. It's unique design allows for it to be a compact, light duty table top perforator that really is portable.
The 410 mini perforator is a multi-purpose machine that features unlimited applications. It not only makes permanent markings on documents, it has a versatile select-a-word line. Despite its smaller size, it is available with one, two, and three line perforation. It also has custom-made keys that allows for the word above the date to be easily changed.
| | |
| --- | --- |
| Manufacturer Name | Widmer |
| Max Number of Characters | 5 |
| Warranty | |
| Shipping Weight | 0.0000 |
| Search Terms | widmerp-410, widmerp410, p408, widmerperformator, 410perforator, miniperforator, widmermini |
QUESTIONS & ANSWERS
Have a Question?
Be the first to ask a question about this.
Ask a Question