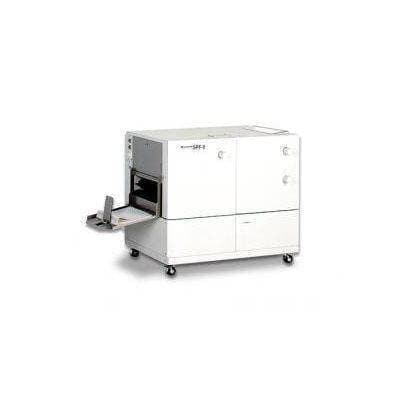 ---

Standard SPF-P9 Bookletmaker (Discontinued)
Sale price

Limited availability.
Description of the Standard SPF-P9 Bookletmaker
Many print and copy shops, offices, and other organizations require machines to create booklets, but not all machines are alike. Some simply fold and staple, while others provide a great deal more. The Standard SPF-P9 Bookletmaker is part of a full solution that jogs, staples, folds, and even trims each booklet for truly optimal results. The SPF-P9 Bookletmaker works with a collator, trimmer, and conveyor to create sets fed into the booklet maker's intake. This has a useful "timing lamp" that allows hand fed materials to be integrated with each collated set as well. The materials are then sent into the stapling chamber where saddle or side stapling is done. This unit uses flat finishing staples to ensure that they provide a secure hold and that they lay flat for easier stacking and handling. Once the SPF-P9 Bookletmaker has stapled a set, it sends it to the rigid folding unit that uses rollers to give an ideal finish to the work. The system then trims the document to the desired size and sends it to the exit tray. It can handle up to 33 such processes every minute, and can use a large array of papers and materials.
The SPF-P9 Bookletmaker will work with pages as small as 7" x 10" or as large as 12" x 17". The pages can vary between normal and coated, and can weigh from 64gsm to 157. Some heavier stock will have to be manually fed into the intake. The easy to use machine features as simple control panel that allows the user to control the workflow. There is an error monitor that alerts the user to an empty staple tray or to any jams that have occurred. To clear jams is very simple in this system, and large panels swing away to make it easy to clear jams and get the job back on track. When this machine stands alone, it measures at only 35" x 26". It can have an optional delivery tray that allows the unit to be wheeled to any location, and since it weighs an impressive 340 lbs, it is wise to add this handy feature. When you want a simple and streamlined booklet making process, this unit is an ideal choice. It handles a diversity of materials and will give you exactly the kind of results you desire with the least amount of input or effort.
| | |
| --- | --- |
| Manufacturer Name | Standard |
| Max Speed | 2,100 book/hour |
| Number of Staple Heads | 2 |
| Side jogging | Yes |
| Corner Stapling | Yes |
| Counter/Batcher | Yes |
| Max Paper Size | 12 1/2'' x 17'' |
| Model # | SPF-P9 |
| Weight | 340 lbs. |
| Height | 31.4'' |
| Width | 49'' |
| Depth | 24.5'' |
| Voltage | 115 Volts; other voltages available |
| Warranty | |
| Shipping Weight | 340.0000 |
| Search Terms | standardspf, standardspf-p9, standardspfp9, spfp9, standardbooklet, bookmaker, bookletmaker |
QUESTIONS & ANSWERS
Have a Question?
Be the first to ask a question about this.
Ask a Question