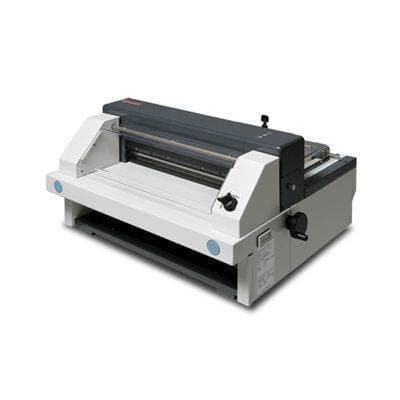 ---

Standard PC-P43 Paper Cutter (Discontinued)
Sale price

Limited availability.
Description of the Standard PC-P43 Paper Cutter
The PC-P43 Paper Cutter is a tabletop cutter meant for those who need mid-range cutting functions with professional accuracy and safety. The unit accepts pages up to 17" wide and has no limit in terms of the back gauge. This is because it has a backgauge free mechanism that allows sheets longer than 12.5" to be easily trimmed. When the backgauge is required, it can be instantly adjusted using a rotary handle. Accuracy of cuts is also ensured by the double lead screw system at work with the backgauge, and which keeps everything square to the blade.
Safety is a major issue with the PC-P43 paper cutter, which offers dual push buttons to activate the cutting process, and only when the safety shields are closed. The front cover uses a special safety switch that locks the machine until it is dropped securely into position. There is also an option to use the power switch that requires a special key in order to unlock and use the machine. Even blade replacement is streamlined and made extra secure by using a special cut stick lift lever that allows for the cut stick to be swapped with safety and ease. There is also a useful push out lever that moves all of the cut sheets forward and from beneath the blades when the cutting process is done, and which does not demand the movement of the backgauge to perform.
The PC-P43 paper cutter offers more than just safety, however, and is a high performance machine. It has a press area that uses an automatic clamp which moves materials with the cutting knife. This gives the cleanest and most accurate cuts, and a special indentation ensures that books with spines are not crushed if being trimmed. The PC-P43 paper cutter can handle up to 250 sheets at one time, and can manage stacks up to 17" in width. The smallest depth is 2", making it a good machine for those who create business cards or who cut small items with accuracy. This is an innovative and user friendly cutter that will perform many functions with ease and security.
Strengths
Tremendously safe - front and rear safety guards, key lock to prevent unauthorized use, and cutter will not start until safety cover is down.
Digital display indicates cut cycles, so you get help in determining when the cutting knife needs to be replaced.
Finished cut sheets are easily removed due to the push-out lever; back gauge movement not required.
| | |
| --- | --- |
| Manufacturer Name | Standard |
| Max Cutting Width | 17.08'' |
| Cutting Height | .90'' |
| Cutting Mode | Automatic/Electric |
| Clamp Type | Automatic |
| Optical Cutting Line | Yes |
| Blade Construction | Steel |
| Back Gauge Adjustment | Manual |
| Safety Mechanism | Safety shields |
| Model # | PC-P43 |
| Weight | 145 lbs. |
| Height | 14.8'' |
| Width | 26.6'' |
| Depth | 23.7'' |
| Voltage | 245 Volts; other voltages available |
| Warranty | |
| Shipping Weight | 145.5000 |
| Search Terms | standardpc, standardpc-p43, pc43, standardcutter, papercutter, pcpapercutter, pcp43cutter |
QUESTIONS & ANSWERS
Have a Question?
Be the first to ask a question about this.
Ask a Question