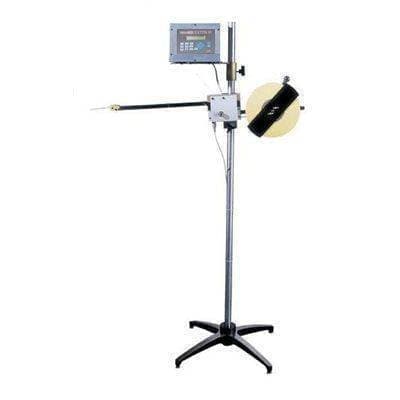 ---

U.S. Paper Counters Sharp Shooter-IIB In Line Counter & Tabber (Discontinued)
Sale price

Limited availability.
Description of the U.S. Paper Counters Sharp Shooter-IIB Counter/Tabber
The Sharp Shooter-IIB has all of the features of the Shooter-IIB plus the additional capability to flag spoilage sheets with the insertion of a red dye marked tab at the beginning and end of the spoilage via wireless remote or touch pad interface. This feature enables you to maximize press time by not interrupting production to separate spoilage sheets from good ones.The Sharp Shooter-IIB allows you to count and batch tab directly on your press, sheeter, folder, or other equipment. This machine can work free standing or mounted onto your equipment. Positioned at the delivery end of your machine, the Sharp Shooter II B can insert paper tabs into the receding delivery pile at a rate of up to 3 tabs per second. Connecting the SharpShooter IIB to your machine is easy - a micro switch, universal electronic coupling pick-up, or U.S. Paper Counters' laser sensor will all work well. It comes with either the micro switch or electronic coupling pick-up, but the laser sensor requires no connection to your equipment and is an available option. The laser sensor is a good idea if you plan on using the Sharp Shooter-IIB with multiple pieces of equipment. You could also get an additional electronic coupling pick-up or micro switch for each new machine you'll use with the Sharp Shooter IIB. This in-line counter and tab inserter will count at a rate equal to the machine you've connected it to and is guaranteed accurate.
| | |
| --- | --- |
| Manufacturer Name | U.S Paper Counters |
| Height | 20" to 60" (adjustable pedestal) |
| Model # | Sharp Shooter-IIB |
| Manufacturer Part Number | TSS-IIB |
| Voltage | 120V or 220/240V |
| Counter | Yes |
| Weight | 40 lbs |
| Speed | up to 3 tabs per second |
| Tabbing Capability | Yes |
| Batcher | Yes |
| Warranty | |
| Shipping Weight | 40.0000 |
| Search Terms | shooteriib, inline, inlinecounter, inlinetabber, countertabber, uspapercounters, papercounters, sharpshooteriib, sharpshooter |
QUESTIONS & ANSWERS
Have a Question?
Be the first to ask a question about this.
Ask a Question