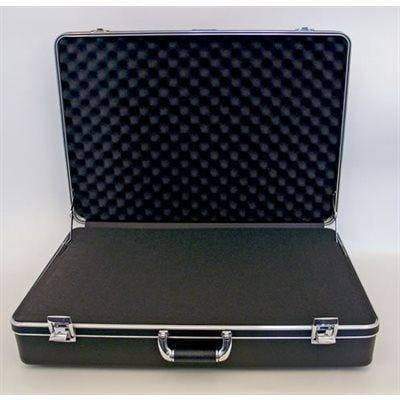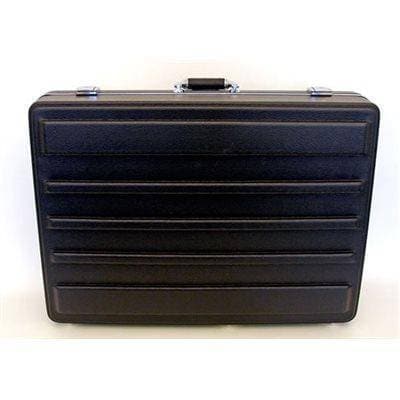 ---



Platt 282007 Heavy-Duty Polyethylene Case
Description of the Platt 282007 Heavy-Duty Polyethylene Case
With its generous interior dimensions (27 1/2" x 19 1/2" x 7"), the Platt 282007 Heavy-Duty Polyethylene Case is a feature-rich and well-designed transportation solution. This "suitcase" style carry case isn't incredibly deep, but it is wide enough to handle many oversized electronics, such as controller boards, laptops and other sensitive equipment.
This case is constructed of a very durable HMW polyethylene shell that offers good looks even as it delivers impact resistance. The silver colored edging that lines the plastic exterior is actually reinforcements made from aluminum as well as sealing gaskets that provide a sturdy lock, providing an added level of stability and security over all-plastic designs. Two cast chrome key locks also give support and protect contents, while a full length piano hinge delivers a final level of strength and reinforcement.Weighing in at 17 pounds, this case is not a lightweight or light duty solution. It features a comfortable grip handle to ensure that mobility is key and that transport is easy and simple. The interior space is ample, but it is also lined with a very convenient cut-away customizable foam blocks. This is a popular feature because it allows the case owner to effectively create their own custom storage or transport solution.
The foam can be adjusted and arranged to fit to the contours of the contents, and this means that the impact resistant shell is further enhanced by this customized lining. The lid adds that final level of security and safety because it too is lined with foam and will effectively lock the contents into position. This prevents any movement during transport while also further enhancing the impact resistance of the rugged shell.
When you need a wide and tough way to secure goods or transport possessions, the Platt 282007 Heavy-Duty Polyethylene Case is a good option. It offers a large and accommodating space while delivering some impressive security and protective features. It would provide an ideal solution for a diverse set of needs and requirements.
| | |
| --- | --- |
| Manufacturer Name | Platt |
| Model # | 282007 |
| Manufacturer Part Number | 282007 |
| Weight | 17.00 lb |
| Height | 29" |
| Width | 22" |
| Depth | 9" |
| Shipping Weight | 17.0000 |
| Shipping Length | 29 |
| Shipping Width | 22 |
| Search Terms | plattcase, platt282007, heavyduty, 282007case |
QUESTIONS & ANSWERS
Have a Question?
Be the first to ask a question about this.
Ask a Question