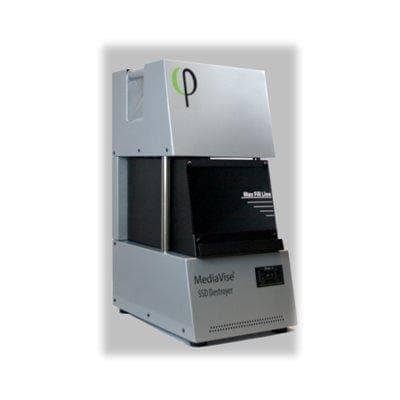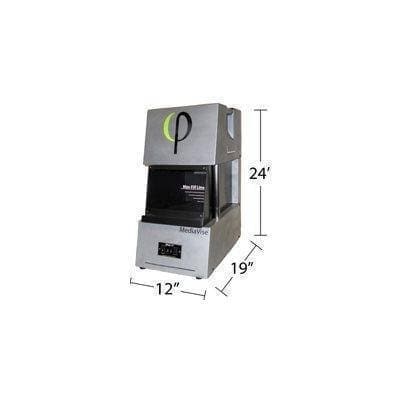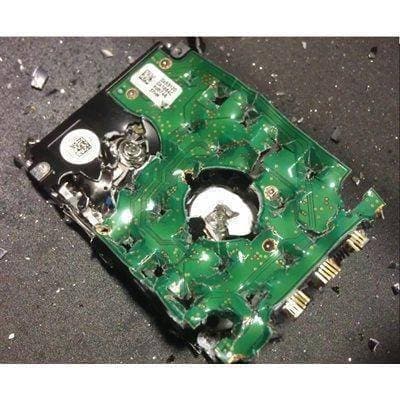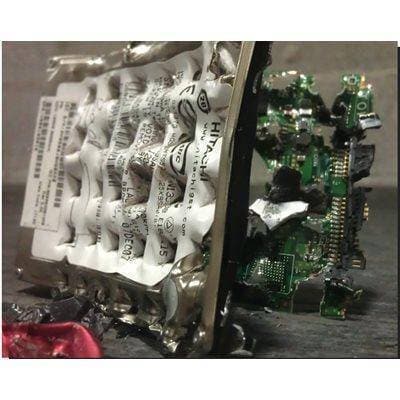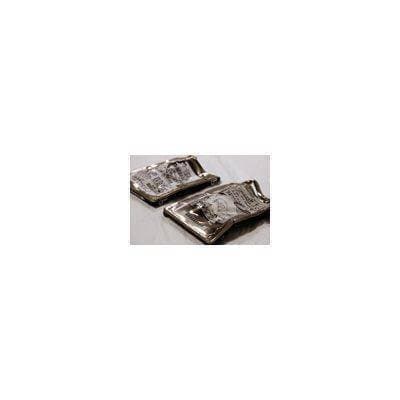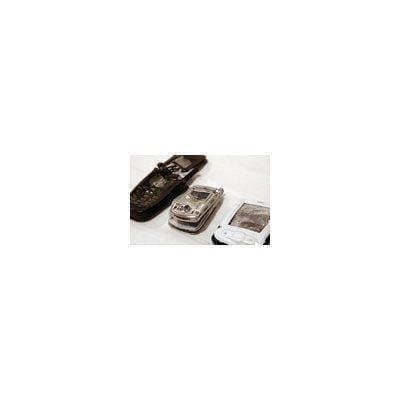 ---





Phiston MediaVise Solid-State Drive Destroyer
This product requires Liftgate Service. If you don't have a loading dock or a forklift available to move the delivery off of the truck, please add Liftgate Service to your cart.
Video of the Phiston MediaVise SSD Destroyer
Description of Phiston MediaVise® SSD Destroyer
The MediaVise Solid State Destroyer compresses and crushes SSDs, cell phones, circuit boards, and memory chips in a convenient desktop size. The use of solid state drives (SSD) for media storage has seen rapid growth and will continue to grow in coming years. However,SSDs can be easily accessed, leaving private and sensitive information vulnerable to theft. To prevent data theft, proper solid state drive destruction is necessary. Sensitive information stored on flash RAM-based SSD from computers, servers, cell phones, laptops, and tablets can be destroyed using the MediaVise SSD.
Its hardened steel prisms crush solid state drives with a hydraulic 20 ton force that fractures the entire SSD surfaces in 30 seconds, while it is warped and pierced by dual 187 interlocking points of hardened steel teeth. The MediaVise SSD destroys all flash memory storage chips and circuits rendering information and data completely unreadable.
The MediaVise SSD destroys boards of any size up to 5.75" x 4" x 1.25" and is completely automatic. Simply put in one full size SSD (or 2 laptop SSDs) and use the one-button function, then collect the recyclable debris from the convenient collection bin, that can hold up to 12 computer drives or 20 laptop drives.The waste collection bin protects users from touching potentially sharp and dangerous debris. Built-in safety features prevent the destroyer from engaging unless all doors are completely closed, preventing hands or clothing items from getting caught in the machine.
The MediaVise SSD's longevity is guaranteed, as plates do not require replacement and there are no blades to replace or sharpen. More complex drives and more sensitive information require careful, absolute destruction. The MediaVise SSD is the most powerful SSD destroyer on the market and can effectively destroy data.
| | |
| --- | --- |
| Manufacturer Name | Phiston Technologies |
| Punching Cycle | 30 sec |
| Depth | 22" |
| Width | 12" |
| Manufacturer Part Number | MVS-500-01 |
| Weight | 172 lbs. |
| Height | 27" |
| Voltage | 120 VAC 15A |
| Warranty | |
| Shipping Weight | 197 lbs. |
| Shipping Length | 25 |
| Shipping Width | 15 1/4 |
| Shipping Height | 32 |
QUESTIONS & ANSWERS
Have a Question?
Be the first to ask a question about this.
Ask a Question