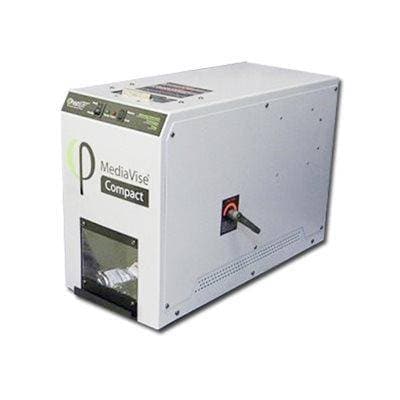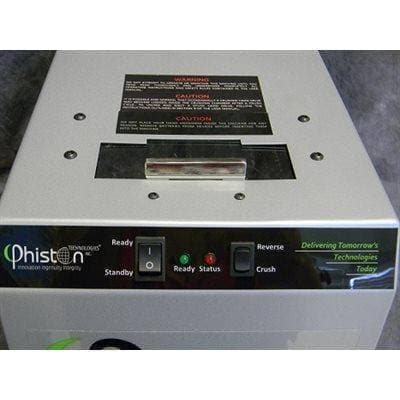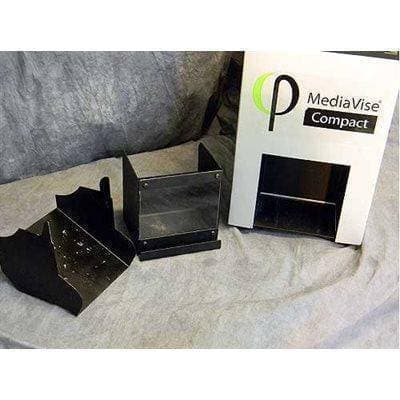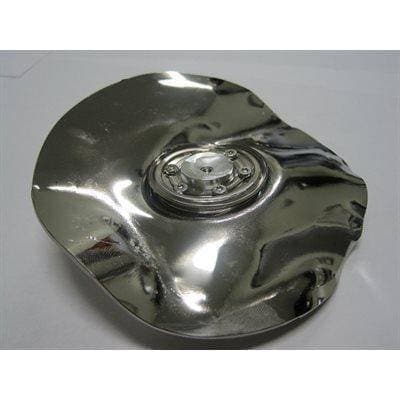 ---





Phiston MediaVise Compact Hard Drive Destroyer
This product requires Liftgate Service. If you don't have a loading dock or a forklift available to move the delivery off of the truck, please add Liftgate Service to your cart.
Video Demo of the Phiston MediaVise® Compact Hard Drive Destroyer
Description of Phiston MediaVise® Compact Hard Drive Destroyer
The Phiston MediaVise HDD is NSA Approved for the destruction of hard drives and is made in the USA. On/off switches and status LEDs make for user-friendly operation. Top loading and gravity assisted, simply drop 1 drive into the slot, close the door, and press a button. The media slot accommodates media up to 4" L x 1.25" W x 5.75" H. Magnetic data storage platters, circuit boards, and read/write heads of HDDs are easily destroyed by the patented corrugated interlocking crushing plates. Within 30 seconds, Phiston's 40,000 pound force hydraulic crusher demolishes the protected platters in computer hard drives as well as other digital storage media. Rather than simply puncturing the platter, the MVC-HDD crushes, warps, and mangles every square inch of the drive, rendering the data irrecoverable. Crushed pieces fall into the collection bin, which holds 1 computer HDD at a time. The MVC-HDD will even destroy cell phones and PDAs. The Phiston MediaVise Compact HDD offers continuous duty, no cool down required.
Should a drive become jammed, the Phiston MediaVise Compact HDD can be switched into reverse or manually unjammed. Safety is vital when operating this hard drive destroyer. The MVC-HDD is completely automatic and designed with lock-out doors. The machine will not operate unless the doors are completely closed. This prevents hands or clothes from being caught in the cutting chamber. As the destroyed hard drive falls into a collection bin, users never have to risk touching potentially dangerous and sharp crushed pieces.
Though the Phiston MediaVise Compact HDD weighs in at 132 lbs., compact dimensions guarantee that this media destruction device will not occupy too much space. Designed for tabletop or desktop use, or in areas where space is limited, the MVC-HDD offers dimensions of 22.5" L x 9.75" W x 16" H.
| | |
| --- | --- |
| Manufacturer Name | Phiston Technologies |
| Model # | MV02 |
| Depth | 22.5" |
| Width | 9.75" |
| Manufacturer Part Number | MVC0300-01 |
| Weight | 132 lbs. |
| Height | 16" |
| Voltage | 120 VAC 13A/240VAC 7A |
| Warranty | |
| Shipping Weight | 132 lbs. |
QUESTIONS & ANSWERS
Have a Question?
Be the first to ask a question about this.
Ask a Question