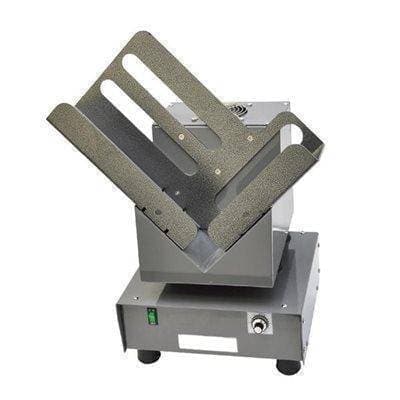 ---

Paitec LJ3000 Paper Jogger (Discontinued)
Sale price

Limited availability.
Description of the Paitec LJ3000 Paper Jogger
Though the world of printing and copying seems to be going mostly digital, the use of laser printers remains strong. However, this presents some problems for those creating large numbers of prints or copies and who need to somehow process or finish a project. The LJ3000 Paper Jogger steps in to provide an innovative solution for those using laser printing on a regular basis. The machine handles paper beautifully as it provides cooling of recently printed sheets, reduces static between pages, and allows the user to get moving on their project without waiting for the paper to reach a workable condition. The LJ3000 Paper Jogger uses a steady supply of air as it jogs the paper in a large and rugged tray. The paper bin on this unit can hold up to two full reams of 11x17 (tabloid) pages, and it can manage weights as variable as cardstock and envelopes, or most kinds of paper stock. The air is delivered to the tray through four slots that provide constant force and movement. The motor is very powerful and spins at 3k RPM to keep the pages moving quickly and aligning right away. The machine also allows the user to adjust the speed of the vibration to obtain the best results.
While the LJ3000 paper jogger is clearly an ideal solution for those who do a lot of laser printing, it is designed also as a very workable solution for many settings. Because it has shock absorbing feet to reduce the amount of noise and vibration created when using the device, it can sit atop a standard desk or workspace. With a 22x18 footprint, it can easily fit into even the smallest offices, though it can also do a good job for larger copy and printing businesses too. At 28 pounds, it is also a relatively portable solution too.
For print and copy shops, offices, and any location that frequently creates documents that need further finishing (such as folders, pressure sealers, and binding), the LJ3000 Paper Jogger is a solid solution. It can handle bulky print jobs and provide some innovative solutions. The Anion ionizer is a unique benefit that reduces static, but the cooling mechanisms are also incredibly useful when speed is of the essences. This is a good tool for many different needs or settings and is likely to become a major part of any publication production process.
| | |
| --- | --- |
| Manufacturer Name | Paitec |
| Max Paper Capacity | Up to 2 reams of 11" x 17" paper |
| Model # | LJ3000 |
| Weight | 28 lbs |
| Voltage | 115 Volts; other voltages available |
| Warranty | |
| Shipping Weight | 28.0000 |
QUESTIONS & ANSWERS
Have a Question?
Be the first to ask a question about this.
Ask a Question