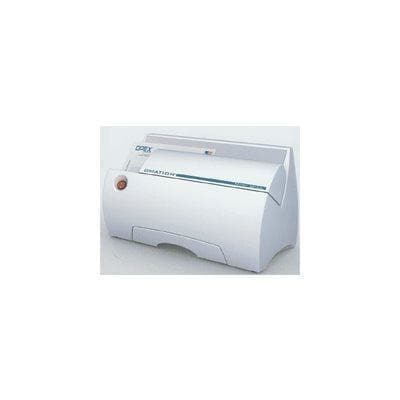 ---

Omation Mini Mill Letter Opener (Catch Tray Not Included) (Discontinued)
Sale price

Limited availability.
Description of the Omation Mini Mill Letter Opener
The Omation Mini Mill is the ideal letter opener for the home or small office. With a small footprint of just 17 inches in size and a weight of only 19 lbs., the Mini Mill can fit just about anywhere in order to get the job done. Like large Omation letter openers, the Mini Mill features milling technology. By taking off little chips of paper instead of chopping off the top of the envelope like other envelope openers do, the mill cutter leaves the inside documents unharmed and protected. It also protects the recipients from paper cuts by leaving a soft feathered edge instead of a sharp one.
Another attractive feature of the Mini Mill by Opex is its sleek and clutter-free design. All of the paper chips that are milled off the envelopes are stored in a separate compartment under the machine and out of sight. This not only keeps the surrounding area clean, it also helps avoid paper jams in the mill. The mail catch tray can be added as an extra feature to help keep your opened envelopes better organized.
Not only is the Mini Mill small, it is also powerful, opening up to 200 envelopes in a variety of sizes per day. Known for their durability, Omation has also made the Mini Mill affordable for more people, being priced with the small office in mind.
| | |
| --- | --- |
| Manufacturer Name | Omation/Opex |
| Speed | 200 envelopes/day |
| Envelope Size | 9" x 12" |
| Envelope Thickness | 1/4" |
| Feed Stack Capacity | 1" stack |
| Model # | Mini Mill |
| Manufacturer Part Number | OMAMini Mill |
| Weight | 19 lbs. |
| Height | 9.4" |
| Width | 16.9" |
| Depth | 9.8" |
| Warranty | |
| Shipping Weight | 19.0000 |
QUESTIONS & ANSWERS
Have a Question?
Be the first to ask a question about this.
Ask a Question