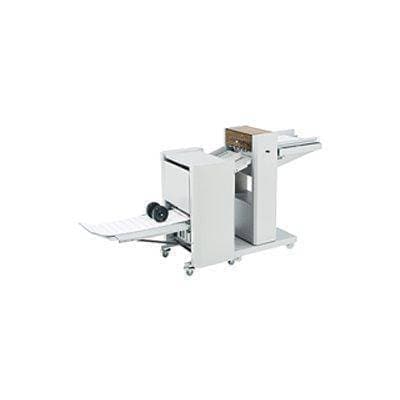 ---

MBM Creasefold On-Line Folder (Discontinued)
Sale price

Limited availability.
Description of the MBM Creasefold
The MBM Creasefold On-Line Folder will easily provide superior folding on a large range of materials and always with the finest results. This unit can operate on-line with a creasing machine (the MBM Creasmatic 150) to create a single folded item. The actual fold position is set by the user by dialing it into the user friendly knob adjustment. Because the folding is done by a high speed knife fold system, there are no risks or threats of marks on the materials. Instead, the innovative "flat fold" technology of the machine makes a clean fold along the scored line and also prevents any curling from happening as the item exits the machine. The Creasefold On-Line Folder uses a powered fold away exit conveyor (meaning that this swings out of the way when the system is not in use), and this neatly stacks up the folded items as they exit the system. As already indicated, this unit can work during a creasing job, but it will also work independently (offline) just as well.
This unit is capable of handling paper sizes ranging from 4.5x9.25 to 12.5x18.5. The weights can also vary substantially and will be workable in weights from 30 to 130 pounds. The unit is a single sheet feed, and this is why the weights can vary, but it is also why there is no established speed for the unit as this too varies according to the paper selected. The Creasefold On-Line Folder is an ideal solution for mid ranged shops, and it is a very convenient size - with a footprint of 22x53. It weighs 205 pounds, but is still very manageable thanks to the heavy duty casters mounted to the base of the unit. This on-line folder is known to operate quietly and yet provide efficient and highly professional results. It can work as a standalone folding unit, but also partners up well with the creasing machine. It delivers very reliable service, and uses some of the latest technologies to prevent any marking, curling, or unprofessional looks to your work.
| | |
| --- | --- |
| Manufacturer Name | MBM |
| Speed | 2,000 sheets/hour |
| Feed Type | Friction Fed |
| Max Sheet Width | 13" |
| Max Paper Weight | 130 lbs |
| Crease Per Sheet | up to 9 (11" x 17") |
| Paper Size | 5 3/4" x 8 1/4" to 13" x 39" |
| Model # | Creasematic 150 |
| Weight | 187 lbs |
| Height | 39 1/4" |
| Width | 40 1/2" |
| Depth | 18 1/2" |
| Voltage | 120 Volts; other voltages available |
| Warranty | |
| Shipping Weight | 187.0000 |
| Search Terms | mbmcreasefold, mbmcrease, mbmcreaser, creaser, papercreaser, crease-fold, creasefolder, crease, creaser, creasers, creasing |
QUESTIONS & ANSWERS
Have a Question?
Be the first to ask a question about this.
Ask a Question