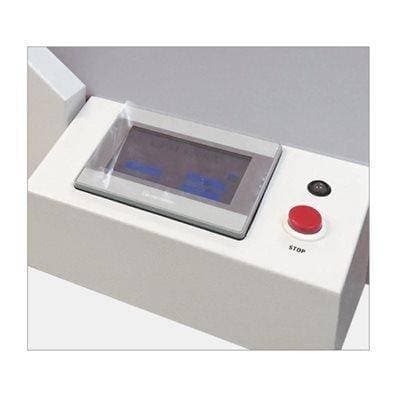 ---

MBM GoCrease SEMI Creaser
This product requires Liftgate Service. If you don't have a loading dock or a forklift available to move the delivery off of the truck, please add Liftgate Service to your cart.
The GoCrease SEMI is a programmable, semi-automatic creaser and perforator that's designed to process up to 1,500 sheets per hour, creasing paper weights between 80-400 gsm and perforating between 80-250 gsm. The GoCrease SEMI will perform up to 15 programmable creases per sheet and is preprogrammed with 1/2, 1/3/ 1/4, gate and book cover creases. The SEMI has a working width of 3.9 to 18 inches, with a minimum crease distance of 0.03 inches and maximum crease distance of 39.3 inches. This machine automatically measures sheet sizes and utilizes a touch screen display for easily programming distance and number of creases; sheets are manually input into the single-sheet feeder and moved by an internal motor. Like the GoCrease 3000 and 4000, the SEMI includes three sizes of creasing bars (0.04 / 0.05 / 0.063 inches), an anvil perforating mechanism and is built to last, with a heavy-duty metal frame designed to endure everyday use.
GoCrease SEMI Specifications:
Manufacturer: MBM Corporation
Speed: Up to 1,500 sheets per hour
Paper Weight (Creasing): 80-400 gsm
Paper Weight (Perforating): 80-250 gsm
Working Width: 3.9 to 18 inches
Minimum/Maximum Distance of Creases: 0.03 to 39.3 inches
Width of Crease: 0.03 / 0.04 / 0.063 inches
Electrical Requirements: 110 V, 60Hz
Shipping Weight: 120 lbs.
Dimensions: 47.3 x 23.3 x 11.8 inches
Warranty: Saddle Point Systems One Year Warranty (Manufacturer's Warranty for non-local customers)
QUESTIONS & ANSWERS
Have a Question?
Be the first to ask a question about this.
Ask a Question