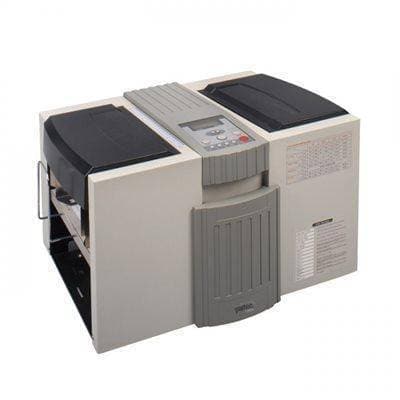 ---

MBM ES7000 Pressure Sealer (Discontinued)
Sale price

Limited availability.
FREE FREIGHT SHIPPING within the contiguous U.S.
Description of the MBM ES 7000 Pressure Sealer
If your mail room, printing business, or corporate office already relies on self-mailers, you know that it is imperative to work with a pressure sealer that delivers reliable results. If you are just exploring options for "greener" mailings, you will want to consider investing in a workhorse of a sealer that will give you the option to expand your mailing activities. The ES 7000 Pressure Sealer is an all-around solution for any business or organization that handles high volumes of self-mailers. It can handle up to 7200 sheets in an hour, and will automatically detect and adjust for the weight of the page. The paper tray on the ES 7000 Pressure Sealer is a whopping 1400 sheets, and this cuts down on the need to continually monitor and refill the tray. Because it also has an optional conveyor that will hold 650 processed forms, it can be integrated into a printing process too.
The ES 7000 Pressure Sealer is considered to be both high tech and user friendly. It has automated start and stop features, and it allows all settings to be easily dialed into the machine. It will handle single sheet mailers from 6x8 to 9.25x14, and yet it also auto corrects any jams as well. It features a reverse friction roller that instantly reverses direction when it senses jams and double feeds. This prevents mistakes and damages to documents, and allows optimal efficiency. The machine provides six different fold options, including a Z, V, EZ, C, EC, and a double parallel. Thus, any sort of form - from checks and reports, to membership cards, and much more are possible.
Not only is this machine a work horse, but it is also a choice for those with limited space. It measures at a very workable 24x17x15 and can easily fit on a work bench or a standard desk. It features a digital counter that allows the user to fill the tray and walk away, without losing track of the number of pages processed in a batch. It uses automatic on and off features to prevent any problems or wasted resources, and it can be expanded to provide additional functions. As a user friendly solution for those who handle bulk numbers of self-mailers, the ES 7000 Pressure Sealer will not disappoint. From its ability to prevent jams to its large capacity trays, it is a good solution that saves time and yet provides excellent results.
| | |
| --- | --- |
| Manufacturer Name | MBM |
| Feed Type | Friction-fed |
| Fold Adjustment Setting | Automatic fold adjustment |
| Feed Tray Capacity | Up to 1,400 |
| Speed | 7,200 forms/hour |
| Programmable Presets | 18 |
| Counter | Yes |
| Batcher | Yes |
| Fold Types | Double Parallel Fold, C Fold, V Fold, Z Fold, EZ Fold, EC Fold |
| Accepted Paper Sizes | 6'' x 8'' to 9 1/4'' x 14'' |
| Accepted Paper Weights | 24 to 28 lbs. |
| Duty Cycle | 125,000 |
| Model # | ES 7000 |
| Weight | 118 lbs. |
| Height | 15'' |
| Width | 17'' |
| Depth | 24'' |
| Voltage | 115 Volts; other voltages available |
| Warranty | |
| Shipping Weight | 118.0000 |
| Search Terms | mbmes7000, mbmes, mbm7000, es7000, mbmsealer, pressuresealer, mbmpressuresealer, |
QUESTIONS & ANSWERS
Have a Question?
Be the first to ask a question about this.
Ask a Question