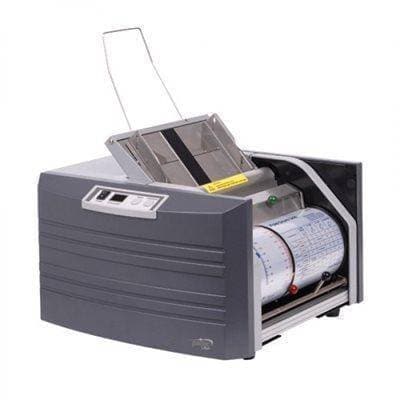 ---

MBM ES5000 Pressure Sealer (Discontinued)
This product has limited availability and/or is build-to-order.
Please call us at (800) 243-9226 or fill out the Request a Quote form, below.
FREE FREIGHT SHIPPING within the contiguous U.S.
Description of the MBM ES5000 Desktop Pressure Sealer
The ES 5000 Pressure Sealer is a high tech model that handles letter size paper only. (For Z and EZ folds on legal size paper an optional drum is available -please call for details). It can manage up to 4250 sheets per hour, depending upon the specifications, and it will even handle pre-folded forms when the manual feeder is put to use. The ES 5000 Pressure Sealer tackles paper weights ranging from 24 to 28 pounds*, and relies on the proprietary Angle Seal Technology to deliver the most accurate folding and sealing procedures. The documents can be set to one of four fold designs - Z, V, C, and double parallel, and this gives the most flexibility. Additionally, all settings can be easily adjusted with only a turn of the dial, and even moments of jamming are easily remedied.
In fact, the ES 5000 Pressure Sealer features specialty rollers that reverse direction whenever jams occur. This prevents damage to the documents and the machine, and allows problems to be overcome in seconds. The unit has a helpful digital counter that allows the user to keep track of each document that has been folded, and it is capable of medium volume work. This machine is also nicely sized for almost any setting, and can be easily incorporated into office spaces, workshops, and mailing rooms. It has a manageable footprint of only 17 x 16 x 10, and it operates remarkably quietly to ensure that the most settings are possible. With less than 45 decibels of sound during use, this is definitely a solid resource for almost all professional settings.
If you are hoping to cut down on the size of your environmental footprint, the ES 5000 Pressure Sealer is certainly a good part of any workable plan. It delivers flexible options, numerous types of folds, and will work well in almost any setting. It is affordable and efficient, and yet it can handle more than 4000 documents in a single hour. This makes it a very reliable solution for almost any business.
| | |
| --- | --- |
| Manufacturer Name | MBM |
| Feed Type | Friction-fed |
| Fold Adjustment Setting | Automatic fold adjustment |
| Feed Tray Capacity | 150 |
| Speed | 4,250 forms/hour |
| Programmable Presets | 18 |
| Fold Types | V Fold, Z Fold, C Fold, Double Parallel Fold |
| Accepted Paper Sizes | 6'' x 8'' to 9 1/4'' x 14'' |
| Accepted Paper Weights | 24 to 28 lbs. |
| Duty Cycle | 50,000 |
| Model # | ES 5000 |
| Weight | 84 lbs. |
| Height | 10'' |
| Width | 17'' |
| Depth | 16'' |
| Voltage | 115 Volts; other voltages available |
| Warranty | |
| Shipping Weight | 84.0000 |
| Search Terms | mbmes5000, mbmes, mbm5000, es5000, mbmsealer, pressuresealer, mbmpressuresealer, |
QUESTIONS & ANSWERS
Have a Question?
Be the first to ask a question about this.
Ask a Question