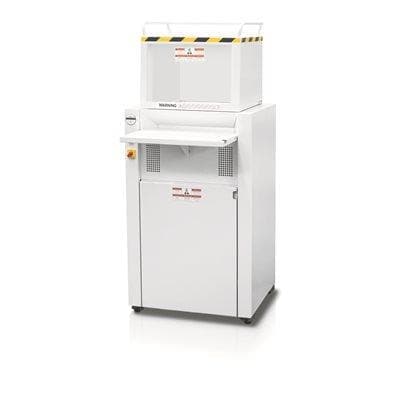 ---

MBM Destroyit 4606 Cross Cut Shredder Level 2/P-3
SKU: MBM4606-0265
Security: Level 2/P-3
Sheet Capacity: 60 sheets*
Throat: 18"
This product requires Liftgate Service. If you don't have a loading dock or a forklift available to move the delivery off of the truck, please add Liftgate Service to your cart.
Product Description
The DestroyIt 4606 Level P-3 Cross-Cut High Capacity Paper Shredder is a space saving high capacity shredder with automatic oiler and unique feed hopper for bulky material. It is equipped with a conventional feed slot for flat paper stacks. Its robust shredding heads with special hardened cutting shafts are made of high quality steel, resistant against soft metal objects. The DestroyIt 4606 can shred up to 50-60 sheets of paper into a 1/4" x2" (6mm x 50mm) cross-cut particles. It can also shred paper clips, cd/dvds,and credit cards. It has a 61-gallon shred bin capacity and has an 18" feed opening. Standard features include Easy-Switch, Fold-Out Feed Table, Electronic Oil Injection, Electronic Safety Features, Bulk Paper Shredding, and Mobile Shred Bin. This DestroyIt 4606 Level P-3 Cross-Cut High Capacity Paper Shredder is backed by a 1-year limited warranty and 100% made in Germany.
Product Details
EASY-SWITCH. Ease of operation: intelligent multifunction switch with integrated optical signals indicating the operational status.
FOLD-OUT FEED TABLE. The fold-out feed table is used for feeding flat paper stacks. Start and stop functions are controlled by photo cell.
ELECTRONIC OIL INJECTION. The automatic oil injection system lubricates the cutting shafts when shredding and guarantees a constantly high shred performance.
ELECTRONIC SAFETY FEATURES. Should a jam occur, the hopper can be tilted back to clear the jam. Motor power is automatically cut during this operation.
BULK PAPER SHREDDING. Special rotating paddles are used to feed bulky materials into the cutting unit.
MOBILE SHRED BIN. Caster-mounted shred bin is easily removable through the front cabinet door. Shredder stops automatically when door is opened.
Open tilting feeding hopper for crumpled paper.
Feeding paddle for effective insertion of crumpled paper into the cutting head. Second feed opening located under the hopper for flat paper and computer printouts with automatic start/stop via a photo cell.
Electronic control prevents over feeding: automatic reverse and re-feeding in case of paper jams.
Main switch and emergency cutoff switch.
Robust shredding heads with special hardened cutting shafts made of high quality steel, resistant against soft metal objects.
Automatic standby after 30 minutes.
Powerful three phase motor with thermal motor protection.
Front door and mobile shred bin for easy removal of the full shred bag.
High volume container for the shredded material.
Tilting hopper for cleaning access.
Automatic stop when hopper or front door is opened, or when the shred bin is full.
Mobile on casters.
Manufacturer Name
Destroyit by MBM
Throat Size/Feed Opening
18''
Shred Speed
40 ft/minute
Shred Size
1/4" x 2"
Bin Capacity
61 gallon
Security Level
2/P-3
Cut Type
Cross Cut
Sheet Capacity
Up to 60*
NSA Evaluated
N/A
Shreds Credit Cards?
Yes
Shreds Paper Clips?
Yes
Shreds Staples?
Yes
Horsepower
7 1/3
Disclosures
Capacity varies with grain, size, quality & paper weight and sufficient power supply.
** Please use actual HP as a specification for determining value. Use of Peak HP is for comparison purposes only where other than Actual HP is used.
Continuous Motor
Yes
Model #
4606
Weight
558 lbs.
Height
67"
Width
29"
Depth
30"
Voltage
220 Volts; other voltages available
Warranty



Shipping Weight
715.0000
Shipping Length
36
Shipping Width
36
Shipping Height
74
Search Terms
destroyit4606, 4606crosscut, mbm4606, mbm-4606, mbmdestroyit, mbmcrosscut, destroyit4605crosscut, mbm level3, 4606cc
QUESTIONS & ANSWERS
Have a Question?
Be the first to ask a question about this.
Ask a Question