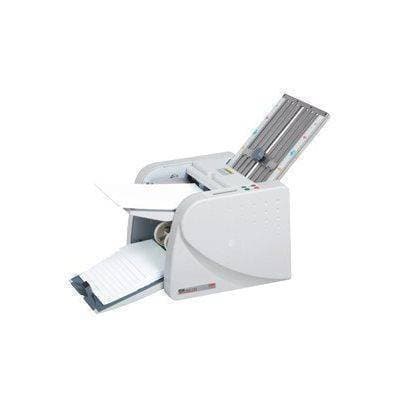 ---

MBM 93M Tabletop Folding Machine (Discontinued)
Sale price

Limited availability.
This product has been discontinued by the manufacturer. The new model that we recommend is the WBBM 98M Paper Folder. If you have any questions, please click the Request a Quote button below, or call us at (800) 243-9226.
FREE GROUND SHIPPING within the contiguous U.S.
| | |
| --- | --- |
| Manufacturer Name | MBM |
| Model # | 93M |
| Feed Type | Friction-fed |
| Fold Adjustment Setting | Manual fold adjustment |
| Feed Tray Capacity | Up to 150 |
| Fold Speed | 7,200 sheets/hour |
| Fold Types | Half Fold, Letter Fold (Tri), Z Fold, Double Parrellel Fold |
| Pre-programmed Standard Folds | 6 |
| Accepted Paper Sizes | 4'' x 5'' to 8 1/2'' x 14'' |
| Accepted Paper Weights | Up to 31 lbs. bond (16 to 80 lbs. Offset) |
| Weight | 46 lbs. |
| Height | 16 3/4'' |
| Width | 25'' |
| Depth | 14'' |
| Voltage | 120 V; other voltages available |
| Warranty | |
| Shipping Weight | 46.0000 |
| Shipping Length | 18 |
| Shipping Width | 17 |
| Shipping Height | 15.5 |
| Search Terms | 93-m, mbmfolder, foldingmachine, 93mfolder, 93mfoldingmachine, mbm93 |
Q: We just received the MBM 93M Folder. My primary issue so far is that the feeder won't take more than one sheet at a time even if there's a pile in the tray. It's almost as if there's too much "give" on the tray? PLEASE HELP!Thanks so much.
A: This is probably the result of using paper that is too heavy for the machine to process, or the feed tray spring came loose in shipping. If you can verify that you're using paper that is 30lb bond or below, then contact the manufacturer at 800-223-2508 for instructions on reaffixing the feed tray spring.
Q: Is this a new unit or refurbished? The price seems great in comparison, so I am wanting to be sure prior to purchase. Thanks!
A: This is brand new, direct from the manufacturer.
Q: When using the single fold mode, letter size paper, the paper creases at the folded edge as if it is hitting the stopper plate too hard.
A: This is a very rare problem that occurs due to leftover adhesive from the packing tape. That small amount of stickiness from the residue causes the creases you're talking about. Clean it off with some water or alcohol and it should be good to go.
Q: Can you adjust the z fold so the address will be right for window envelopes?
A: The folds are all fully adjustable. If you set this machine for a Z fold, and the address isn't appearing in the window, you can easily make slight adjustments to the fold plates until you get the result you wanted. Although I should mention that there is equipment out there that will fold your paper, insert it into an envelope, and seal the envelope all in one pass. They're a little bit more expensive than standard paper folders but they save you incredible amounts of labor. They are called Folder Inserters.
Q: Do you have to fan the paper when you put it in?
A: NO! Fan feeding is a thing of the past, the MBM 93M can take a stack of paper and fold it without any fan feeding or babysitting of the equipment whatsoever. Now if you are running paper that is right out of a printer then you're going to have problems. The paper will be full of static, it'll curl due to the heat, and the toner won't be dry yet. So please wait 1-2 hours or more after printing paper to run it through your folder.
Q: Can this machine fold sets of 3 paged documents, unstapled?
A: The MBM 93M does not have a multisheet feeder. It can fold the paper individually, but it cannot take a set of three and fold them together. Most customers who are folding sets of paper are then putting the paper directly into an envelope. That is a process better suited for a folder-inserter.
Q: Can this unit be used to count paper as well? I need a paper counter and a paper folder. Looking for an economical unit that can do both.
A: It does have a resettable counter, however it can only count documents that you have folded. It is not possible to set the machine to a count-only mode. It has to do something to the paper.
QUESTIONS & ANSWERS
Have a Question?
Be the first to ask a question about this.
Ask a Question