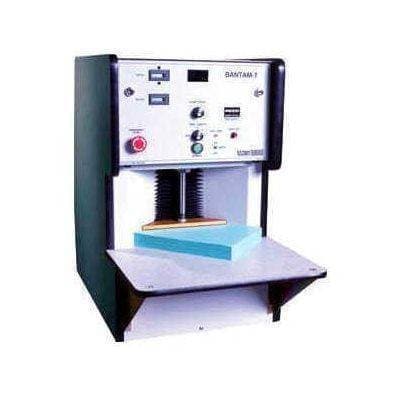 ---

U.S. Paper Counters Max-Bantam Sheet Counter & Batch Tabber
This product requires Liftgate Service. If you don't have a loading dock or a forklift available to move the delivery off of the truck, please add Liftgate Service to your cart.
Video Demo of the U.S. Paper Counters Max-Bantam Counter/Tabber
Description of the U.S. Paper Counters Max-Bantam Counter/Tabber
The Max-Bantam Sheet Counter & Tabber from U.S. Paper Counters verifies quantities of stock deliveries for precise business transactions and customer satisfaction. It's an economical way to ensure exact quantities of checks, pads, forms, labels, tests, cards, and more! This machine is guaranteed 100% accurate and will count materials at up to 2000 sheets a minute. Counting machines are invaluable in accounting offices, IT departments, and any printing environment where accuracy is expected. The quantity control offered by the Max-Bantam not only increases the satisfaction of customers who receive the exact number of paper materials they ordered, but increases the efficiency and profit of the one providing those goods. Instead of providing a quantity of goods plus or minus 10% of the customer's order, the correct number of sheets will always be delivered when you use a counting machine from U.S. Paper Counters. The Max-Bantam can be placed on a table, desk, or the optional base cabinet for operation.
| | |
| --- | --- |
| Manufacturer Name | U.S Paper Counters |
| Throat Size/Feed Opening | 6" |
| Height | 30" |
| Width | 18.5" |
| Model # | Max-Bantam |
| Manufacturer Part Number | MB |
| Voltage | 120V or 220/240V |
| Counter | Yes |
| Weight | 160 lbs. |
| Depth | 37" |
| Accepted Paper Sizes | 2.25" x 4" to 15" x 18" |
| Accepted Paper Weights | 25 gsm to 250 gsm |
| Table Size | 15" x 18" |
| Speed | Up to 2000 sheets per minute |
| Max Media Thickness | tabs 5 to 999 sheets |
| Tabbing Capability | Yes |
| Batcher | Yes |
| Warranty | |
| Shipping Weight | 160 lbs. |
Q: Hi.Im looking for labels counting machine. The labels are done at normal sheet paper with several sizes for production process. So, we are looking for automatic machine where we put the labels and the counting process be executed with precision.

A: Based solely on your description, this sounds like a good product for you. However we would prefer to see samples of your material to test it for compatibility. Always a good idea to be safe on investments of this size!
Q: Can you PDF me a brochure on this machine and/or parts cost and the longevity of parts. Also looking at the maintenance agreement for this machine and what it covers along with a quote for the maintenance agreement.This machine would be for a government?
A: Absolutely! Just call us at 1800-243-9226 so we can get your contact information, and we can send you pricing and service quotes.
QUESTIONS & ANSWERS
Have a Question?
Be the first to ask a question about this.
Ask a Question