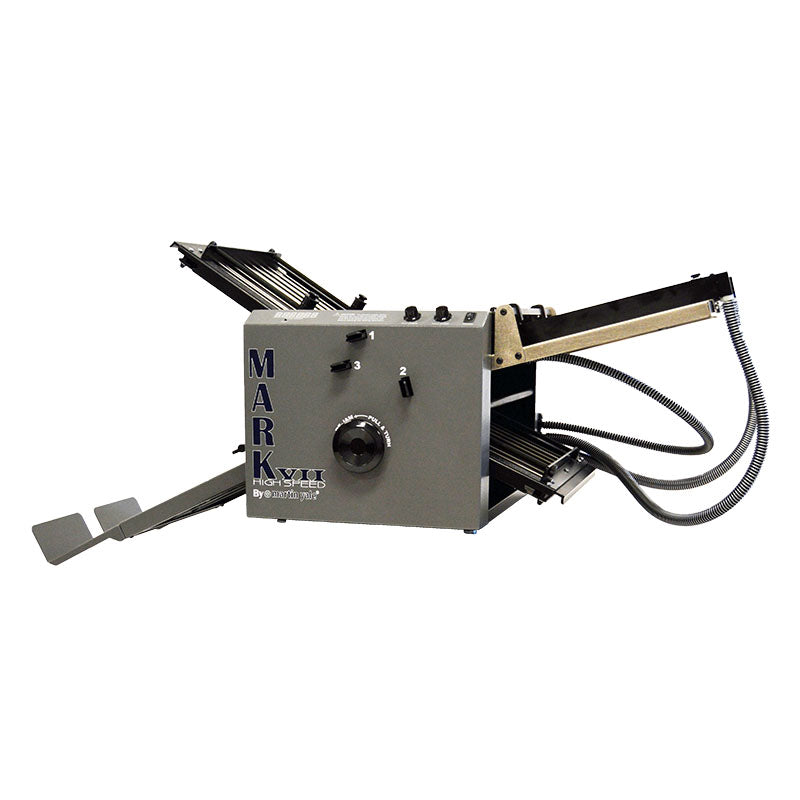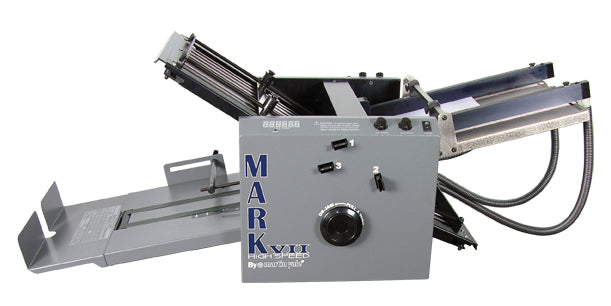 ---


Martin Yale Mark VII Pro Series AirFeed Paper Folder
SKU: MYLMVIIAF
Max Paper Weight: 147 g/m²
Max Paper Size: 14" x 20"
Adjustment: Manual
Feed Type: Air Feed
Fold Types: Letter, Half, Z-fold, Double Parallel, Gate, Engineer, Church
FREE FREIGHT SHIPPING within the contiguous U.S.
This product requires Liftgate Service. If you don't have a loading dock or a forklift available to move the delivery off of the truck, please add Liftgate Service to your cart.
Video Demo of the Martin Yale Mark VII AirFeed Paper Folder
Description of the Martin Yale Mark VII AirFeed Paper Folder
The Mark VII AirFeed paper folder offers all of the benefits that come with the friction-fed model but with the added AirFeed technology. As an upgrade from the Mark VII folder, this AirFeed model is perfect for sensitive paper stock, including gloss, coated, laser, and copier paper types. Designed for continuous bottom feeding, the vacuum pulls one sheet at a time into the rollers to produce crisp folds. This machine adjusts to the paper thickness to prevent multiple sheet feeding. High speed folding is critical for any office looking to produce thousands of finished documents a day and the Mark VII AirFeed is up to the task. Folding at a rate of up to 35,000 sheets per hour, the Mark VII AirFeed's feed tray holds up to 300 sheets of 20 lb bond paper. This is a substantial amount and will help reduce the number of times required to refill the feed tray. The Mark VII AirFeed is quite flexible, handling a minimum paper size of 3.5" x 4.24" to a maximum of 14" x 20". A variable speed function allows for ultimate control and the various speed conveyor is independent of the fold rollers. Choose from seven different fold types: Letter, Half, Z-Fold, Double-Parallel, Gate, Engineering, and Church Fold.
The manual paper guide and skew adjustments guarantee you get the fold settings precise for each and every folding job. The Mark VII comes complete with removable cartridges for perf and/or scoring. Want to know how many sheets you've folded in a given hour? The handy LED counter displays and keeps track of how many pages were folded for you! Weighing in at 243 lbs, the Mark VII offers dimensions of 50.5" W x 23.5" D x 19.25" H assembled. This AirFeed folder is perfect for tabletop operation in any print shop, office, or mail room.
Please select your preferred download file from below.
For additional resources, please see:
Warranty: For this paper folding machine, Martin Yale's general warranty is 180-days parts and labor. Some restrictions and conditions may apply.
| | |
| --- | --- |
| Manufacturer Name | Martin Yale |
| Model # | MKVIIAIRFEED |
| Feed Type | AirFeed |
| Fold Adjustment Setting | Manual fold adjustment |
| Feed Tray Capacity | Up to 350 of 20-lb. bond |
| Fold Speed | 35,000 sheets/hour |
| Fold Types | Double Letter/Baronial, Double Parallel, Gate, Engineering, Letter or C-Fold, Single, Z-Fold |
| Variable Speed | Yes |
| Counter | Yes |
| Accepted Paper Sizes | 3-1/2" x 4-1/4" to 14" x 20" |
| Accepted Paper Weights | 16-lb. bond to 80-lb. index (60 to 147 gsm) |
| Weight | 243 lbs. |
| Height | 14 1/4" (19 1/4") |
| Width | 43" (50 1/2") |
| Depth | 23 1/2" |
| Voltage | 100-120 Volts |
| Manufacturer Part Number | MKVIIAIRFEED |
| Warranty | |
| Shipping Weight | 243 lbs. |
QUESTIONS & ANSWERS
Have a Question?
Be the first to ask a question about this.
Ask a Question