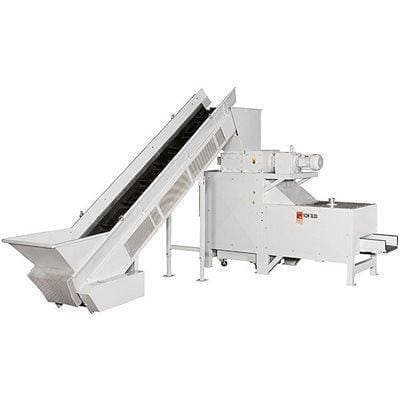 ---

Intimus VZM 19.00 Heavy Duty Shredder
SKU: SCHVZM19.00
Security: Level 3/P-4
This product has limited availability and/or is build-to-order.
Please call us at (800) 243-9226 or fill out the Request a Quote form, below.
Description of the Intimus 19.00 Heavy Duty Shredder
The Intimus VZM 19.00 is a high performance, high capacity shredder designed for waste management and security. Ideal for disposal services that shred tons and tons of information, the VZM 19.00 destroys paper bundles and even filled ring binders with cutting cylinders made of hardened steel. The continuous performance, low energy consumption VZM 19.00 satisfies level 3 security standards for a safe, top-quality shred. The VZM 19.00 is ideal when shredding a significant amount of documents from facilities, companies, and/or banks for information security. And despite its size, the VZM 19.00 can be configured to fit into the work area. This low maintenance giant employs a multi-step process that ensures a complete and timely destruction of materials. The first stage is pre-shredding, where items go through a rough shred. A conveyer belt moves pre-shredded items to the next shredder while a metering screw prevents paper jams. The limit switch can be used to prevent overfill. The second shred stage shreds into fine particles that abide by security level 3 standards. If users choose the magnetic separator option, it will remove ferromagnetic parts after pre-shredding and deposit the parts into a mobile receptacle for easy disposal (or recycling). Save time by not having to manually search and remove metal parts, and increase the longevity of shredder blades by preventing wear and tear. Simply fill the large hopper at the base of the conveyer belt with waste and the studded conveyer will continuously move loads of paper into the shredder for pre-shredding.
Operators control the machine electronically after turning on the start key. Though the 19.00 does not require much personnel labor, but special consideration of disposal techniques can impact productivity. Choose the most fitting extraction system, baler, or compactor to get the best volume reduction and clean-up solution for shred residue. Auto reverse/stop/restart features make it easier for a hands-free and low fuss performance. This shredder barely demands any labor with its easy maintenance and continuous function. With a throughput of up to 1000 kg/hr, users can shred significant loads with low power consumption. The 19.00 VZM can be integrated with different systems for a more complete destruction process. We would recommend using a dust extraction system to clean debris from breathing air or use different types of presses for easy transport/storage/disposal of shredded particles. VZM options include a separate control panel (requires installment), frequency converter, lift and turn mechanisms, and different conveyor executions to optimize the space and productivity of any space. Not only is the centralized shredder convenient and effective, safety is always a concern. The VZM is to be linked to a building's central fire alarm system in order to keep building occupants and the machine safe from potential fire hazards. The VZM 19.00 has a proven performance for an ideal centralized shredding operation and is completely customizable to fit the space and needs of buyers.
Accessories available upon request. Contact Whitaker Brothers for custom options, pricing, and more information.
Manufacturer Name
Intimus
Shreds Credit Cards?
Yes
Shreds Paper Clips?
Yes
Shreds Staples?
Yes
Disclosures
Capacity varies with grain, size, quality & paper weight and sufficient power supply.
** Please use actual HP as a specification for determining value. Use of Peak HP is for comparison purposes only where other than Actual HP is used.
Continuous Motor
Yes
Warranty


QUESTIONS & ANSWERS
Have a Question?
Be the first to ask a question about this.
Ask a Question