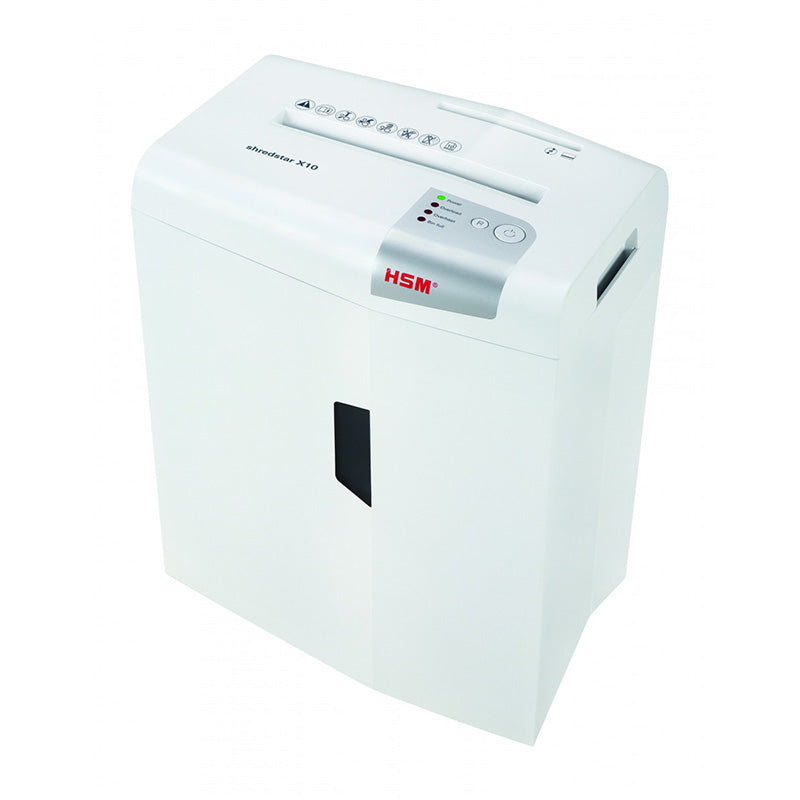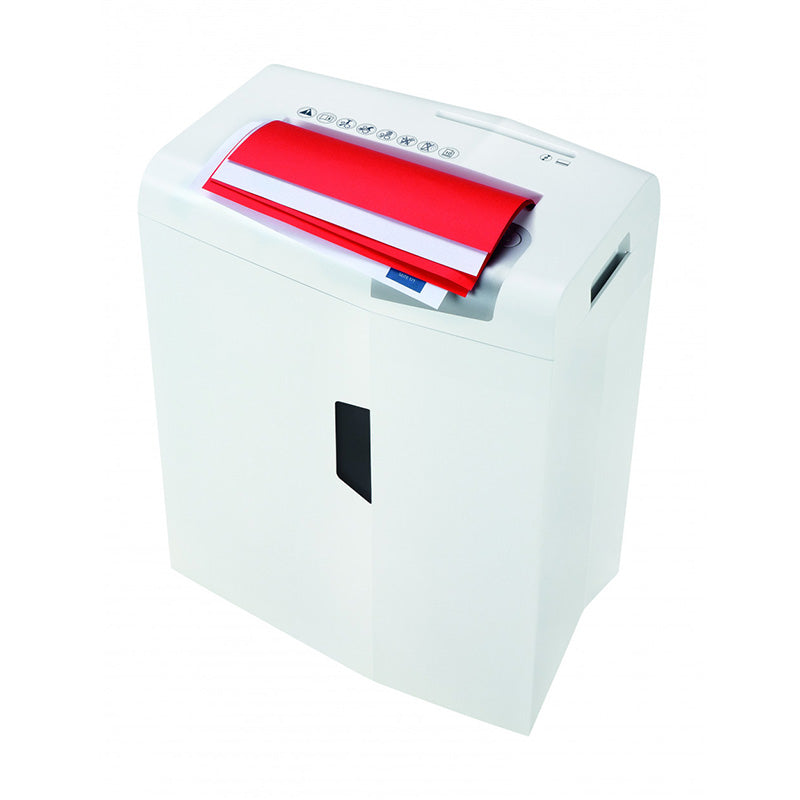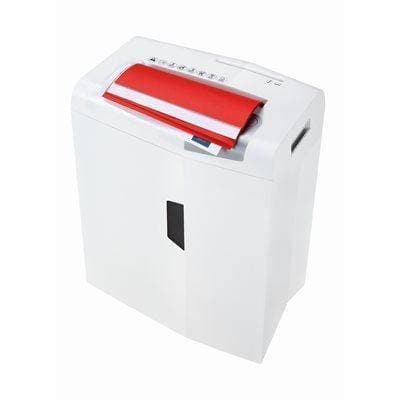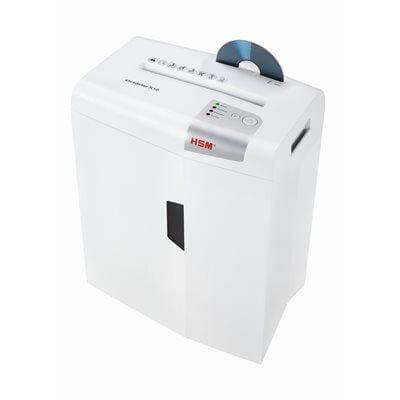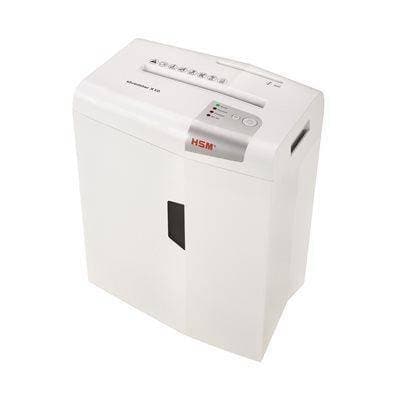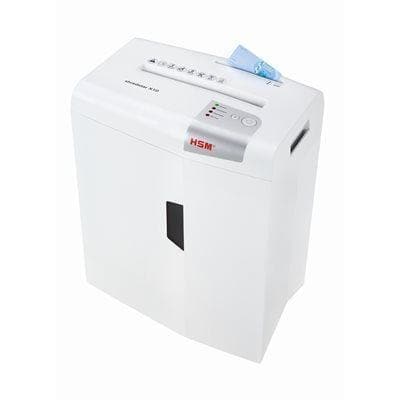 ---




HSM Shredstar X10 Cross Cut Shredder
SKU: HSMX10C-1015
Security: Level 3/P-4
Sheet Capacity: 10 sheets
Throat: 8.75"
FREE GROUND SHIPPING within the contiguous U.S.
Video Demo of HSM Shredstar X10 Cross Cut Shredder
Description of HSM Shredstar X10 Cross Cut Shredder
Convenient for home offices or private offices at work, the HSM ShredStar X10 is easy-to-use and offers several popular features. A simple switch controls off, auto, and reverse functions. Set the unit to "auto" and begin loading your documents. Sensors in the feed opening detect paper and automatically start the shredding process. Rather than continuing to shred thin air, the unit automatically ceases operation when the last sheet is shred. The HSM ShredStar X10 accepts up to 10 sheets at once, breaking down your documents into 5/32" x 1 3/8" particles. The level 3/P-4 security grants peace of mind when destroying documents such as credit card statements, bills, and more. The cutting head is exceptionally strong, and will tackle everything from staples, paper clips, credit cards, and even CDs/DVDs. The HSM ShredStar X10 actually offers a separate feed opening for credit cards and CD/DVDs. Paper is fed through the 8.8" feed opening, perfect for standard sized copy paper. While paper particles are collected in the main 5.5 gallon waste bin, there is a separate container for plastic pieces. To check how full the container is, you can simply peek through the small inspection window located on the front of the unit. An LED indicator displays when the bin is full, alerting the user that it is time to empty the bin to prevent potential overflow.
The lightweight home or personal office shredder weighs in at just over 6 lbs. This makes it incredibly easy to transport if necessary. The 9 2/5" D x 14 7/16" W x 17 ½" h makes it perfect for beside or under the desk use. The HSM ShredStar X10 emits low noise levels during shredding thanks to the Whisper Shred technology. The Energy Management Control System helps reduce power consumption by up to 90% when the unit is in stand-by mode. The flexibility and capability of the HSM ShredStar X10 makes it ideal for those looking to destroy small amounts of paperwork in a home or private office.
| | |
| --- | --- |
| Manufacturer Name | HSM |
| Throat Size/Feed Opening | 8 ¾ in |
| Shred Speed (feet/min.) | 8.27 |
| Shred Size | 3 ⁄16 in x 1⅛ in |
| Bin Capacity (gallons) | 5.28 |
| Security Level | Level 3/P-4 |
| Cut Type | Cross Cut |
| Sheet Capacity | Up to 10 sheets* |
| Shreds CDs/DVDs? | Yes |
| Shreds Credit Cards? | Yes |
| Shreds Paper Clips? | Yes |
| Shreds Staples? | Yes |
| Model # | X10c |
| Manufacturer Part Number | 1045 |
| Weight (lbs) | 6.2 |
| Height (inches) | 17.52 |
| Width (inches) | 113.58 |
| Depth (inches) | 9.65 |
| Voltage | 120 V |
| Warranty | |
| Shipping Weight (lbs) | 16.5000 |
| Country of Origin | China |
QUESTIONS & ANSWERS
Have a Question?
Be the first to ask a question about this.
Ask a Question
HSM Shredstar (Models S10, S25, X5, X6pro, X8, X10, X12, X14, X17, X20) – Home / Small Office Shredders
Failure caused by defect is limited to three (3) years from date of invoice. A Maximum of one replacement unit is authorized during the warranty period. Strip and Cross Cut Cutting Rollers are warranted to be free of manufacturer defects for the life of the shredder from date of invoice.
Level 5 and High Security Level 6 Shredders
Parts & labor to repair any failure caused by defect is limited to three (3) years from date of invoice. Cutting Rollers on all high security units that have an oiler installed are warranted to be free of manufacturer defects for five (5) years from date of invoice. Failure to lubricate these machines properly will void the warranty. Cutting Rollers on High Security Shredders purchased without an oiler are warranted for one (1) year.
HSM Standard Warranty
HSM warrants that any new products sold will be free from defects in material and workmanship when used under specified and normal operating conditions. This warranty is void if repairs are necessitated by accidents, misuse, abuse, water damage or fire. Please read the Manufacturer's Operating Instructions, included with the product, prior to operation, to help ensure all precautions are taken to avoid canceling the manufacturer's warranty. Modifications, alterations and repairs must be performed by an authorized technician. Lubrication for cross-cut shredders is required every fifteen to thirty minutes of operation, to maintain top working condition and this warranty.
In all cases, the final authority in determining cutting system defects lies with the manufacturer. All cutting systems must be returned to the manufacturer.
Other Warranty Information
HSM Warranty Service Phone number: (800) 613-2110.