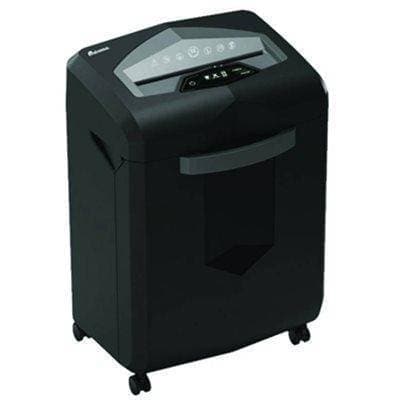 ---

HSM Shredstar BS12c Cross Cut Shredder
SKU: HSMBS12C
Security: Level 3/P-4
Sheet Capacity: 12 sheets*
Throat: 8.75"
FREE GROUND SHIPPING within the contiguous U.S.
Description of HSM Shredstar BS12C Cross Cut Shredder
Add this to your wishlist. The affordable and reliable HSM ShredStar BS12c Cross Cut Shredder is conveniently sized for home or personal office use. User-friendly functions: this means that documents and data can be easily destroyed at the touch of a finger. Turn this shredder on and go! Rather than pressing and holding a button to shred your documents, just start feeding paper. Sensors located in the 8 ¾" feed opening detect the paper and activate the shredding process. Operation will automatically stop when the last sheet is shred.
Powering through 12 sheets of paper at once, the HSM ShredStar BS12c creates 430 cross-cut pieces per page destroyed. The sturdy cutting cylinder breaks down documents into 5/32" x 1 3/8" particles. With level 3/P-4 security, users can destroy tax documents, bill, credit card statements without hesitation. Stapled or paper clipped documents are nothing for this shredder. Forget snipping credit cards with scissors. The ShredStar BS12c automatically rips through these and CDs and DVDs in no time. Shredded particles fall directly into the 5.8 gallon waste bin. The inspection window allows users to keep track of shred levels. A handy "full-bag" indicator will illuminate when this shred container is full.
Picture this: you're calmly shredding your recent credit card statement when suddenly shredding stops. No need to panic, you may just be experiencing a paper jam. To fight overloaded paper, JamStop Anti-Jam Technology kicks in and switches the shredder into reverse mode. The shredder will continue to run in reverse until the jam is repaired.
You shouldn't have to deal with loud shredding sounds in your home or personal office space. HSM features Whisper Shred technology, which reduces noise levels to a near whisper during operation. Energy-efficient, HSM also offers the Energy Management Control System for decreased power consumption when the unit is in stand-by mode. In total, energy usage is lowered by up to an incredible 90%. To reactivate the shredder, just start feeding paper.
As if these functions and features are not enough, the compact (11 ¼" D x 14 1/5" W x 21 7/16" H) and lightweight (22.93 lb.) HSM ShredStar BS12c is mounted on casters. These casters make it even easier to relocate this unit around your work space!
| | |
| --- | --- |
| Manufacturer Name | HSM |
| Model # | BS12c |
| Manufacturer Part Number | 1056 |
| Throat Size/Feed Opening | 8 3/4 inches |
| Shred Size | 5/32" x 1-3/8" |
| Bin Capacity | 5 gallons |
| Security Level | Level 3/P-4 |
| Cut Type | Cross Cut |
| Sheet Capacity | Up to 12 sheets* |
| Shreds Credit Cards? | Yes |
| Shreds Paper Clips? | Yes |
| Shreds Staples? | Yes |
| Weight | 17 lbs. |
| Height | 21.43 inches |
| Width | 14.2 inches |
| Depth | 11.25 inches |
| Voltage | 120 V |
| Warranty | >> Click Here to View Warranty |
| Shipping Weight | 27.8 lbs. |
| Shipping Length | 24 inches |
| Shipping Width | 18.5 inches |
| Shipping Height | 15 inches |
QUESTIONS & ANSWERS
Have a Question?
Be the first to ask a question about this.
Ask a Question