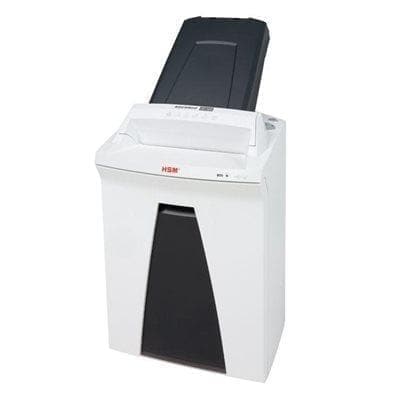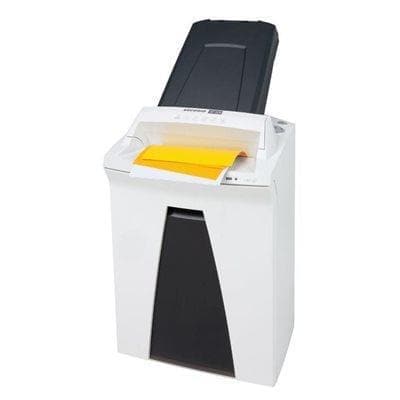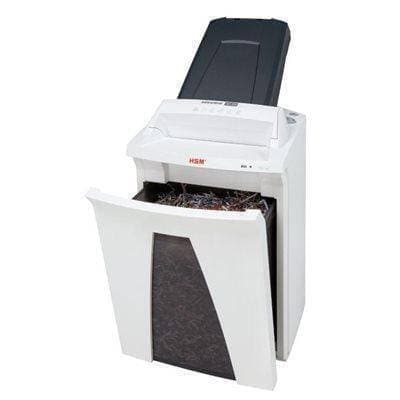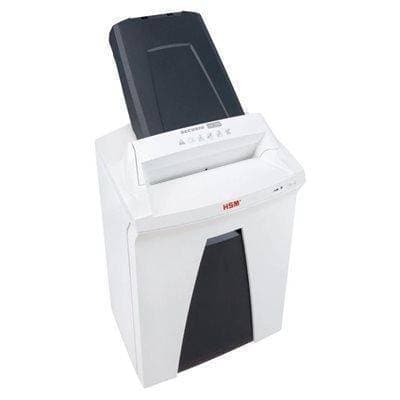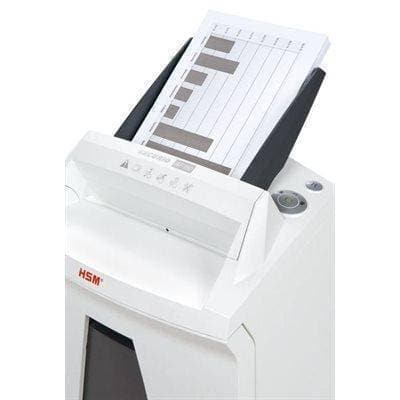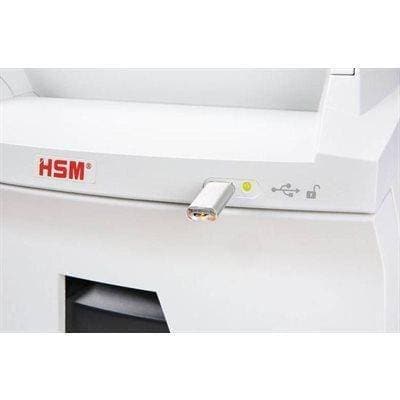 ---





HSM Securio Auto Feed 300 Cross Cut Shredder
SKU: HSMAF300L4-2092
Security: Level 4/P-5
Sheet Capacity: 11-13 sheets
Throat: 9.5"
This product requires Liftgate Service. If you don't have a loading dock or a forklift available to move the delivery off of the truck, please add Liftgate Service to your cart.
Description of the HSM Securio Auto Feed 300 L4 Cross Cut Shredder
The HSM Auto Feed 300C Cross Cut Shredder is a simple and convenient method of data destruction that you need for your office. This shredder has many unique features to save you time and money while keeping your sensitive materials safe and secure. Able to shred large stacks of paper at once, this machine is reliable and time saving. The AF300 L4 comes equipped with an automatic paper feed and a lockable stack to protect inserted stacks of paper from unauthorised access while shredding up to 300 sheets at once, as well as single sheets of paper in order to save you time.
HSM products are held up to a high standard, the cutting rollers are made of hardened solid steel. Made in Germany, this line of products are built durable, with your security in mind. With a 3 year warranty, you can also be assured that if your shredder is to fail, HSM will provide parts and labor. Your security is in mind with the AF300 L4. This machine features a lock-and-go function which protects inserted stacks of paper from unauthorized access. HSM also has a very convenient dual function so users are able to manually insert a feed of paper even while the autofeed stack is processing. The powerful motor allows for this continuous operation, while the Nanogrip technology is what allows for a reliable, sheet by sheet pull from the stack of paper.
With a quiet operation that minimizes noise in your office, the HSM AF300 L4 showcases an EcoSmart feature that allows for a very low power consumption of 0.1 watts while it is in standby mode. With all of these one of a kind features that only HSM can provide, there is no reason your office's next paper shredder shouldn't be the AF300 L4.
Manufacturer Name
HSM
Throat Size/Feed Opening
9 ½ in.
Shred Speed(ft./min.) Speed
22.46
Shred Size
1 ⁄16 in x 9 ⁄16 in
Bin Capacity(gallons)
9
Security Level
4/P-5
Cutting Type
Cross Cut
Sheet Capacity
11-13; AF 300
NSA Evaluated
N/A
Shreds Credit Cards?
Yes
Shreds Paper?
Yes
Shreds Paper Clips?
Yes
Shreds Staples?
Yes
Weight(lbs)
44.75
Height(inches)
32.9
Width(inches)
15.5
Depth(inches)
19.5
Voltage
115 V
Manufacturer Part Number
2092
Warranty



Country of Origin
Germany
Search Terms
hsmaf300, hsm securio, Af300, securio300 sc, a f 300, af crosscut, autofeedcc, cross cut af, afcc300
QUESTIONS & ANSWERS
Have a Question?
Be the first to ask a question about this.
Ask a Question
HSM Securio (Models AF150, AF300, AF500, B22, B24, B26, B32, B34, B35, P36i, P40i, P44i) – Office / Large Office / Department Shredders
Parts and labor to repair any failure caused by defect is limited to three (3) years from date of invoice. Strip and Cross Cut Cutting Rollers are warranted to be free of manufacturer defects for the life of the shredder from the date of invoice.
Level 5 and High Security Level 6 Shredders
Parts & labor to repair any failure caused by defect is limited to three (3) years from date of invoice. Cutting Rollers on all high security units that have an oiler installed are warranted to be free of manufacturer defects for five (5) years from date of invoice. Failure to lubricate these machines properly will void the warranty. Cutting Rollers on High Security Shredders purchased without an oiler are warranted for one (1) year.
HSM Standard Warranty
HSM warrants that any new products sold will be free from defects in material and workmanship when used under specified and normal operating conditions. This warranty is void if repairs are necessitated by accidents, misuse, abuse, water damage or fire. Please read the Manufacturer's Operating Instructions, included with the product, prior to operation, to help ensure all precautions are taken to avoid canceling the manufacturer's warranty. Modifications, alterations and repairs must be performed by an authorized technician. Lubrication for cross-cut shredders is required every fifteen to thirty minutes of operation, to maintain top working condition and this warranty.
In all cases, the final authority in determining cutting system defects lies with the manufacturer. All cutting systems must be returned to the manufacturer.
Other Warranty Information
HSM Warranty Service Phone number: (800) 613-2110. Freight or transportation damage is not classified as a warranty repair in any case.