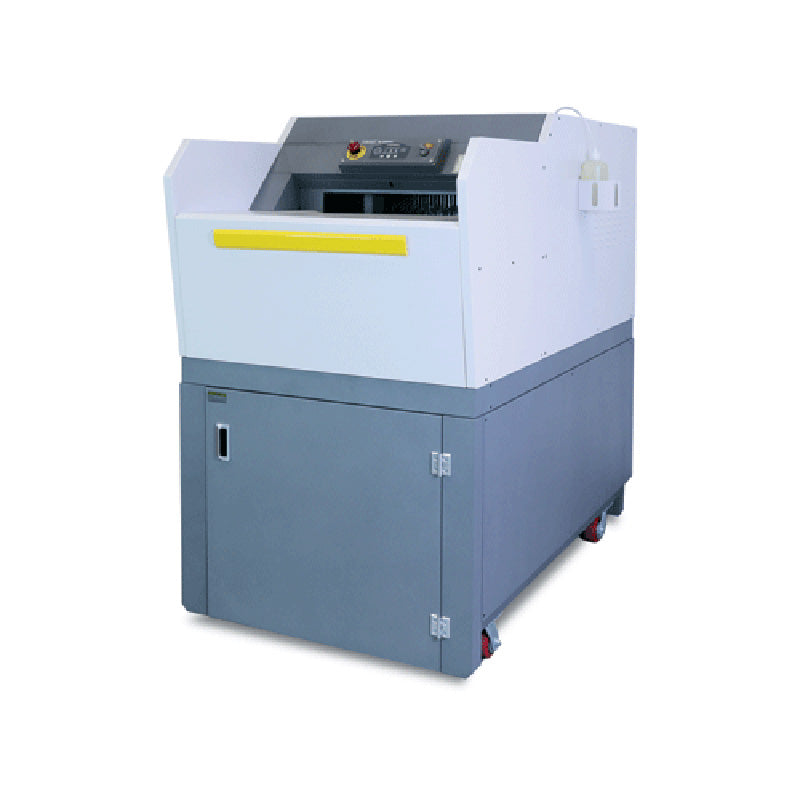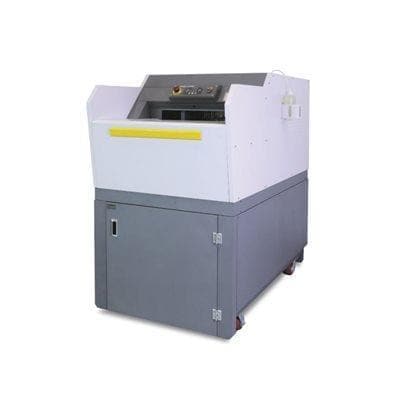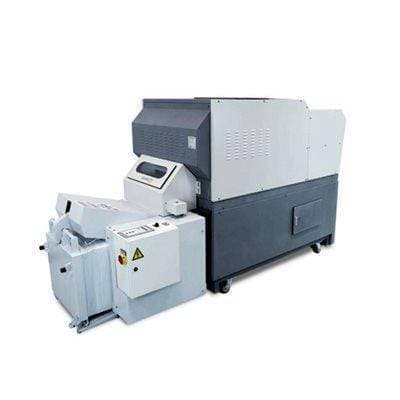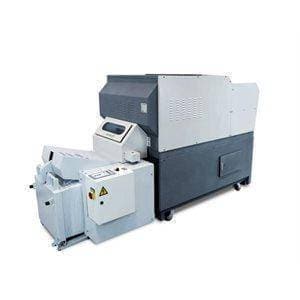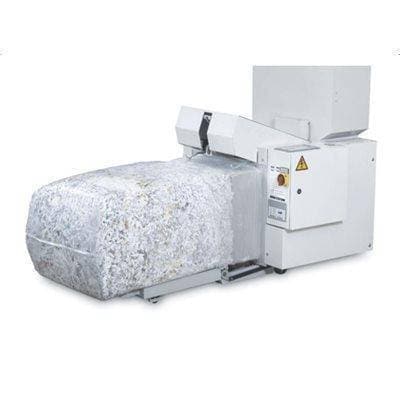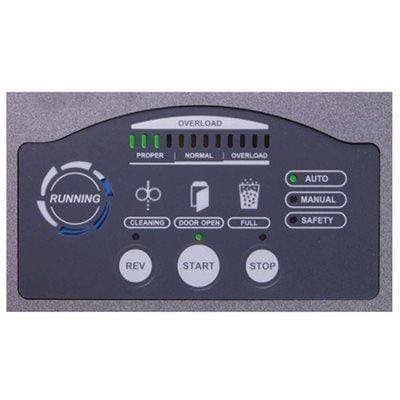 ---






Formax FD 8906B Industrial Shredder-Baler
SKU: BESFD8906B
Security: Level 2/P-2
Sheet Capacity: 650 sheets*
Throat: 21"
This product requires Liftgate Service. If you don't have a loading dock or a forklift available to move the delivery off of the truck, please add Liftgate Service to your cart.
Video of the Formax FD 8906B Industrial Shredder-Baler
Description of the Formax FD 8906B Industrial Shredder-Baler
With the FD 8906B, Formax has taken the 8906 Cross Cut Shredder and added a powerful high capacity Output Baler for even easier disposal of shredded materials. The 8906B is designed for facilities that need a high volume shredder for a central location. Whether its stacks of computer forms, cardboard, CD's, tapes, ribbons or even entire files, the 8906B easily handles all of that and more with speeds of up to 35 fpm. But the biggest advantage is the baler which works continuously to compact all of the shredded materials into a manageable bale which is ejected directly into a plastic bag for faster, easier disposal. Built in sensors will automatically stop the shredding process as soon as the baler is full.
Features of the FD 8906B
LED Control Panel with load indicator so operators can clearly see when maximum shred capacity is reached so jams can be avoided. Auto Start/Stop mode means the optical sensors in the 8906B will detect when paper is inserted and automatically begin shredding. Auto-Reverse will sense a paper jam and switch the motor into reverse to clear it. There is even an Auto-Cleaning mode which runs the motor in reverse for one minute to clear away and shred particles.
Solid steel cutting blades are heat-treated and specially ground to be durable and long-wearing with minimal oiling required. When oiling is needed, the EvenFlowTM Automatic Internal Oiling System ensures that the cutting blades are always properly lubricated to maintain peak performance.

Operator safety is always a priority, that's why the FD 8906B has a wide range of safety features that include: thermal overload protection, a safety circuit breaker, and a large safety bar to halt operation. There is even a key lock to prevent unauthorized use.
Manufacturer Name
Formax
Throat Size/Feed Opening
21"
Shred Speed
Up to 35 feet/min.
Shred Size
5/16" x 1 1/2" - 3"
Bin/Bale Capacity
154 gallon compressed bale size
Bale Weight
110-154 lbs. (material dependent)
Bale Size
31"W x 22"L x 19"H
Oiler
Fully Automatic
Security Level
Level 2/P-2
Cut Type
Cross Cut
Sheet Capacity
650
Shreds Credit Cards?
Yes
Shreds Paper Clips?
Yes
Shreds Staples?
Yes
Disclosures
Capacity varies with grain, size, quality & paper weight and sufficient power supply.
** Please use actual HP as a specification for determining value. Use of Peak HP is for comparison purposes only where other than Actual HP is used.
Continuous Motor
Yes
Model #
8906B
Manufacturer Part Number
FD 8906B
Weight
3,495 lbs.
Height
63"
Width
47"
Depth
129"
Voltage
3-phase, 220V
Warranty



Shipping Weight
3,560 lbs.
Shipping Length
96 inches
Shipping Width
53 inches
Shipping Height
78 inches
QUESTIONS & ANSWERS
Have a Question?
Be the first to ask a question about this.
Ask a Question