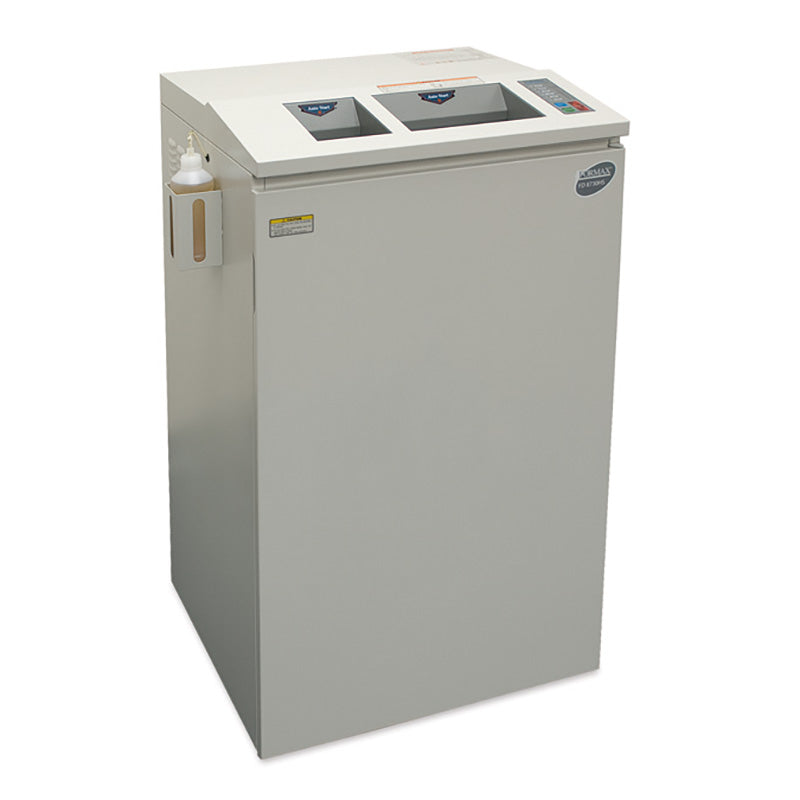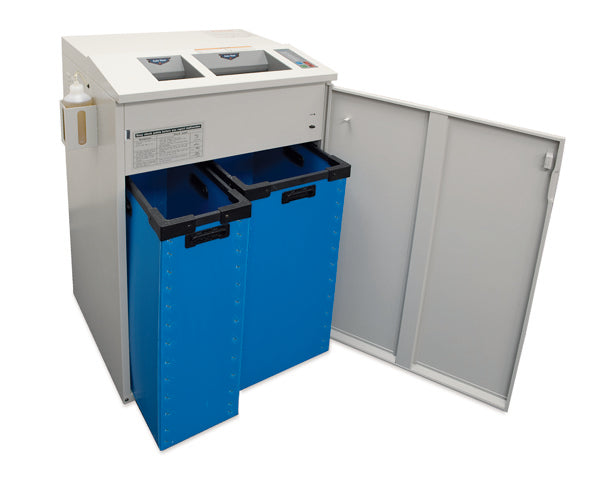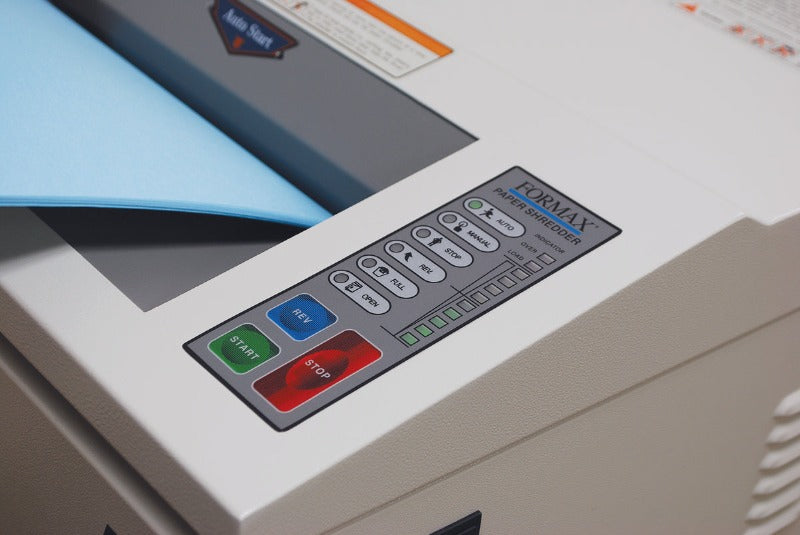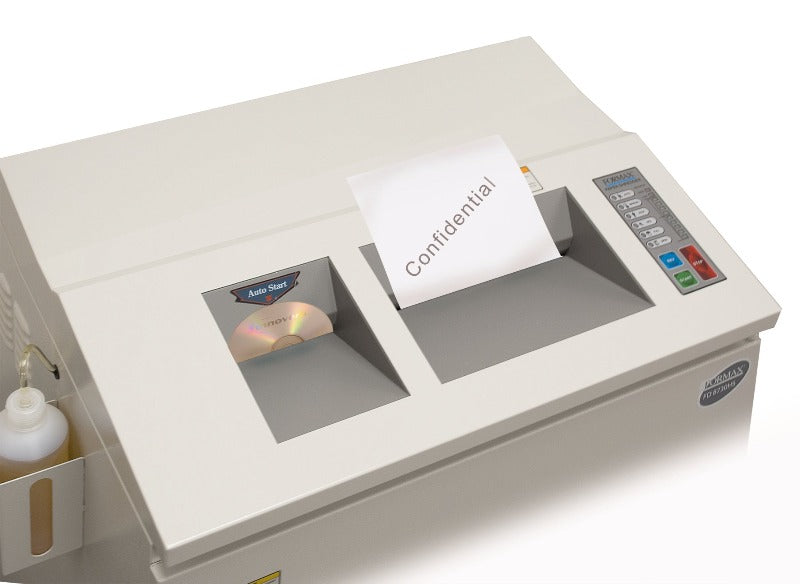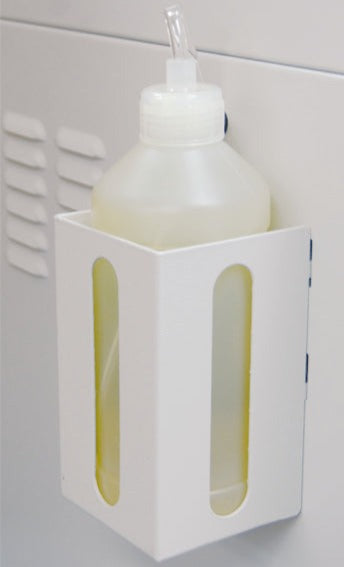 ---





Formax FD 8730 High Security Combo Paper/CD/DVD Shredder
SKU: BESFD8730HS
Security: Level 6/P-7
Sheet Capacity: 14-15 sheets*
Throat: 12.9"
FREE FREIGHT SHIPPING within the contiguous U.S.
This product requires Liftgate Service. If you don't have a loading dock or a forklift available to move the delivery off of the truck, please add Liftgate Service to your cart.
Description of Formax FD 8730 High Security Paper & Optical Media Shredder
Whether its sensitive data stored on CD's or classified documents that need to be destroyed, most businesses need more than just a paper shredder. Why choose one or the other when the Formax FD 8730 gives you the capability to do both. This high security shredder can shred up to 15 documents at once (23 feet per hour) effectively transforming each document into 1/32" x 3/16" unreadable particles. The FD 8730 is also equipped with a powerful CD cutting system capable of shredding up to 2,000 CDs per hour converting each disc into tiny 1/16" x 5/32" particles. Its practical design features 2 separate feed openings as well as 2 separate waste bins. Operation is simple thanks to the LED Control Panel with digital Load Indicator.
The FD 8730 dimensions are 28" W x 24" D x 43" H and weighs roughly 319 lbs. Even though the machine is large, it is quite easy to relocate this heavy duty shredder because it comes with casters on the bottom of the shredder. Its large size allows you to shred a large amount of documents and media. The 8730 has a waste bin capacity of 31 gallons for documents and 18.5 gallons for optical media. What really separates the 8730 from other high security shredders is its plethora of automatic functions. It has an automatic start/stop function which relies on its optical sensor to detect paper and automatically start operation. Once all the paper has gone through the shredder, it will detect that there is no more paper and automatically stop operation. When the bin is full the motor will automatically shut off so it will save energy. This shredder will automatically stop if the cabinet door is open for safety purposes. It is also equipped with EvenFlow, an automatic oiling system that will lubricate the cutting blades so you don't have to. If you're worried about having to deal with paper jams then the Formax FD 8730 is truly perfect for you. This high security shredder has an automatic reverse function that makes paper jams a thing of the past. The shredder can detect when it is overloaded with paper and a jam is going to occur so it will automatically switch to reverse mode and clear the jam before you have to. The last automatic function this great shredder has is its automatic cleaning, which will save you time and lots of efforts. All you have to do is press the reverse button for 5 seconds and the motor will run in reverse for 1 minute while shredding capacity is decreasing. There is no maintenance issue that you will need to worry about regarding this high security shredder as it will take care of hassles for you!
| | |
| --- | --- |
| Manufacturer Name | Formax |
| Throat Size/Feed Opening | Paper:9 3/8"; Optical Media: 4 7/8" |
| Shred Speed | Paper: 23 fpm; Optical Media:2,000 CDs per hour |
| Shred Size | Paper: 1/32" x 3/16" (Level 6); Optical Media: 1/16" x 5/32" |
| Bin Capacity | Paper: 31 gal; Optical Media: 18.5 gal. |
| Oiler | Fully Automatic |
| Security Level | 6/P-7 |
| Cut Type | High Security |
| Sheet Capacity | Paper: 14-15 sheets; Optical Media: 1 CD |
| NSA Evaluated | Yes |
| Shreds Credit Cards? | Yes |
| Continuous Motor | Yes |
| Model # | FD 8730 HS |
| Manufacturer Part Number | FD8730HS |
| Weight | 319 lbs. |
| Height | 43" |
| Width | 28" |
| Depth | 24" |
| Voltage | 110V |
| Warranty | |
| Shipping Weight | 319.0000 |
| 1-Hour NSA Durability Test | 19 reams/feeding 8 sheets |
| Search Terms | fd8730, fd8730hs, formax8730, formax8730hs, 8730highsecurity, 8730cd, 8730dvd, 8730disc, disc shredder, cddvd, cd-dvd, cd/dvd, formaxhs |
QUESTIONS & ANSWERS
Have a Question?
Be the first to ask a question about this.
Ask a Question