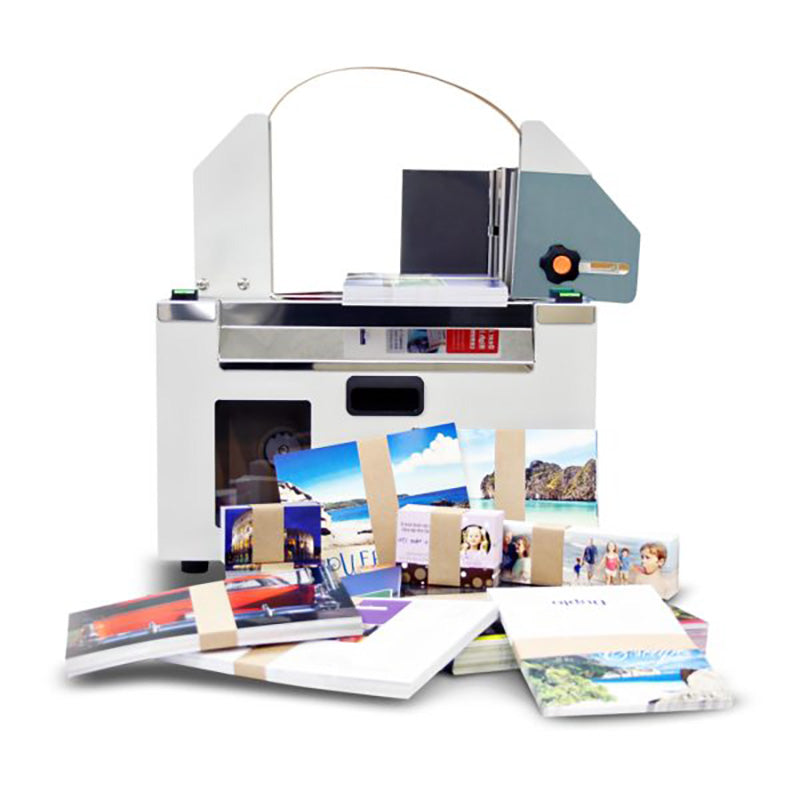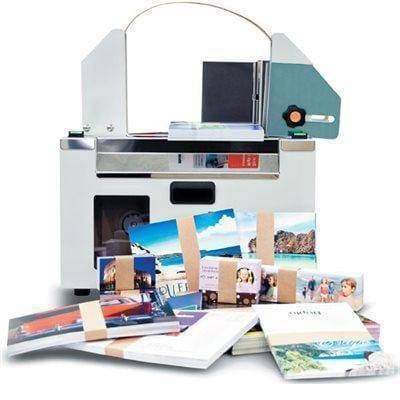 ---


Duplo UP-240 Desktop Banding Machine
Video of the UP-240 Desktop Banding Machine
Description of the UP-240 Desktop Banding Machine
The Duplo UP-240 is a unique machine that allows you to package printed materials in a cost-effective way. This banding machine does exactly what its name would lead to to believe - it securely wraps bands around finished materials such as brochures, business cards, and other printed products. This keeps the materials orderly and allows for easy and accurate distribution. Either craft paper or film can be used in the UP 240 and will keep your materials just as secure as putting them in a box or bag but for a fraction of the cost. Operation is simple - just take the finished pieces and place them into the UP-240, which will automatically detect the bundle and wrap it.
The Duplo UP-240 desktop banding machine provides an efficient and inexpensive way to package printed items such as business cards, brochures and postcards. They are very useful for creating a neatly bundled stack of whichever item you choose. The automated banding machine wraps a strip of film or paper around the stack, ensuring document security. The UP-240 features a variety of banding choices - ranging from film to craft paper about 1.2" wide - and can produce up to 24 bundles per minute. Other useful features of this machine are its adjustable bundle strength and adjustable guides that guarantee band placement accuracy. The machine also allows for easy adjustment of heating temperature and binding tension. The UP-240 is relatively lightweight (53 lbs) and fits easily on most desktops - its dimensions are 17" x 12" x 18" (width x depth x height). The UP-240's minimum banding size is 1.2" x 0.2" and its maximum size is 9.5" x 7" (width x height). It is important to note that the maximum binding width is slightly lower when using film tape.
** Film tape type requires a slight increase in temperature
Manufacturer Name
Duplo
Maximum Banding Size
9.5" * x 7" (240 mm x 180 mm)
Minimum Banding Size
1.2" x 0.2" (30 mm x 5 mm)
Banding Speed
Up to 24 bundles per minute
Tape Width
1.2" (30 mm)
Tape Types
Craft paper or film **
Tape Reel Outer Diameter
Up to 7.3" (185 mm)
Tape Reel Core Diameter
1.57" (40 mm)
Power Requirements
115v, 60Hz
Model #
UP-240
Manufacturer Part Number
UP-240
Height
18"
Width
17"
Depth
12"
Warranty



Shipping Weight
53 lbs.
QUESTIONS & ANSWERS
Have a Question?
Be the first to ask a question about this.
Ask a Question