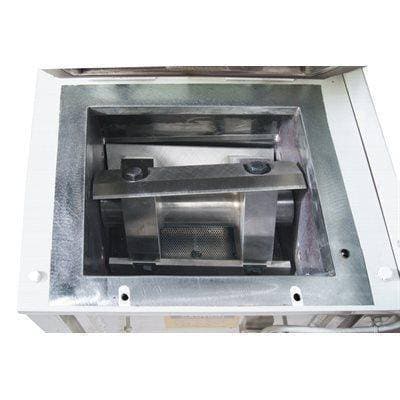 ---


Datastroyer 125 Data Disintegrator
SKU: WHI125
NSN: 7490-01-697-1934
On GSA Contract (GS-35F-309DA). Please call us at (800) 243-9226 for more info.
This product requires Liftgate Service. If you don't have a loading dock or a forklift available to move the delivery off of the truck, please add Liftgate Service to your cart.
Video of the Datastroyer 125 Disintegrator
Description of the Datastroyer 125 Data Disintegrator
This disintegrator is designed for mid-volume applications and is ideal for offices that have outgrown a shredder or have multimedia requirements. The 10 x 12 inch throat size accepts an assortment of materials, including paper, CDs, DVDs, credit cards ID badges, etc. The Datastroyer 125 will easily destroy materials up to 450* lbs. per hour. Note that throughput depends highly upon screen size, knife configuration, as well as the type and weight of your materials. High Chrome High Carbon D-2 steel knives, 3 rotor and 2 reversible bed knives, take your bulky materials and turn them into minuscule pieces. These knives are specially heat treated with our proprietary process for an exceptionally long life, reducing knife maintenance and replacement costs. The high-tech, double-scissor cutting action is perfect for granulating bulky paper or plastics. This granulator accepts a range of screen sizes, from the NSA approved screen size of 3/32" to larger than a 1/4" screen. Changing the screen is extremely simple thanks to the drop-down design and for additional convenience, the screen is reversible. Need to service your machine? For easy maintenance, simply tilt back the hopper to access the rotor and bed knives. This advanced design allows for exceptionally fast and simple servicing.
The Datastroyer 125's small footprint (61" H x 23" W x 32" D) makes it ideal for operations with limited space. As the 125 disintegrator weighs 1,000 lbs., you may be wondering how to best move this machine. Conveniently, the Datastroyer 125 is mounted on heavy-duty casters, making relocation a breeze. Due to its size, the Model 125 is perfect for shipboard use. Interested in extra sound dampening? Check out our Whitaker Modular Sound Enclosure, which reduces sound levels by 15-25 dBAs. The Sound Enclosure can be customized to fit any disintegrator and evacuation system. This unit is offered with a 7.5 HP motor for a lower price. For more information on the Datastroyer 125 disintegrator, set up an expert consultation with one of our Whitaker Brothers Sales Representatives today!
Dimensional Drawing
*Throughput varies with screen size, knife configuration and type & weight of material.
| | |
| --- | --- |
| Destruction Type | Disintegration |
| Throughput* | Up to 525 lbs. per hour |
| Throat Size | 10″ x 12″ |
| Infeed | 10″ x 12″ |
| Cut Chamber | Modified Offset, 2-bed knives, pivoting, drop-down cradle. |
| Rotor | 5-Knife, Slant Cut |
| Knives | High Chrome/High Carbon, 5-Rotor & 2 Bed (reversible) |
| Screens | 3/32″, 1/8″, 3/16″, 1/4″ and larger |
| Base | Casters, modular |
| Discharge | X-1 Evacuation System standard (Fan Cyclone Waste Evacuation Systems are available) |
| Controls | NEMA 12 |
| Electrical | 460 V/3 Ph/60 Hz(options available) |
| Dimensions | 61″H x 23″W x 32″D |
| Weight | 1,200 lbs. (approx.) |
Q: Will the Datastroyer® 125 Data Disintegrator handle Solid State Drives?
A: A single solid state hard drive would be tolerable by most of our Datastroyer disintegrators. It's finding a unit that will be able to do them on a regular basis without requiring unreasonably frequent technician servicing and blade sharpening. Another hurdle is that unlike paper, every solid state hard drive has a different composition of materials. So we always prefer to get a make and model for the drives that the customer is going to be using and recommend a machine that will match up well with the toughest material found within them. I'd recommend calling us at (800) 243-9226 and getting a brief consultation. It's difficult to give an all-encompassing blanket answer to a question like this.
QUESTIONS & ANSWERS
Have a Question?
Be the first to ask a question about this.
Ask a Question